RTÉ GAA analyst Pat Spillane believes the way Jim Gavin empowered and motivated his Dublin players will be the defining feature of his five-in-a-row tenure.
Gavin departed his role at the weekend in a move that surprised some, but led to many tributes to his achievements with the county.
Spillane is undecided on whether Gavin can be labelled the greatest ever football manager.
He did not hesitate however to say that he created a hunger with the Sky Blues that the game has rarely seen.
We need your consent to load this SoundCloud contentWe use SoundCloud to manage extra content that can set cookies on your device and collect data about your activity. Please review their details and accept them to load the content.Manage Preferences
Listen to the RTÉ GAA Podcast at Apple Podcasts, Soundcloud, Spotify, or wherever you get your podcasts.
Speaking on this week's RTÉ GAA Podcast, eight-time All-Ireland winner Spillane said: "I never met the man but people say 'what did he bring?'. I admired his footballing philosophy.
"His teams played football the way it should be played. I admired the way he was so tactically flexible, particularly during a game where he could adjust things at half-time. After the 2014 defeat (to Donegal), he just tore up the script and started again.
"I loved the way he empowered the players. Too often, managers have a Plan A and when they move to Plan B the players don't have a clue. Gavin's players were always empowered.
"They were great decision-makers. They changed things on the field. I loved the way he improved players, whether it was Ciarán Kilkenny who wasn't an out-and-out scorer but became one.
"The way he developed Con O'Callaghan into the footballer he is and the way he developed Paul Mannion, who was sort of inconsistent, into a great forward. He recognised raw talent, going to Raheny and seeing a raw Brian Fenton and saying, 'I can make a footballer out of him'. And he did.
"There was no ego, it was all about the players, community and clubs. I liked his man-management. I don't think that can be underestimated.
"The biggest difficulty Micko [Mick O'Dwyer] had with five-in-a-row and three and four, was to keep us hungry. With an amateur sport, how do you keep them hungry? Medals become accumulated. Micko kept us hungry through dangling carrots with various holidays and that.
"But what Jim has done is keep those Dublin players grounded over the last five years, to keep them motivated and as hungry for an All-Ireland last year as they were five years ago. He surrounded himself with brilliant managerial talent and utilised it."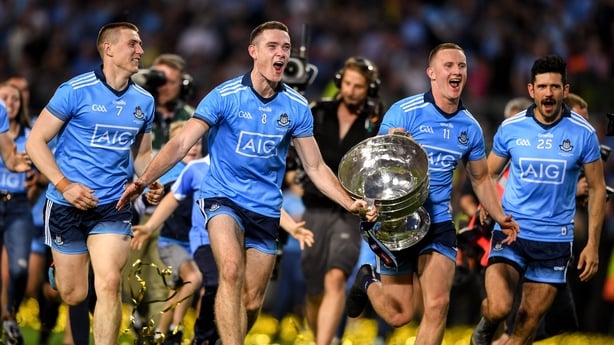 The next Dublin manager will be appointed within two weeks.
Record All-Star winner Spillane, like many others, thinks there were signs of deterioration within the Dubs team last year.
However, that, along with the departure of Gavin, does not offer guarantees to the chasing pack.
He added: "There is a sign of slippage, I certainly think that. They should have been beaten in the drawn All-Ireland. Kerry panicked in the last 12 minutes.
"They had a game there for the taking and you have to admire what Dublin did. I thought there was slippage in both games.
"There is a need to readjust and reinvigorate and bring one or two new faces into the defence. There is a sign, but does that mean Dublin will lose the All-Ireland under new management? I'm not saying that at all. Could Kerry win an All-Ireland? I'm not saying that either."