Séamus 'Banty' McEnaney says Dessie Mone and Vinny Corey are "fantastic fellas" who will go down as some of greatest ever servants to Monaghan football.
Banty must plan without the Clontibret pair for his second stint in charge of the county after they both announced this week their decision to hang up the inter-county boots.
McEnaney met both players two months ago and it was decided no decision would be made until Clontibret exited the club championship. After winning a seventh county title, their journey came to an end in an Ulster semi-final defeat to Donegal's Naomh Conaill.
With 33 championship campaigns between them – Corey made his senior debut in 2003, a year before Mone – and two Ulster titles (2013 and 2015), McEnaney was informed of their decision to step away.
"These two lads have been legends of Monaghan football. I have been very fortunate to manage two unbelievable young men from 2004 until 2010 and they were an integral part of the team," he told RTÉ Sport.
"They are two fantastic fellas who will be remembered forever. They made up their minds that I presume their bodies just can't give the type of commitment that is needed for inter-county football."
While Corey spent the majority of his time in defence, his versatility offered his various managers further scope from a tactical standpoint.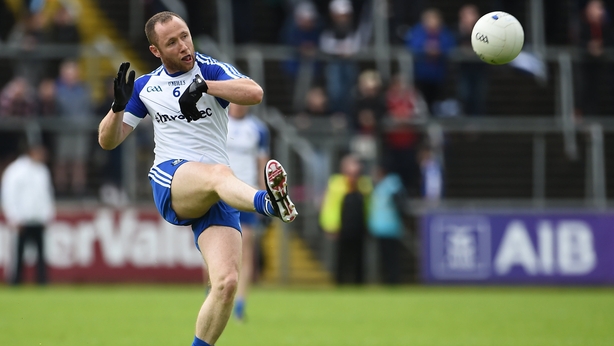 "Vinny played full-back in the 2007 Ulster final against Tyrone. At half-time, I switched him to full-forward. He almost won the game singled-handedly.
"We were beaten by two points, but he brought Monaghan to the brink of a first Ulster title in 20 years. He turned the game on its head. He's that versatile you could play him anywhere."
Mone meanwhile excelled as the team's designated man-marker.
The best compliment I could give Dessie is, nobody liked to see him coming
"Dessie was my go-to man in defence. He picked up all the dangermen around the country. Paddy Bradley, Steven McDonald, Benny Coulter, Colm Cooper and others. The best compliment I could give him is, no forward liked to see him coming.
"He was a brilliant man-marker."
Of more immediate concern for McEnaney is bringing his Monaghan team to Clones on Sunday to take on Cavan (throw-in 2pm).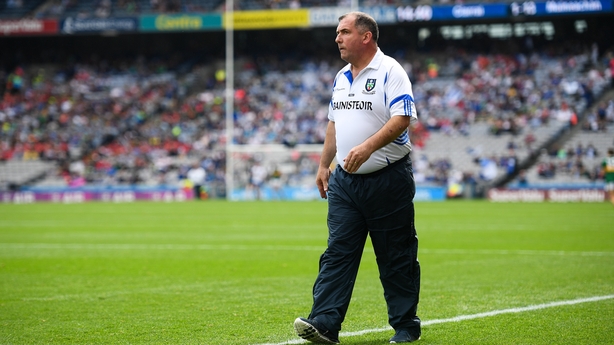 It may only be the first Sunday of December, but the Ulster rivals will be meeting in a challenge game with a difference.
Elaine Tate, a primary school teacher from Rockcorry and mother of three, was diagnosed with kidney cancer in 2014.
Ongoing chemotherapy kept the cancer stable, but in July this year, Elaine took a rare reaction to one of the chemo medications leading to paralysis from the waist down.
The Challenge for Elaine Tate takes place on Sunday the 1st of December when Monaghan take on Cavan in St Tiarnach's Park, Clones. pic.twitter.com/LU6YomJmBl

— Monaghan GAA (@monaghangaa) November 25, 2019
Now confined to a wheelchair, all monies raised will go toward much needed adaptations to Elaine's home to give her more independence on her road to recovery.
"The Monaghan players and myself are delighted to help in any way we can," McEnaney says.
"I played against Elaine's husband, Anthony Tate, for three decades at club level. The family is synonymous in Rockcorry GAA and it's great to be part of such a worthy fundraiser."