Galway's All-Ireland-winning goalkeeper Colm Callanan has retired from inter-county hurling.
The 37-year-old made his announcement in a statement released to the Galway GAA website this morning.
The Kinvara player said he was "content" he had given his all for Galway over 13 years and confirmed he would be taking a role in the coaching set-up under new manager Shane O'Neill.
"After 13 years wearing the maroon and white jersey, and after careful consideration, I have made the decision to step away from the Galway senior hurling panel," he wrote.
"It's a massive privilege to play for your county and I feel honoured and proud that I got to play for Galway for as long as I did. I was lucky enough to win everything on offer at least once."
A minor All-Ireland winner in 2000, Callanan made his senior championship debut in 2007 under the management of Ger Loughnane.
In the early part of the current decade, he vied with James Skehill for possession of the number one jersey, with the latter in goals for Galway's unexpected run to the All-Ireland final in 2012.
Callanan would wrestle back control of the jersey in subsequent years, enjoying perhaps his best season in 2015.
He made a string of saves throughout the championship campaign as Galway reached another All-Ireland final and the goalkeeper earned an All-Star in the process.
He played in every minute of Galway's successful 2017 season, in which Micheal Donoghue's side bridged a 29-year-gap to their last Liam MacCarthy victory.
Injury ruled him out of the entire 2018 championship campaign and he played no part in the 2019 national league.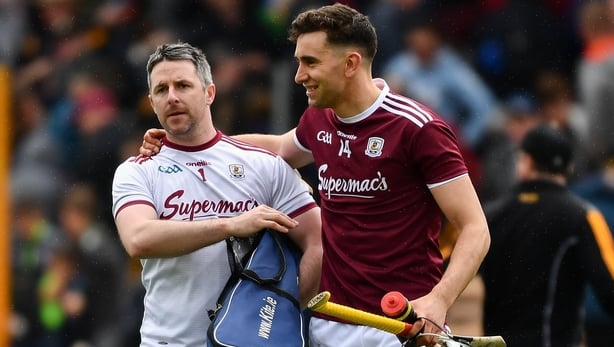 However, an injury to James Skehill saw Callanan regain the jersey for one final championship campaign in 2019.
He played in all four Leinster championship games this summer, rescuing a draw with a late save at home to Wexford but Galway were ultimately dumped out of the championship in the tightest of circumstances in a dramatic final weekend in which four teams wound up on five points.
In his statement, Callanan paid tribute to his former team-mates and the managers under whom he played.
"I was blessed to have shared a dressing room with such brilliant people throughout my career, which enabled me to forge friendships that will last a lifetime. It was an honour to go into battle with all of those Galway players, while it was also a privilege to get the opportunity to play against the very best players from other counties.
"I was also lucky to have enjoyed the support of excellent managers, coaches and backroom team members over the years. Special mention must go to the managers I played under – Ger Loughnane, John McIntyre, Anthony Cunningham and Micheal Donoghue.
"I'd particularly like to extend huge thanks to Christy O'Connor for being my goalkeeping coach all the way back to before I started with Galway in 2007. Christy opened my mind as to what was required at the top level, and he really lifted my standards...
"I'm content that I gave everything I had to the Galway jersey for 13 years. I've loved every minute of my journey and to have played in front of its dedicated and passionate supporters has allowed me to make memories that I will cherish forever.
"I'd also like to thank Shane O'Neill for his understanding and support of my decision. I'm also delighted that the transition will be made easier after accepting a coaching role in Shane's new backroom team.
"Let the next chapter begin! Up Galway!"