To be the first ladies football club to ever bring All-Ireland glory to your county surely deserves a few days off from work. And that's exactly what the All-Ireland Intermediate champions, Naomh Ciaran have planned.
"A few of us have work off until Thursday. We'll have a right good crack at it until then," coach Colin Kenny told RTÉ Sport amid the celebrations.
The five-in-a-row Offaly Champions have captured the hearts of the people of west Offaly and having racked up a total of 14-65 on their path to the final, they've captured the attention of the crowds too.
"Ferbane has just been crazy for the last couple of weeks," he said.
"I think the big thing was the Inch Rovers game in Ferbane. In extra-time and after half-time we got to play really, really well and we got to win it by 10 in the end. The girls just played really, really well and people got to see that.
"Then once we got over that semi-final there was a lot of interest from people that wouldn't have really gone to many football games before.
"Then when they saw that game they were saying, 'Geez girls football is actually really, really good.' From that then they said, 'we must go to the All Ireland Final now'.''
The ladies from the Faithful county faced their toughest test on Saturday afternoon and had to fight ferociously to claim the All Ireland title against Antrim's Naomh Pól at Kingspan Breffini Park.
"We were beat," admits Kenny. "We were down around five points with about eight minutes to go and I thought that we were in big, big trouble. But the girls worked a goal and once the goal went in we worked it back to two. The girls literally started piling pressure on then. They kicked four points and won it by two.
"I'd say it was the only time we led in the whole thing, maybe once in the first half. We just stole the lead with about a minute or two to go and held on then. It was class.
"We didn't actually play all that well really. Even in the semi final the last day and most of our Leinster Championship games we actually played good, decent football. But yesterday was just kind of slippy and we were just probably nervous and everything as well. We didn't actually get to play that well until the last ten minutes.'
Questions of quality didn't bother the minds of the faithful followers and the supporters relished in the dramatic win.
"When we got back on the bus in Cavan and we went back to the hotel to get food, the team supporters buses were in the hotel already waiting for us. It's deadly.
"Once we got back to Doon, one of the smaller clubs, they had bonfires and fireworks the whole lot. They shut down the town for us; there were guards and all there. It was just crazy. The girls were saying then, 'this is deadly'.
"Once we got back on the bus to go back to Ferbane then there was an even bigger crowd waiting for us there. It meant a serious deal when there were so many of them out there to support us.'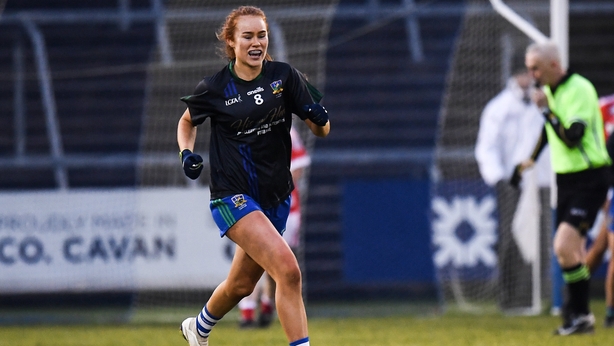 It's a real family affair for Kenny whose father is the manager and 'main man' in the Naomh Ciaran set up and his sister is the wildly talented forward Kate, who bagged herself a total of eight points (four frees) in the Final.
"Course I'm proud of her. I'm very proud," said Colin.
"People have been saying this to me all day (about her scoring rates) but we didn't really notice her scoring all that much. It's just kind of frees and then she kicked two or three, you don't really notice her doing all that you know that sort of way?' A hint of sibling rivalry creeping into his analysis...
"But no, she played well now in fairness to her."
There was a time when Kenny himself was lighting up pitches across the country playing for Offaly at underage levels as well as earning an under 18 rugby cap for Ireland. But his own sporting career was tragically cut short when he was diagnosed with an irregular heartbeat at the age of 21.
He admits he is still adjusting to his new role on the sidelines rather than on the pitch.
"Of course you feel unbelievably proud of the girls and the way they've improved this year. And getting to win the All Ireland with them is not filling the void but it's very, very close to it. I'm just buzzing."
The celebrations that come with GAA wins, both big and small are undoubtedly unique and the folk of Ferbane are no different to that tradition.
"There's just a savage atmosphere about the town and all the pubs that we go into. Everyone you meet is just mad to chat to you. We're just living off that buzz at the minute. Thursday could be bleak enough now when we have to go back to real life but we'll still probably be in savage form.
"The win makes for a deadly Christmas."