Former Limerick hurler Niall Moran said he was 'disappointed' by the news of indiscipline involving two hurling squad members in New York but called on supporters to refrain from being too judgmental about the players in question.
And he attempted to scotch the narrative that this incident marked the beginning of a more general Limerick 'implosion' following the All-Ireland success of 2018.
Limerick confirmed on Tuesday that two unnamed members of their hurling squad had been sent home early from New York for a breach of discipline, which followed the emergence of a video of a violent incident.
The video is believed to have been taken and shared in a WhatsApp group by one of the players disciplined and shows the other player involved in a fist fight with a third man, reportedly a Limerick supporter.
Speaking on Game On on RTÉ 2fm, Moran said he had seen the video on social media "like everyone else", stressing that in-house disciplinary measures would need to be taken. However, he was quick to add that the players involved would learn from the experience.
"I witnessed the video like everyone else. You can't say you're not disappointed by it. It is disappointing and probably more so for those players, and their families and their teammates.
"We live in an era of social media. People's phones seem to be an extension of their hands. I'm not condoning the behaviour that happened but I don't know the background to it. I'm not going to pass judgement on something I wasn't there for.
"For management teams, trying to control social media and activity around it is nigh on impossible. It is a part of everybody's life.
"I know that John Kiely is a disciplinarian. He has brought stability in the last three or four years. In-house, they'll have to take disciplinary measures. And they will.
"People make mistakes and you learn from experience. In the lads' case, they're going to have to take their medicine now whether they like it or not. That'll stand to them in time."
"Maybe there's an element where this is feeding a nice little storyline. This was a rags to riches story and Limerick are going to self-implode like they have over the generations. I don't buy that.
Moran also rejected a narrative which he said he sensed was forming around this marking the beginning of a Limerick fall from grace.
Certain people, Moran suggested, were keen to push the narrative that Limerick were now about to implode as in previous generations.
The former Ahane player also pointed to stories which dogged his own generation of players - who won three consecutive All-Ireland U21 titles at the turn of the century but failed to achieve any consistent or sustained success at senior level.
"I saw a sensational headline early on about the fairytale of Limerick being over," Moran told listeners in the Clayton Hotel in Limerick.
"Maybe there's an element where this is feeding a nice little storyline. This was a rags to riches story and Limerick are going to self-implode like they have over the generations. I don't buy that.
"If you go back to when we hurled for Limerick, unfortunately for the vast majority of my career, we were unsuccessful. We had been underage starlets, we had won three U21s in a row and we hit the tail end of a very good team who were in the All-Irelands in the 90s.
"We were forever clouded by stories of drinking and carousing. And most of it were never true. It was heartbreaking.
"At the time, I wouldn't have been a drinker - though I was probably driven to it in the finish!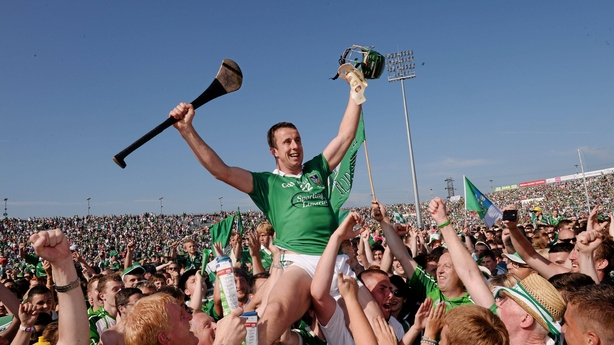 Returning to the incident in New York, Moran called on supporters to refrain from judging the players in question.
"Everything has been sensationalised. It's like what Dan Shanahan was saying: 'Unless you don't know me, don't judge me.'
"One of the guys who was involved in that incident (in New York) - I don't know the other guy personally - but that guy is a phenomenal guy. He is a brilliant guy, what he has done for his club, what he has done for his family.
"So, I'm disappointed for their sake that this has come to light. Yes, it will be dealt with. But it's by no means a reflection of the team and the management, and it's no reflection on where they're going to go over the next four or five years."