The International Rules series is a "golden goose" for the AFL to the detriment of Gaelic football, believes Tomás Ó Sé. 
Yesterday the GAA announced that it had agreed two series with their Australian counterparts for Tests in 2020 in Ireland and 2022 Down Under.
The last game was played in Australia in 2017.
It is a series that seems to exit in a constant state of flux with interest levels dropping and rising among players, administrators and fans since its inception in 1984.
We need your consent to load this SoundCloud contentWe use SoundCloud to manage extra content that can set cookies on your device and collect data about your activity. Please review their details and accept them to load the content.Manage Preferences
However, Ó Sé, who played in the 2002 and 2005 games, believes that the main incentive for the Aussies is to scout for football talent.
"We are an amateur sport, these lads are after falling on the perfect golden goose here," the five-time All-Ireland winner told the RTÉ GAA podcast.
"It worth everything to them because you can get a Tadhg Kenneally [Kerry and Sydney Swans], a Jim Stynes [Melbourne], there are so many examples.
"I do not get how we are going over and putting our best on show and allowing them a free pass to come over and pluck our players."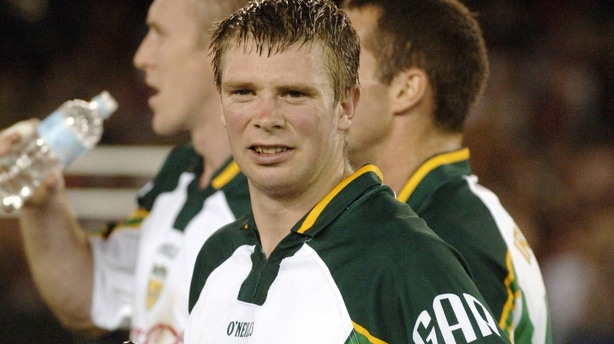 Ó Sé said that seeing former Kerry underage star Mark O'Connor excel for Geelong made him proud of the former Dingle player but that it also brought home the reality that the International Rules series  - during which the AFL hold combine trials in Ireland – can result in future stars of the GAA being lost to the game.
"People think I personally have a problem with Mark O'Connor going over, I don't," he added.
"It's an opportunity of a lifetime but it just irritates me 'cos I know I can't do anything about it.
"Whatever about Kerry, they will always have players coming through but it's an easy option for a guy who is an up-and-coming talent in Carlow or Waterford or wherever.
"They need these players. So he's with club all his life and these guys come over, pluck him, gone.
"It's a perfect scenario for the Aussie Rules guys: they're coming over, trip for the lads, 'we'll get our scouts in, there'll be no issue, we'll get on with the GAA', they leave the country, the club is after losing a young fella.
"It's not about the young fella doing wrong, he's not. He's following a dream of professional sport.
"But I saw clips of Mark O'Connor. Imagine what he could do for Kerry? I'm proud of the lad, he's doing brilliantly over there.
"We make it far too easy, they contribute nothing to our society or our games, nothing."
After 23 confident and assured games in 2019, Mark 'the Shark' O'Connor is a defensive staple 🦈

Season Review 📘: https://t.co/Fe37MxaPUD pic.twitter.com/ASq48vyn9R

— Geelong Cats (@GeelongCats) November 9, 2019
Ó Sé was also of the opinion that there could be some sort of compensation available for clubs that lose potential stars.
"We are dealing with a professional outfit here. Let them fork out," he said.
"If they are working so well organising these Tests [then] what would it mean to the likes of Dingle or whatever club to get a few bob to put towards a new building?
"Everyone saying you're representing your country and I get that but it wasn't with a GAA team. I couldn't buy into it the same way I'd buy into a Kerry team.
"It actually pisses me off the way the whole thing works. This is fairly ironic since I thoroughly enjoyed my time out in Melbourne.
"It was a junket, it was a great trip."
Listen to the RTÉ GAA Podcast at Apple Podcasts, Soundcloud, Spotify, or wherever you get your podcasts.