Mourneabbey know more than most what it feels like to be on the losing side in an All-Ireland Ladies Senior Football Club final.
The Cork outfit have been a near permanent fixture in Croke Park over the last few years, but came out on the losing side in the 2014, 2015 and 2017 deciders.
Driven on by the heartbreak of those three final defeats they finally broke their duck last year with a hard-fought 1-13 to 1-07 victory over Foxrock-Cabinteely and are in no mood to hand back the Dolores Tyrrell cup.
Standing in their way are Galway's Kilkerrin-Clonberne who are in their first ever final and Mourneabbey's Eimear Meaney believes that her side's experience gives them the edge.
"We've been in too many finals that we've lost and that's the worst place in the world," she told RTÉ Sport. "That contrast last year and that feeling, you can't even describe so we are definitely searching to go back to that feeling.
It was just such a relief, we'd been there so many years and it was such a struggle
"I spoke to people last year before the final as well and I was saying that we couldn't put it into words and I still don't think we can.
"It was just such a relief, we'd been there so many years and it was such a struggle. It was really hard to regroup and come back every year but it was finally worth and we had that massive sense of achievement.
"There was probably times when we thought we'd never make it but then when you look back on it, those losses stood to us."
"We matured so much as a team, we really kept our composure last year and that's something that we didn't have in previous years, so as tough as those losses were I think we needed those to get the win last year.
"We have players there that have won junior, intermediate and senior All-Irelands and the leadership they show on that pitch, I just don't think you can match it, it's unbelievable experience that they have.
"We're coming in it differently from other years now. We were so upset other years but I suppose you kind of come in on a high because you just want to get that winning feeling back again."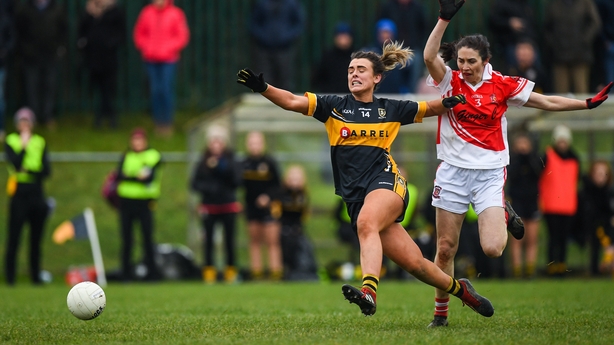 While this game represents Kilkerrin-Clonberne's first appearance in the final, they've been knocking on the door in recent years and were edged out by the Cork champions in last year's semi-final.
O'Sullivan sisters Doireann (0-08) and Ciara (0-03) accounted for 11 of Mourneabbey's points in their 1-14 to 0-09 victory but Kearney expects a tighter encounter this time around.
"We met them last, we actually travelled up to them last year and we overcame them. They gave us a really good match. I think that match really helped us going into the final because it was such a tough match.
"We played them again in 2015 down in Mourneabbey and we came out of that with just a point so we know what we're up against.
"It's going to be a brilliant game for the neutral.
"They're such a fit team and they play a real running game so they're quiet similar to ourselves and I think they'll really put it up to us on Saturday."