There's not usually much romance to be found in a six-in-a-row.
Few eyebrows were raised when Munster champions Ballygunner swept aside De La Salle Sunday before last to claim their 18th Waterford SHC title and 10th this century.
But for 22-year-old former professional soccer player Dessie Hutchinson, who hit 1-03 on the day, it was a special moment as he claimed his first county title, alongside older brothers JJ and Wayne.
Former underage hurler Hutchinson joined Brighton & Hove Albion as a 16-year-old and despite captaining the club's Under-23s and playing for Ireland Under-19s, he made only one senior appearance under former manager Chris Hughton.
The collapse of a loan move and an unfortunately timed injury led to his release in May 2018 and Hutchinson rejoined Waterford FC, helping his hometown club to top-four finish in the Premier Division. But the failure to realise his soccer dreams meant that he had fallen out of love with the game.
"I did, definitely," he told 2fm's Game On. "It probably comes down to the changeover, being at such a high, professional club, and then coming back to the League of Ireland.
"The standards, they do drop a lot. That's no disrespect to the League of Ireland, the Premier League is the biggest in the world, you're not going to get it here.
"The way you prepare for games, training, video analysis, rest and recovery, is completely different.
"If I had got that loan move I wanted in January, things could have worked out differently but I'm probably glad they didn't now.
"You probably expect you're going to be this professional footballer and you're going to earn the money and have the fancy stuff, but that's not the reality - especially when you're the young guy trying to make it. You can probably only think about these things when you play 50, 60 games in the Premier League I would imagine.
"At the start, I was probably thinking, 'I'll go home for six months and hopefully I'll get that move back over'. But as I was playing, I decided I didn't want to do that anymore.
"I could have gone back and played at League Two or Conference level but for my own standards that's not where I wanted to be. Playing in Ireland would have been the same as playing in those leagues so for me I was happier playing in Waterford."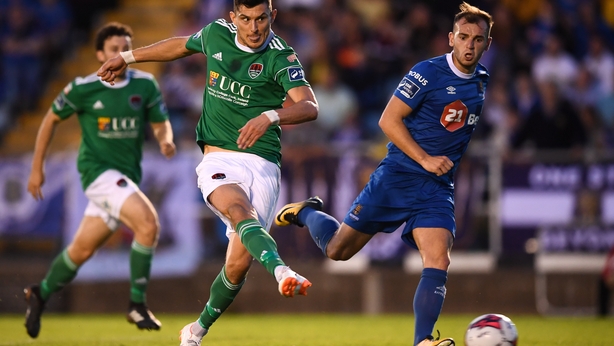 Hurling is a famously technical game but Hutchinson had kept his eye in while in England, regularly pucking around with team-mates such as rising star Aaron Connolly, who he describes as "definitely good enough to go all the way".
"Thankfully, it was natural enough to me touch-wise," he says of switching back to the small-ball code this year.
"It was just getting back used to the game situations, the speed of the game and taking the hits you have to take.
"But I was always tapping around. Whether I was over in England, there were a few of us Irish over, or when I came home in the summers, the first thing I grabbed onto was a hurley. It wasn't as if I put it down and didn't touch it for six years.
"We're lucky in Ballygunner, we have a lot of county lads with good experience of playing at big levels. I try to pair myself up with these lads when I'm training to help me get better."
#ICYMI@Deshutch8 joined @docallaghan4 @Ruby_Walsh @mariecrowe to reflect on his time at @OfficialBHAFC and @WaterfordFCie; playing gaelic football with @GaultierGAAClub + @WaterfordGAA; and his recent success with @ballygunnerHc @RTEgaa | @RTE2fm

??https://t.co/p7vyEWvTNT pic.twitter.com/kQGVlmsuEH

— Game On 2FM (@GameOn2FM) October 23, 2019
Waterford FC wanted Hutchinson to come back for this season but he was happy focus on fulfilling his childhood dream of winning a county title with the Gunners.
"I'm doing something I really love now. I know it's not the professional lifestyle and you don't get paid for it but I'm loving what I'm doing at the moment.
"I'm lucky I was able to come home to that, a lot of lads don't get to do that after playing professional soccer and they're stuck in a hole and they don't know where to go.
"For me, it was unbelievable to come into that sort of environment, a team that want to just keep driving and driving to try and be successful.
"Some of them lads were after winning their seventh and eighth county medal and it felt like their first. To have that attitude towards the club, community, your family and friends, is unbelievable and something that can't really be taught.
"It was great for me. It was my first one but the lads have been there six years in a row. To have that experience going in made it easy for me.
"It was a great achievement but we have bigger days to come."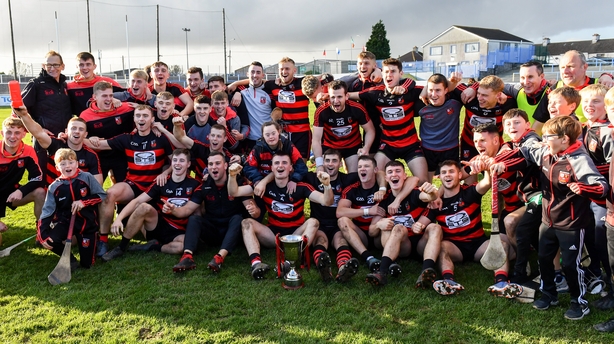 Those bigger days include a Munster club quarter-final against Clare champions Sixmilebridge on 3 November and potentially trying to break into Liam Cahill's Waterford panel.
He has already lined out for the Deise footballers, playing in an Allianz Football League game before he even made his Championship bow for Gaultier.
"That will be the aim come later in the year," he says of lining out for the county hurlers.
"Hopefully I won't have to think about for a while because hopefully we'll still be in it with Ballygunner. But it's definitely something I want to do."