DJ Carey says he's excited to get started as a selector with Kilkenny.
The nine time All-Star was confirmed as part of Brian Cody's management team for 2019 following a meeting the county board last night.
He takes the role having been the county's under-20 hurling, and minor football manager, during the summer.
"I stepped down from the under-20s to take a break from it," he tells RTÉ 2FM's Game On.
"All of a sudden, I get a call a couple of days later to see would I meet Brian. I didn't realise what it was. He didn't give much away on the phone.
"I had some reservations. One of my sons (Michael) is on the extended senior panel for 2019. Obviously he would be looking to step up next year, and I'd have reservations on that myself.
"He (Cody) didn't accept it as an excuse, so here we are."
Carey's own management achievements saw him bring IT Carlow to a first ever Fitzgibbon Cup final in 2017.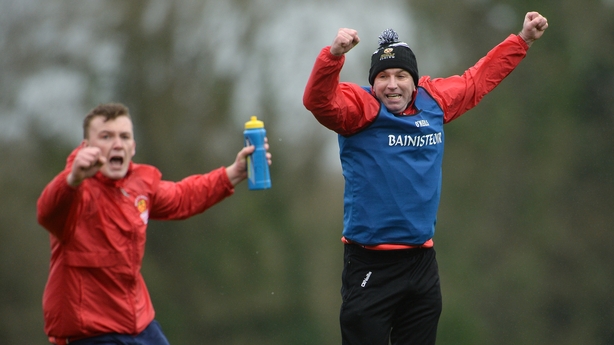 They were well beaten in that final, but the Gowran man would go on to bring Leinster under-20 success to his own county this past summer.
"Nothing, in my opinion, will ever substitute for playing", he admits.
And while Carey says he doesn't have ambition to be an eventual replacement for Cody down the line, he's glad to be able to help others achieve on the field.
"My own mantra on it is that I'm a Kilkenny person, that's where I'm from. I'm a Gowran person, that's where I'm from.
"That's where I want to be be. Whether it's at under-6s in your club, or whether it's at senior level as part of management.
"I'd much prefer to have the role that I have now than be the actual manager of the team.
"It's a big step up. It's something I look forward to. Kilkenny were in an All-Ireland. Nothing will do Kilkenny people only to go one better than that."
Indeed it's a rare year when the Cats head to Christmas with nothing in the trophy cabinet.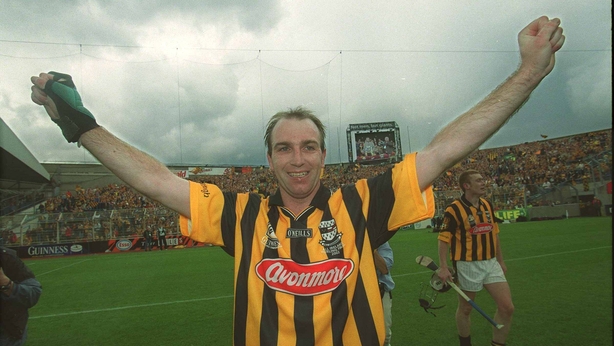 They relinquished their Allianz League crown in the spring, before losing the Leinster final to Wexford. They bounced back to beat old rivals Cork in an All-Ireland quarter-final, before de-throning defending champions Limerick in the last four.
The final was a damp squib however as, despite a good start, they were totally outclassed by Tipperary.
Carey hints that recent tactical changes that teams have implemented were designed to prevent the great Kilkenny team of the turn of the last decade from running up such big scores.
Despite this, he says he enjoys the way the game has evolved.
"The tactics that have come in over the last five or six years have been to stop the likes of Kilkenny scoring goals. It's worth three points, but it's probably even greater than that three points if that makes sense?
"I like it even though there's a lot of criticism out there. I think Wexford play a brilliant brand of hurling.
"The style of hurling which is coming in is very, very fast. It's move the ball very quickly. You have to be able to shoot from distance.
"The sweeper, or the extra man back, or whatever it is, that's come about to stop goals being scored against teams.
"On the other side of that then, you must be able to counter that, and work the ball out at serious speed.
"The way it has gone, is it absolutely traditional? No. But is any sport, or anything in life traditional? Very little is, and I like the game."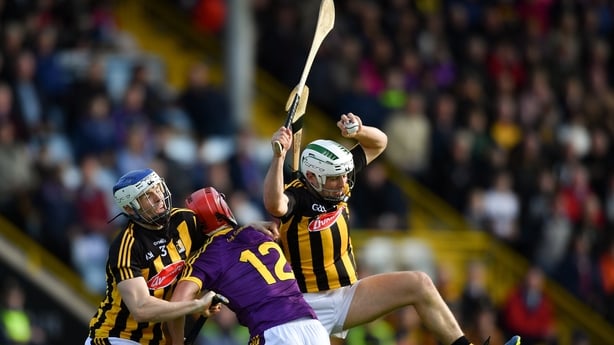 The style of play is different, but Carey says the biggest change in the last 15 years has been in terms of player fitness.

"They're athletes, it's as simple as that," he says.

"One time it was, 'we'll be able to get lads fit, we'll be able to get them a bit faster'. People would come back from Christmas with a bit of weight.

"Now it's be fit, and we'll teach you to hurl!"

"I remember being at an Ireland training session, and there's four lads on tablets looking at a collision, and then being able to monitor from the GPS as to where the heart rate is.

"That's the way the modern sport has gone. We're probably behind in Kilkenny, in terms of the whole modern system. We have to bring ourselves up to date."

 

We need your consent to load this SoundCloud contentWe use SoundCloud to manage extra content that can set cookies on your device and collect data about your activity. Please review their details and accept them to load the content.Manage Preferences

Listen to the RTÉ GAA Podcast at Apple Podcasts,

 

Soundcloud, Spotify, or wherever you get your podcasts.