Footballer of the Year nominee Jack McCaffrey says Dublin's footballers insist Jim Gavin is the only man they want to see in charge next season.
There has been speculation since the Dubs completed their historic five in a row with All-Ireland replay victory over Kerry that Gavin was set to step down.
However, the man himself hasn't made any comment on his future and McCaffrey hopes to see him on the sideline again in 2020, having first pulled on the Bainisteoir bib in 2013.
"He'll certainly continue to keep pushing us on and there's no feeling that we need a fresh face or anything like that. He just finds these little extra inches year on year, week on week," said the flying wing-back, speaking to RTÉ 2fm's Game On.
"He's just a hugely impressive man and obviously very important to my career as well. We definitely get a lot of it from Jim and from the whole management team as well and then we're empowered to bring our own thing as well.
"Everyone brings a little bit of something different, but from him it's always about Dublin GAA, remembering who you're representing, where you're from, your family. He sets that standard and it permeates down to the rest of us."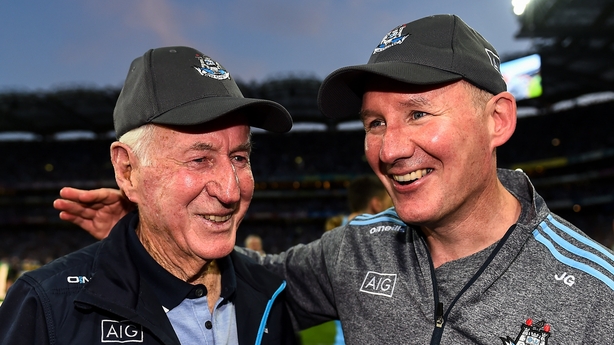 Gavin has led Dublin to every All-Ireland title open to him, bar 2014 when they lost the semi-final to Donegal.
They were the first team in senior GAA history to win five on the bounce, which assures their place in history.
"The immediate aftermath of this final was unlike any other game I've played in," said McCaffrey, who also revealed that he has deleted all of his social media accounts because he was spending too much time looking at his phone.
"My parents were away for a week so I still probably haven't sat down with them and reflect on it.
"The week after was manic and very enjoyable, but the most enjoyable parts of it were the odd hour or two when you'd slip off with one or two of the lads and just sit in a quiet pub and chat.
"Over the next few months I'm looking forward to having a few reflective chats. The enormity of it probably won't sink in until we're all long finished playing and we can look back on it."
As well as being one of the best footballers in Ireland, McCaffrey is also famous for the way he smiles his way around the pitch during the pre-match parades even on the biggest of days.
He said: "Sometimes it works and everyone points to it as a good way to approach a game and sometimes it doesn't work out and it means you weren't focused enough. Everyone has their own approach to big matches and big events in your life.
"For me, going into it, I find the most important thing is being relaxed – that's what works best for me so I'm going to have to keep trucking away with that."