Davy Fitzgerald admits he came close to quitting as Wexford boss before a series of conversations convinced him to 'go with my gut' and stay.
Wexford announced on Thursday evening that Fitzgerald would stay on as manager for another two seasons, having been originally appointed for the 2017 campaign
"It was a really hard decision. It took a lot of time," he told Damien O'Meara for RTÉ Radio 1's Morning Ireland, highlighting the travel involved from his native Clare to training as a big consideration.
"If you're leaving home at half one, two o'clock in the day, and you're getting back at one in the night, that's a major factor. There were other personal issues in the middle of that.
"I did say to the Wexford chairman (Derek Kent) straight after the game that I just couldn't do it anymore.
"He asked me to take a few weeks more to think about it. I did that and at the end of the day it was just very hard to walk away.
"Last Sunday, Monday, Tuesday I had 100% made my mind up to walk away.
"On Wednesday night I got a call and got a message from someone else and it probably changed my mind again.
"I just said 'You know what, I have an incredible bond with the lads and I'm going to go with my gut and just do this'."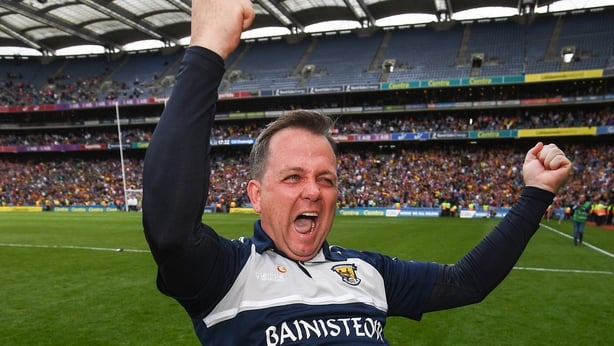 Wexford ended a 15-year wait for Leinster glory this year and though Fitzgerald believes in the team's potential to push on and reach a first All-Ireland final since 1996, he warns that repeating the feats of 2019 will be no easy task.
"I think there's massive potential. I believe that but the decision was probably made around people," he said.
"I think it's going to be difficult enough. You're probably going to have to look at one or two years if you're going forward.
"After a year like that, sometimes it gets a bit flat the next year, and there could be a chance of that, so you're looking at two years again to try and reach those heights.
"After getting to such heights it can be tough to go back again but by God we're back there now and we'll give it everything.
"The supporters down there were unbelievable as well. I haven't felt like that, being made feel so welcome, in a long time.
"Everything weighed up into that decision."
Fitzgerald had been strongly linked with the vacant Galway job, to the extent that some bookmakers had stopped taking bets on him taking over the Tribesmen.
"Naturally, you have a few friends ringing you from different places and saying stuff to you," said Fitzgerald of the speculation.
"Did any other county board talk to me? They didn't."
Listen to the RTÉ GAA Podcast at Apple Podcasts, Soundcloud, Spotify, or wherever you get your podcasts.