All-Ireland senior football final referee David Gough revealed that he went through a self-imposed media blackout in the build-up to this year's final after questions were raised about his suitability for the clash.
Gough was the man in the middle for the first drawn game between Dublin and Kerry at Croke Park, taking charge of his first All-Ireland final.
Debate arose in over whether Gough, who lives and works in Dublin, should have been given the job with former Kerry manager Eamonn Fitzmaurice saying it would be an "injustice" and Aidan O'Mahony adding it would put pressure on the referee.
In the end, Gough handled the showpiece final admirably, and made the tough but confident decision to send-off Dublin's Jonny Cooper.
Gough, who is from Meath, admitted that he felt the pressure in the build-up the game, but added that time away from social media helped him for focus for the game.
"It was difficult and very different," he said on 2fm's Game On. "I suppose I've never been exposed to that kind of media scrutiny before.
"Under the advice of Croke Park I took all social media away from my phone, that included my Twitter and Instagram.
"I completely removed myself from what was happening in the media in the two-and-a-half week build-up to the match and it was strange.
"I got a lot of work done around the house, I started gardening and reading books I'd never read before and it was just lovely to stay away from the whole lot of it.
"Getting closer to the match I went to see the sports counsellor which I was provided by Croke Park and I had breakfast with and over a couple of hours we chatted about the game, visualisation of certain situations I might encounter in the match, what to expect and how to prepare myself mentally."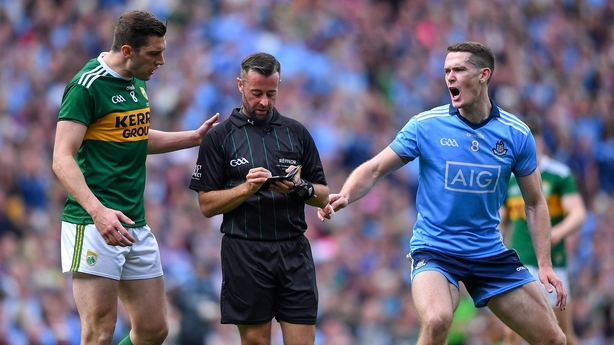 The Slane clubman gave an insight into his role in the build-up to the final, and just how well organised everything is behind the scenes on final day at headquarters.
"It's quite a difficult scenario," he explained. "Everything is scripted from the moment you arrive in Croke Park at about 12:30pm in the day.
"We watch a bit of the minor match but then it's into the dressing room to get wired up and to speak to your match officials and umpires.
"You arrive on the field at 3:03pm and in your ear there is someone telling you where to stand, where to go, to get the teams together, to initiate the handshake, to get them off, to get them behind the parade.
"Everything is scripted and I have to go through all that before I throw up the ball and it's just to get the mindset right."