As Peter Keane reflected on what might have been, he pointed to the gap in terms of experience between his Kerry team and Dublin's five in a row winners.
This Kingdom outfit was put together on the back of the 2014-2018 minor five in a row and for two thirds of the starters the drawn game at the start of September was their first taste of a senior All-Ireland final.
They pushed Dublin hard in the first game and kept nose-to-nose with them in the replay for 35 minutes, but Eoin Murchan's goal right from the second half throw-in put daylight between the sides and that was that.
"We were there in the first half, we were chasing a bit at four points down at one stage, and then we got back level at half-time," said the Kerry boss, who masterminded the last three of those minor All-Ireland wins.
"The goal wasn't part of the plan just after half-time and we worked our way back into it. We had our chances, but we were always chasing it.
"If you concede a goal it's as good a time as any to do it because you have 40 minutes left to get it back. When we had our goal chance (Stephen O'Brien shooting straight at Dublin keeper Stephen Cluxton on 53 minutes) we were three points down. We had chances.
"We kicked a few wides and that will happen; that's inexperience. There were a few areas we were struggling in and they dominated in those areas. They kicked some scores and we weren't able to get back at them."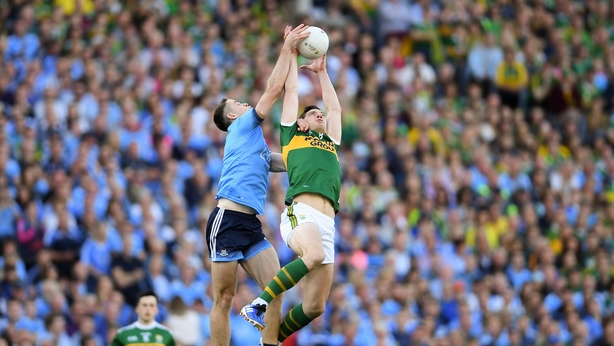 Kerry had the chance to win it in the drawn game, playing against 14 men for most of the match following Jonny Cooper's red card before half-time.
They were a point up in stoppage time at the end of the contest and they couldn't hold on, though Keane doesn't subscribe to the theory that they left it behind them.
"I wouldn't have felt that we left it behind. I can see the argument, but I wouldn't agree," he explained. "Dean Rock had a chance to kick a winner and if it had gone over there'd have been no left-it-behind - we'd have lost.
"This is a young team. We had 11 starting in an All-Ireland final for the first time in the drawn game and two more that came on, so that's 13. In many ways it was great that we got another shot and another opportunity to build on that."
Kerry look to be clearly the second best team to Dublin in the country at the moment, though that was no consolation to their manager or players in the wake of All-Ireland final defeat.