A striking stat has been doing the rounds, which could lead superstitious sorts to believe it might be Tommy Walsh's day this Saturday. 
There have been four All-Ireland final replays this decade, three in hurling and one in football. (Four probably doesn't seem like a lot given the prevailing bar-room narrative that the GAA is more money-hungry than Goldman Sachs, but in fact there have only been five football replays in the past 65 years and the 2012 hurling re-match was the first since '59). 
The stat will probably have gone everywhere by the time you read this, but here goes. Remarkably, the Man of the Match in each of those replays was a player who hadn't started in the drawn game.
Walter Walsh hit 1-03 after being tossed into the mix in the 2012 hurling re-match, when Kilkenny finally solved the puzzle of Galway. Late inclusion Shane O'Donnell struck a memorable first-half hat-trick as Clare out-scored Cork in a shootout in 2013. And Kieran Joyce, having not played a second in the thrilling drawn match, was to the fore as Kilkenny strangled the life out of Tipperary in the replayed 2014 game. 
Two years later, Mick Fitzsimons, starting his first final since 2011, took the Man of the Match prize in the gripping 2016 football replay win over Mayo. 
There might be likelier candidates than Tommy Walsh to make this leap from the subs bench on minute one the last day to Man of the Match the next day. 
Killian Spillane, perhaps, who was down to start on Sunday week but was dropped shortly before throw-in for Jack Barry, or maybe Eoin Murchan, widely tipped to start this weekend after impressing most off the bench for the All-Ireland champions. 
Definitely, Walsh collecting the bit of crystal from John Horan on Saturday evening would represent the best story.
Ten years ago, he wasn't far away from winning the same prize on All-Ireland final day. 
It feels a long time ago now. The recession was still in its most vicious phase, Thierry Henry still hadn't painted himself as a national villain, and Tiger Woods still hadn't collided with that fire hydrant. 
And Dublin football - still under the thumb of Kerry and the Ulster kingpins - was then the GAA equivalent of the England football team at World Cups, whose fumbles and failings in the latter stages were a source of continued delight to much of the rest of the country. 
Bizarrely, Dublin entered the famous 2009 quarter-final - the 'startled earwigs' game - as favourites, a consequence of Kerry's exceptionally shaky progress through the qualifiers. That counted for nought once the game started. Indeed, Dublin's scoring tally didn't get far above nought for a long time. By 26 minutes, the score was Kerry 1-10 Dublin 0-01 and the game was over.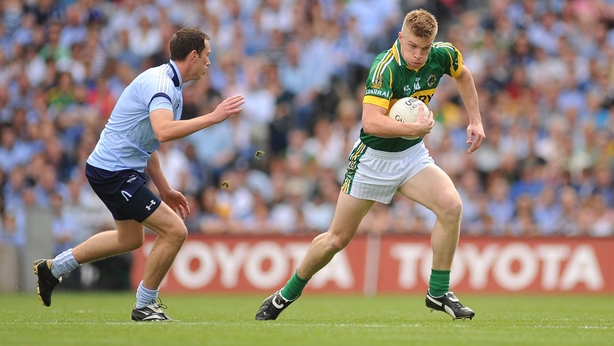 Kerry's 2009 season ended up panning out like one of those stereotypically glorious Italian World Cup campaigns, where they flirt with ignominious disaster early on but come into full bloom just in time for the business end.
Aside from the Dublin display, Cork's form had been more impressive en route to the All-Ireland final and they had soundly beaten Kerry in Munster. In fact, Cork's form in 2009 was considerably better than in 2010, when they wound up winning the All-Ireland.
But Kerry were the sure-footed old hands, with the vast majority of the team boasting multiple All-Ireland medals. After shipping an early goal, they gradually exerted a grip on the game and led by half-time. 
Walsh delivered his best championship display for Kerry, lifting over four superb scores from play, the highlight being the final one, when he collected the ball in the corner where the Hogan Stand met the Canal End. He played a one-two with Donnchadh Walsh and struck a lovely point. 
Man of the Match was surely a possibility but the gong ended up going the way of Tom O'Sullivan. 
Walsh was called ashore late in the game for his childhood friend and Kerins O'Rahillys mucca David Moran.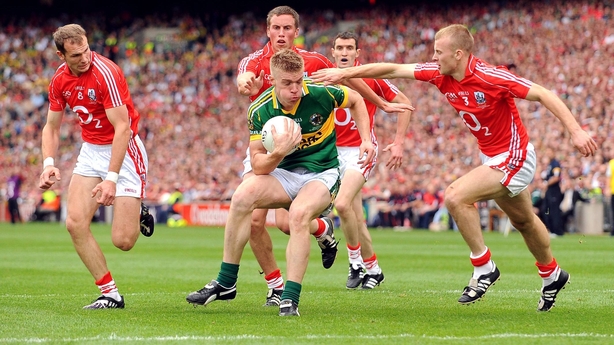 The pair are the only survivors from that All-Ireland success, the final decider of the noughties. Both have had varied careers since then, marked by several ups and downs. 
No sooner had Walsh collected his first - and thus far only - Celtic Cross than he was bound for Australia. Tadhg Kennelly had famously returned from professional sport in Australia to win an All-Ireland senior title with Kerry. With that life ambition achieved, he returned Down Under and Tommy Walsh followed him there, having been head-hunted by St Kilda. 
Walsh spent five years in Australia, incorporating two seasons at St Kilda and three at Sydney Swans, where he was handed Kennelly's old 'guernsey'. 
On the pitch, Walsh's spell down under was hampered by an initial struggle to establish himself as a regular first-team player. And then once he had begun to get a decent run in the Sydney Swans team, he suffered a horror injury in the summer of 2013, tearing the hamstring off the bone in a match against Essendon Bombers.  
He signalled his intention to return to Ireland in 2014. 
"As much as I would like to have played more games over there, I definitely don't have any regrets about the way things went," he said of his spell in Australia.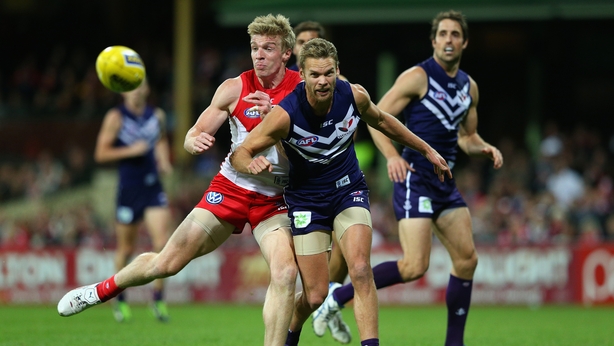 His return to the old sod proved something of a letdown. Possibly still feeling the effects of the 2013 hamstring injury, Walsh struggled to make an impact in 2015. 
Kerry were the reigning All-Ireland champions after an unlikely, bolt-from-the-blue style success in 2014, one which owed much to the stunning form of Moran, who had overcome a nightmarish run of luck with injuries at the turn of the decade and eventually delivered the performance of a lifetime in the dramatic All-Ireland semi-final replay victory over Mayo in Limerick. 
Walsh, however, failed to settle into the groove with Eamonn Fitzmaurice's All-Ireland winners and quickly fell out of the reckoning. 
Then selector Mikey Sheehy admitted they may have made a mistake rushing Walsh back into a county jersey so soon. He made no appearance in that year's demoralising All-Ireland final loss to Dublin and opted out of the panel in early 2016. 
That was it for Walsh for the remainder of the Fitzmaurice era. 
And now, suddenly, at the age of 31, he's back. His club form for Kerins O'Rahillys demanded a recall, say all those who've tangled with him at the grade. 
Even this year, he remained mostly a bit-part player, not featuring in the big Super 8s games against Mayo and Donegal. 
It was not until the Tyrone semi-final that he properly caught national attention once again. Kerry were still trailing Tyrone as they entered the final quarter when Walsh was tossed into the fray. 
With the Munster champions stacked with youngsters, and star graduates from recent minor successes, footballers of the future, Tommy Walsh's presence represented something of a throwback, a desperate fling of the dice. 
But he was instrumental in turning the game, laying on a couple of scores, opening up the space for the decisive goal and winning a scoreable free.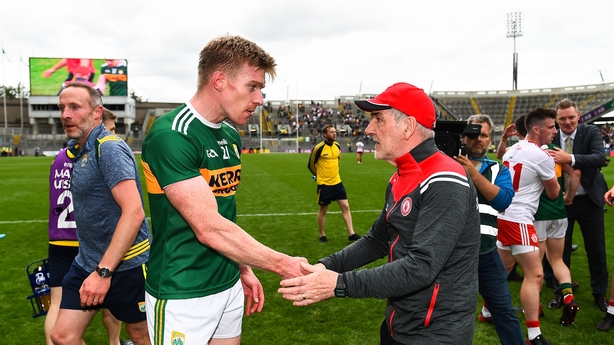 It was rather reminiscent of Kieran Donaghy in 2014.
Donaghy was also a kind of throwback by that stage. He'd barely featured at all under Fitzmaurice until he rescued the semi-final against Mayo that season. Even more than Walsh, he was a Hail Mary-style gambit that worked. 
Walsh followed up his fine Tyrone effort with another cracking 20-minute spell against Dublin. He got on the scoreboard and, along with fellow sub Killian Spillane, created havoc in the numerically challenged Dublin backline. 
There are definite echoes of Donaghy in 2014, whereby an almost forgotten figure, rescues a season and points the way to an improbable title.
There are even, whisper it, parallels to one Seamus Darby (should Walsh's team win this weekend). The Rhode player won two All-Ireland titles ten years apart, either side of a lengthy hiatus from inter-county football. The reasons for each hiatus were rather different, it should be added. 
Walsh is possibly unlikely to start today, and thus the chances of him emulating Walter Walsh, O'Donnell, Joyce and Fitzsimons are slim. But the Tralee man is a key weapon in Kerry's arsenal, likely to be deployed some point and his contribution may be crucial if the five-in-a-row charge is to be halted once more.  
Follow Dublin v Kerry (6pm) in the All-Ireland SFC final replay via our live blogs on RTÉ.ie and the News Now app, watch live on RTÉ2's The Saturday Game or listen to radio commentary on RTÉ Radio 1 and RTÉ Raidió na Gaeltachta.