The Galway ladies team found pitches hard to come by during the 2004 season which culminated in them winning their first-ever senior All-Ireland title. 
Unsurprisingly, pitch availability improved appreciably in the weeks leading up to the decider against Dublin. With such a big game coming up, Galway almost had their pick of grounds to choose from. 
"They were all nice to us the last few weeks," then Galway manager PJ Fahy tells RTÉ Sport. "We got all the good pitches the last three weeks. 
"Ladies football wasn't looked at as it is now." 
Indeed, the sport was almost on a different planet when compared with how much it has evolved in the last 15 years. Just over 20,000 spectators attended that thrilling 2004 final while last year's All-Ireland triple-header attracted a record-breaking crowd of more than 50,000. 
Fahy estimates that there were just seven or eight clubs when he first got involved with Galway ladies during the early years of the last decade. That number has since surged to around 40 with many more girls signing up to clubs. 
And the age profile has changed too. Modern inter-county players can dream of longer careers compared with the footballers of the previous generation. 
"The average age of the team that we won the All-Ireland with was probably 20," Fahy recalls.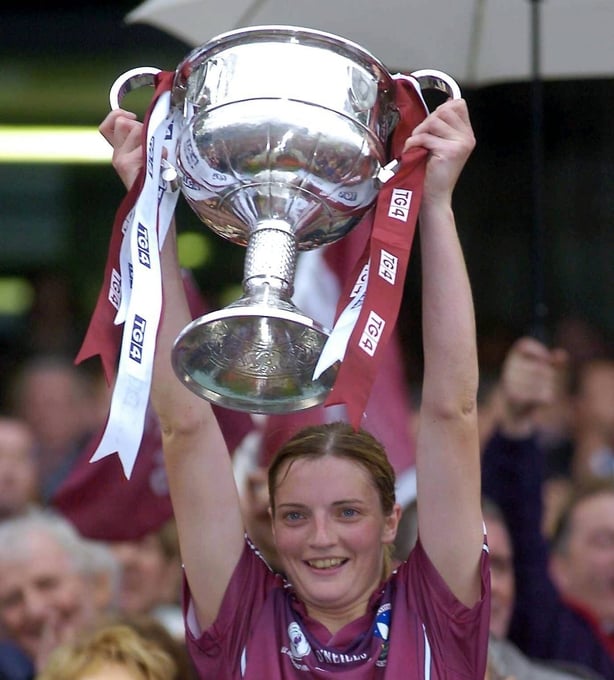 "And I'd say the average age of teams now is probably around 25, 26. In our time, when a girl came to 25 or 26, she was old and her time was up. 
"But now they're easily playing well into their mid-30's. The age profile has changed completely. And the amount of membership and the way the sport has grown the last 15 years is phenomenal." 
But there are some similarities between the current Galway squad and the Galway of old. Fahy's charges completed 125 training sessions the year they won that senior All-Ireland title, an effort that would match any team in today's game. 
He even reckons they'd have the edge on the team who are preparing to line out in this Sunday's All-Ireland final. 
"I'm not sure if the footballers are any better than we were that time," he says
"I'd say we'd win by a point and all our girls are 40. So, we'd only win by a point," he laughs. 
And when they did win the 2004 All-Ireland final, they were treated to an incredible homecoming that a team from any era would be proud to come home to. 
"It was unbelievable," says Fahy, looking back fondly. "It took us three days to go through the county. We came into Ballinasloe on the first night and we ended up in Corofin.
"The following evening we all met in Galway and went on a tour again. We started in Clonbur and went to Lettermore on the Wednesday. Then we had a day off and then on the Friday, we started in Galway and went to Oughterard and ended up out to Clifden. It took us nearly three days to get through the county.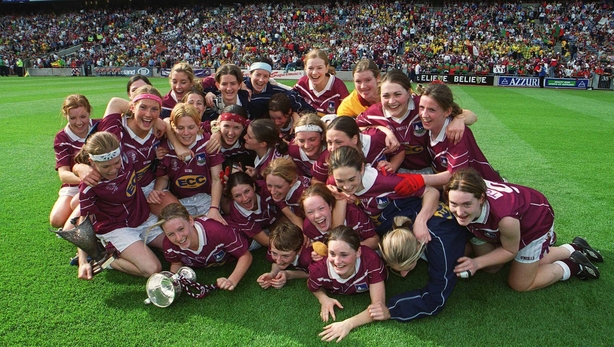 "I estimated at the time that there could have been 120 or 130,000 people who came out. It was unbelievable." 
Fahy first linked up with the Galway ladies by providing sponsorship for the U16 team in 2000. He subsequently took up a selector position with the Galway minors and juniors, who both enjoyed All-Ireland success in 2002. 
The latter result promoted the junior outfit to the senior ranks where they could compete for the Brendan Martin Cup. There was no intermediate grade at the time. 
By 2003, Fahy was appointed as manager of the Galway seniors, and with All-Ireland winning momentum behind them, they fell narrowly short of another Croke Park decider. 
They knew the following year was going to be full of opportunity for them. 
"We lost the semi-final by a point in 2003. We kind of knew then we'd have a big year in 2004. 
"In all our challenge games in 2004, we were really hammering teams and we knew we had a good team. 
"There was a huge amount of effort put into 2004. You get what you put into it and we put a huge amount into it. The girls came to believe more in themselves and getting more confident. The skill levels were rising and they were a very good team, there's no doubt about it. 
"You won't win a derby with a bad dog." 
At the second time of asking, Galway booked their place in the All-Ireland final where they were paired against a Dublin side – managed by goalkeeping legend John O'Leary - who had lost the previous year's decider.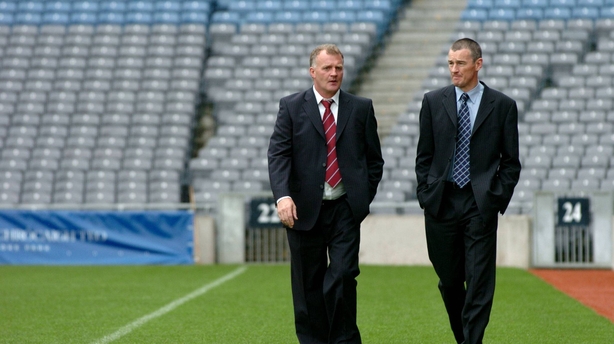 Dublin were the subject of a TG4 documentary that year and cameras were placed in the Galway dressing room as part of the All-Ireland final section of the programme. Fahy was happy to co-operate with the TV crew, although he did find some of equipment cumbersome.
"Myself and John O'Leary both had to wear microphones. We were wired up but it was annoying me after about five minutes and I threw it on the sideline.
"Thank God I did because you probably would have heard things you shouldn't have heard," he laughs. 
To make the leap from junior champions to a senior final in two years was undoubtedly a remarkable feat. And the outside view suggested that, having already featured in the final, Dublin would have the advantage over the women from the West. 
But Fahy never saw it that way. 
"I always thought we were favourites. I would have known the Dublin team and honestly, I couldn't see [us losing]. I knew it'd be a close game but I thought we'd win by three or four points. I suppose Dublin had been beaten in the final the year before but I don't we were really given the credit for the quality of the team that we had. 
"All I was worried about was how they would handle the first 10 or 15 minutes – would the nerves get to them? And they were bumping into each other in the warm-up, they were just nervous." 
Those nerves certainly hindered Galway in the opening 20 minutes, as they slumped into a six-point deficit. But they swiftly arrested the momentum with a goal and a point before half-time to keep them in touch and leave Fahy feeling much more encouraged heading out for the second half. 
Galway went on to rattle in two more goals after the restart to secure their maiden senior title with a seven-point victory. There was relief for Fahy at the final whistle, but he empathised with Dublin after losing back-to-back finals.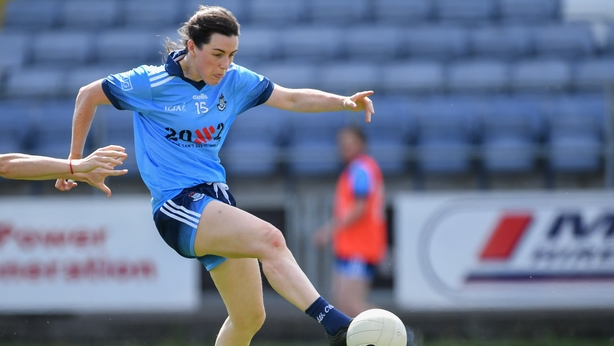 "I felt sorry for Dublin because they didn't deserve to lose by seven points. They could have got two goals in the first half and if they got them, they probably would have won.
"They had some very good players. It's unbelievable that Lyndsey Davey was playing that day and Sinéad Aherne was a sub. And both of them were nominated for Footballer of the Year 14 years later. 
"Outside of Galway, Sinéad Aherne is the best footballer I've seen on GAA pitch bar nobody." 
After 15 years, Galway and Dublin will contest the senior All-Ireland final again this Sunday. This will be Galway's first appearance in the showpiece game since their 2004 heroics, while Dublin are chasing a three-in-a-row for the first time in the county's history. 
Fahy's heart will always lean towards a Galway victory, but he's not quite sure if he can see his county climbing the Hogan Stand steps this time around.
"The game will be on the day. Dublin are raging hot favourites and I don't think that's fair to Galway who have made massive strides. They have some fabulous players. You'd imagine it might be a step too far this year. 
"Galway have to go at them and put Dublin under pressure. I didn't think Dublin were great in the first half against Cork and if they play like they did in that first half, Galway have a chance. It wouldn't surprise me if Galway won, I don't think it's going to be a wide-margin game. 
"There won't be more than three or four points in it. Anything can happen." 
Follow the TG4 All-Ireland SFC final between Dublin and Galway with our live blog on RTÉ.ie and the News Now App, listen to live commentary on RTÉ Radio 1's Sunday Sport and watch highlights on the Sunday Game at 9.30pm on RTÉ2.