Galway's Ailish O'Reilly says it was "a dream" for her to score a goal in an All-Ireland final alongside a clubmate.
O'Reilly and Galway full-forward Niamh Hannify represented Oranmore/Maree with distinction in Croke Park, combining for three crucial first-half goals to help them to victory over Kilkenny.
O'Reilly bagged a brace while Hannify slotted the ball home from close range when possession spilled into her path late in the opening half.
The pair have been travelling together to training all year and coming up to the All-Ireland final, they were even making plans to rattle the net together.
"We were messing in the car on the way up and we said this was what we were gonna do, score goals," she beamed after her side's first senior All-Ireland final win since 2013.
The Player of the Match for the 2019 All-Ireland senior Camogie final is... Niamh Kilkenny! #RTEgaa pic.twitter.com/hel98LIIhc

— The Sunday Game (@TheSundayGame) September 8, 2019
"It's actually a dream come true for clubmates. I've been with her since November driving up and down so we have that bond.
"And we're not afraid to rat each other out and just be straight with each other. I'm so happy for her and myself.
"Being me, I'm going to be kicking myself for the one that I missed. But I suppose I didn't get a whole pile of ball against Cork [in the semi-final]. It took me until the last 10 minutes of the Waterford game [quarter-final] to get settled in.
"I could have just thrown in the towel but that's one thing that has changed this year. We did not give a damn who was scoring and who was putting them over. We were winning and that was the main thing."
Galway prevailed against the Cats in front of a record-breaking attendance of 24,730 which eclipses the crowd-number at the 2018 finals by over 3,000.
Playing in front of such a huge number of spectators was gratifying for O'Reilly, and she had one very special lady cheering her on in the stands.
"Incredible," she replies when asked about the attendance at the 2019 All-Ireland final. "There was a serious Galway crowd out there.
"I had my 87-year-old Granny out there with me so this one's for her."
Galway suffered a huge blow leading up to the final after defender Tara Kenny tore her cruciate at training. The dreaded and extensive knee injury ruled her out of the showdown against Kilkenny, with Catherine Finnerty coming in to deputise in the half-back line.
Galway have developed a strong sense of self-belief throughout this year, and that spirit came to the surface again to help them deal with losing Kenny from their defence.
"Whatever Cathal has done this year with our team," O'Reilly explains, "there's a mentality and a belief there that whatever is thrown at us, we were going to come fighting back even two times harder. We did it for her.
"Teeny [Caitriona Cormican] went back and you would barely even know that Anne Dalton was in the game. Teeny did well, we'd Shauna [Healy], we'd Heather [Cooney] and I don't think our backs have gotten enough credit all year. Again, a lot of talk was about Kilkenny and that suited us down to the ground.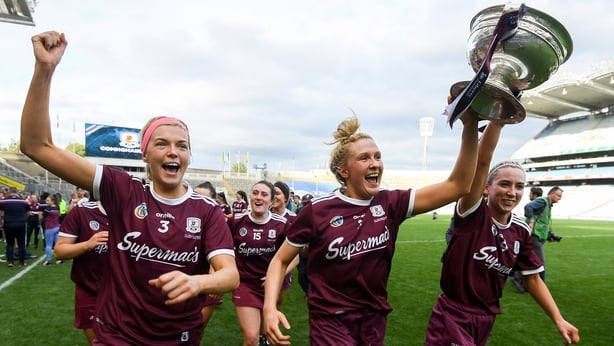 "We showed what we're capable of. We beat Cork and we beat Kilkenny so I think we deserve this one."
Galway manager Cathal Murray was in charge of the intermediate side who lost out to Westmeath in the final which preceded the senior game.
He didn't have much time to park the hurt of that defeat before composing himself and linking up with the senior squad for the 4.15pm throw-in.
O'Reilly sympathises with the intermediate team and insists that they will rally again. But in the moments before they took to the field, she says the senior team had no choice but to ruthlessly forget about their defeated teammates and focus on the challenge that lay ahead for them.
They had waited four years to get back to an All-Ireland final and O'Reilly suspects that Galway were written off in the minds of some people. The Tribeswomen wanted to prove they could muscle it out with the top teams in camogie, and they did it on the biggest stage of all.
"To be honest, yeah," O'Reilly responds when asked if she was irked by the criticism that Galway have received.
"Okay, we were losing but you look back to 2013, what was the biggest margin we lost to Cork and Kilkenny?
"Fair enough, we kept falling and people had every right to criticise us but this year that wasn't going happening.
"Fair dues to Cathal and his management team – go out and ask them, I don't know what the secret ingredient is but just a bit of belief and confidence. I suppose the league final and the league semiu against Cork gave us the belief that we could go on and beat anyone."