"I could write a book about losing All-Ireland finals," says All-Ireland Player of the Match Niamh Kilkenny after an incredible performance in Croke Park.
This was her sixth All-Ireland final appearance and just her second taste of victory since that debut decider in 2008.
She knows what it's like to win and what it's like to lose. Yesterday she found herself on the right side of the final scoreline, after an industrious display from midfield that yielded four points.
Her last two scores came during Galway's late scoring burst in the closing minutes, as they subdued the Cats with four unanswered points to put the result beyond doubt.
Kilkenny's engine powered the Tribeswomen to a third-ever senior camogie title. But speaking to the media after the final whistle, she was reluctant to take the credit.
"It's the work-rate from the girls in the inside line," she said.
"As a midfielder, going forward management have asked you to be there as an outlet.
"They're working hard so you're kind of hanging out there for ball to be recycled out to you. They have all the hard work done by the time it gets to me.
"Just absolutely delighted. The management team that was put together last year, they really gave us everything. Just the professionalism and it showed today."
Galway have been contenders for the All-Ireland title in recent years, but have struggled to break through the All-Ireland semi-final barrier.
Niamh Kilkenny speaks to RTÉ Sport after winning the All-Ireland #RTEGAA pic.twitter.com/KFmoTtKAwm

— The Sunday Game (@TheSundayGame) September 8, 2019
Both Cork and Kilkenny have edged them out in the past but Cathal Murray's side got the better of the Leesiders in their final-four clash this year to end a four-year wait for an All-Ireland final appearance.
That win was "a huge confidence booster" according to Kilkenny although she places more stock on their quarter-final victory against Waterford. That's where she noticed a real change in their mindset.
And she credits the management team for creating a winning mentality in the Galway squad that carried them to the summit in Croke Park.
"In the past, we played Kilkenny in semi-finals and we might have been on top and they might get a goal in the last 10 minutes and we'd hang our heads. The game would fall away from us.
"The management team definitely instilled massive belief in us and focused on the strongest aspects of our game. We definitely utilised that day, thankfully."
Three first-half goals helped Galway into a six-point lead at half-time in the All-Ireland final. Ailish O'Reilly grabbed the opening goal shortly after the throw-in, before Niamh Hannify got on the end of a loose ball to rattle the net after 25 minutes.
O'Reilly picked up her second goal just two minutes later to complete Galway's hat-trick and push them into the ascendancy.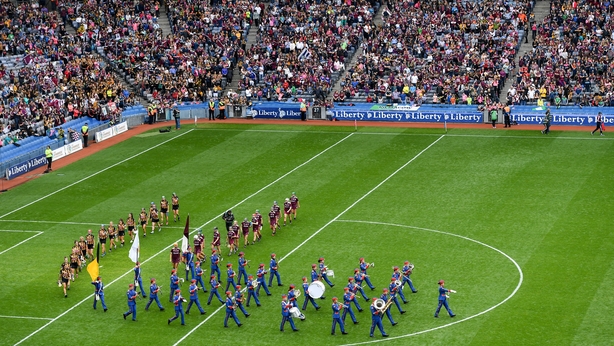 Those two goals came at a crucial time, as Galway were struggling to contain Kilkenny's attacking force. They were also coughing up scoreable frees for Michelle Quilty to convert.
"We knew we couldn't be complacent," says Kilkenny, reflecting on the mood at half-time in the Galway dressing room.
"The poor [Galway] intermediates before us unfortunately didn't come out on top in the end [of the final against Westmeath]. And we always knew there was a purple patch in Kilkenny that they would throw everything at us in the second half.
"They got it [back] to two points so we were just saying to keep the scoreboard ticking over and work as hard as we can."
Remarking on the goal-fest that Galway served up in front of a record-breaking attendance of 24,730, Kilkenny added:
"We wanted to get the ball in as quick as possible into our full-forward line. Ailish [O'Reilly], Noreen [Coen] and Niamh Hannify have been proving all year that they can score goals. If they're given the right ball and the right amount of ball, they'll do damage.
"That was kind of in our heads from the beginning to get ball in as quick as possible. Thankfully we got three goals in the first half. Usually in the past, we found it hard to get goals off Kilkenny.
"But we got them today when it was needed and it kind of gave us a bit of a platform to build from there."