Kilkenny camogie boss Ann Downey conceded that Galway's three first-half goals killed off their challenge to win a first All-Ireland crown since 2016, and avoid losing three consecutive deciders in the process.
A Niamh Hannify tap-in combined with a brace from Ailish O'Reilly propelled the Tribeswomen into a six-point lead at the break, an advantage which they also managed to hold at the full-time whistle.
While Kilkenny surged back into the contest to cut the gap to two points in the final 10 minutes of the second half, it wasn't enough to halt Galway's charge to victory.
'Galway were the better team on the day and wanted it more' Kilkenny manager Ann Downey gives a frank assessment of this year's senior camogie final #rtegaa @OfficialCamogie pic.twitter.com/DOtCHlnCQf

— The Sunday Game (@TheSundayGame) September 8, 2019
Downey credited her charges for rallying back into contention when defeat was looming, but admitted that they were outmatched by a ravenous Galway outfit.
"The three goals really killed us," the Kilkenny boss lamented, "and they all came from their puckouts that was landing on our centre-back and they won the breaking ball and from that their centre-field was doing the overlap. We just didn't contain it. In fairness Galway hunted in packs today and we didn't.
"At half-time we knew there was more in them. We made some positional changes, moved Claire Phelan back to full-back and moved Meighan [Farrell] back and that helped the situation. We got within two points of them but never closer.
"They were never going to leave us in for a goal, it was impossible, they swarmed us and they were hungrier than us."
She continued: "They defended really well, hunted in packs. That was the only run we got (Michelle Quilty's) and we were used to running all year and obviously Galway had done their homework and stopped that overlap.
"In the first half our half-forwards should have pushed up more and helped our centre-field more with the overlap but it all goes down to the will to win and the hunger and they had it in spades today."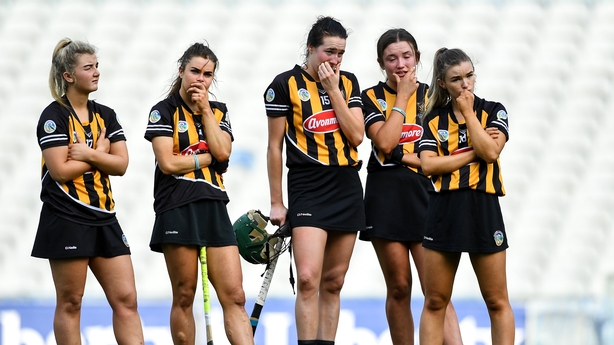 Kilkenny were unbeaten in the championship coming into this All-Ireland final. They had also accounted for Galway in the opening round of the competition after losing out to the Westerners in the Division 1 final earlier in the year.
But they also carried the baggage of back-to-back All-Ireland final defeats to their old rivals Cork.
It was a different prospect for Galway who were making their first All-Ireland final appearance since 2015. They also dethroned the reigning O'Duffy Cup holders Cork in this year's semi-final to book a date with Kilkenny in the showpiece game.
"Youngsters have no fear and we've lost so many All Irelands here, maybe that fear just held our girls back," says Downey."We came up with great hope. We knew we'd have to battle hard and go toe-to-toe with Galway and we just weren't able to do that today.
"You try to address the situation (nerves)..you can only look back and learn. With new opposition and a new challenge today we were hoping things would go better for us. Some of our younger girls played with freedom but maybe the end of the line is nearer for some of our older players from last year and that holds you back but I couldn't ask any more of any of them, they're trained so hard and given such commitment.
"It's all about the day and didn't perform on the day."
Looking forward, Downey concluded that the coming months will be painful for her players. But they have suffered through tough times before and have always managed to claw their way back.
"They've been here so many times and come back and come back but it'll be a long winter and we'll reassess after it, sit down and see what everyone wants to do.
"They'll go back to their clubs and we'll be there for them and support them to try and get over today."