Looking back now, former Galway camogie manager Tony Ward puts their 2013 All-Ireland success down to plans falling neatly into place for them.
Managing two teams on All-Ireland final day requires meticulous organisation. Ward and his management team sat down for four hours to try and map out their plans for a marathon day out in Croke Park.
Everything from travel arrangements to medical assistance and assembling hurley carriers was boxed off.
And even that amount of detailed effort couldn't guarantee results. Galway's intermediate and senior outfits won their respective deciders that day to complete an incredible All-Ireland double for the county.
They had two horses in the two races, but had fortune not looked favourably upon Galway's causes, they could also have come away with nothing.
It's @OfficialCamogie finals day at Croke Park on Sunday and @MartyM_RTE has news from the @GalwayCamogie96 and @KilkennyCamogie camps ahead of the senior decider #RTEGAA pic.twitter.com/vSQWq2b3cF

— RTÉ GAA (@RTEgaa) September 6, 2019
"The one thing that stands out for me is the way everything fell into place so well for us," Ward tells RTÉ Sport when reflecting on those All-Ireland finals in 2013.
"The timing of the intermediate game finishing. The getting down the tunnel to deal with the seniors, they were getting ready for another game. It was just like a whole new thing again.
"That needs to happen for you. Everything just fell into place so well for us. It's amazing, I was talking to one of the Kilkenny guys. They had the two teams [in the final] the year after. And so many small things went wrong for them on the day whereas everything went just to the tee in 2013.
"That's the day your luck is in."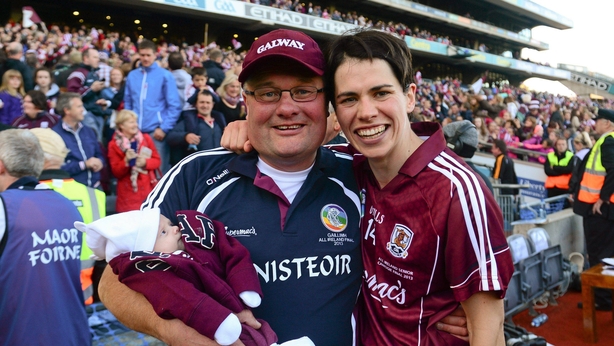 Galway find themselves back in this position again on All-Ireland final day this weekend. At 2pm, their intermediate team will face Westmeath, before the seniors take to the field against a Kilkenny side who have contested the last two All-Ireland deciders.
Incidentally, Ward's daughter Laura is part of the intermediate side hoping to repeat the trick of 2013.
He has a local connection in the management team as well, with his Sarsfields clubmate Cathal Murray taking charge of both Galway sides.
Ward and Murray live just a few hundred yards apart at home in Galway and share a friendship that stretches back over years.
"I know Cathal since he was a small lad," says Ward. "I used to have him in the bog with me when he was a young fella."
The pair have also patrolled along sidelines together in the past too. Murray was a selector for Ward when he was managing the Galway U21's in 2016, and when the Galway camogie job became a prospect for Murray, he confided in his neighbour for advice.
Ward knows how much the hectic schedule is going to impact on Murray this Sunday.
"It is draining, it is hard work. You would be drained for a long time after it. It's funny, when the final whistle went in the senior game, the first thought to yourself is that it's easy. But you think back to what you went through that day and the week leading up to it.
Galway manager Cathal Murray says his players are 'firmly on the ground' as they prepare to meet Kilkenny in the All-Ireland final. pic.twitter.com/14gR1X6DWv

— RTÉ GAA (@RTEgaa) August 17, 2019
"I remember getting back to the hotel that evening [in 2013] and people wanted to be meeting you and talking to you about the game but you're just exhausted. You just kind of want to get away into family space but you don't get it.
"It is draining and exhausting, I wouldn't recommend it every weekend," he laughs.
Galway came through a stern examination to book their place in a first All-Ireland final appearance since 2015. They stunned the defending champions Cork at the semi-final stage last month with an incredible performance.
Ward confesses that he didn't think Galway would get the better of the holders, but was pleasantly surprised when they responded to a first-half goal by outgunning Cork for the rest of the game.
"I didn't think Galway had a chance because they weren't really hurling that well. But they kept it all for that game. The intensity they showed against Cork hadn't been seen all year and they really brought it to the fore that evening.
"When you see the likes of Gemma O'Connor getting blocked down, that takes serious work-rate."
Elaborating on Galway's style of play under Murray, Ward continues: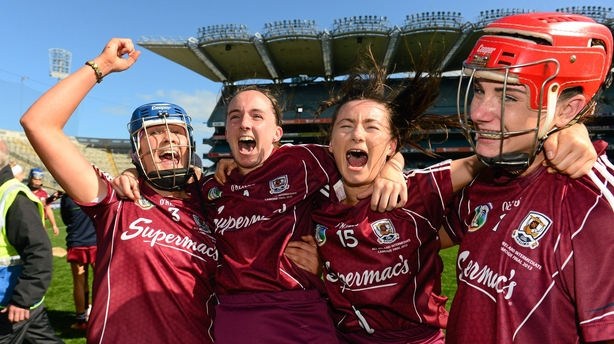 "He puts a lot of emphasis on defence. If you look at Galway's defence this year, they haven't conceded a whole pile.
"He'd always have his midfielders back and the two wing-forwards would be working back. You can see Cathal's imprint all over the Galway senior team at the minute."
Looking towards Sunday, Ward insists that Galway need to run at the Kilkenny defence and enable players like Niamh Kilkenny and Aoife Donohue to lead the charge.
If they can test the Cats' resolve and unsettle Westmeath in the intermediate final, Galway could have another double triumph to celebrate.
"If Galway can get the space and start running at Kilkenny, I think it could be Galway's day," says Ward.
"The Galway intermediate team don't seem to want to lose. They seemed dead and buried against Tipperary. With four minutes to go, you'd put the housekeeping money on Tipp. I still can't fathom how they did it but they pulled out a four-point victory in a game they looked dead and buried.
"They just don't give in."
Join us on Sunday for our live bog on the All-Ireland senior camogie final between Galway and Kilkenny (4.15pm) on the RTÉ News Now app and on RTÉ.ie. There's live coverage of the junior, intermediate and deciders on RTÉ2 Television and the RTÉ Player from 11.50am. Updates and commentary on the intermediate and senior deciders on RTÉ Radio 1's Sunday Sport from 2pm.