To unpick the threads of a thrilling All-Ireland final would take forever, or close enough, but there is one take-home message - Kerry are closer than people thought.
This team is ready to fulfil it's potential and start winning All-Irelands at senior to go with their minor five in a row.
People should be careful for what they wish for; most neutrals want to see the end of Dublin's domination, but when that comes around it will be the Kingdom that profits. It's possible to see these pair sharing the next five Sam Maguires between them, maybe more.
This shouldn't be a huge surprise. These are the game's blue chip franchises with 65 All-Ireland wins between them, half of the total number given out in the history of the GAA, and it looks as though football will be swapping a monopoly for a closed-shop cartel.
Kerry fans travelled more in hope than expectation for this date with the Dubs at Croke Park, others didn't travel at all, and there was a fear that the Boys in Blue could do lasting damage to their young team.
There was no danger of this, as manager Peter Keane explained: "If you are on the Kerry team or a Kerry player, you are kicking ball against the gable wall since you were knee-high. You want to play on a day like this, you feel like you are born for this.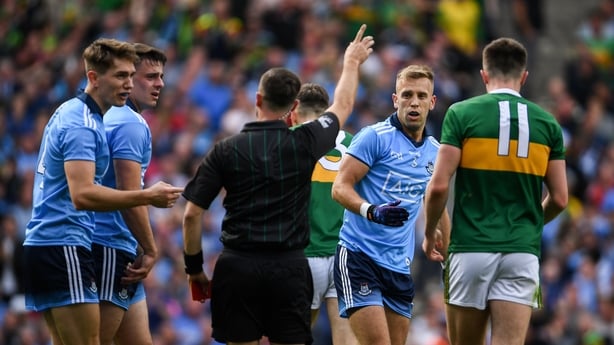 "We wanted to get up to Croke Park, we haven't been here since 2015. You want to be here on these days."
The Kingdom came close, so very close, to ending Dublin's bid for history and five All-Ireland titles in a row. As it is, they have postponed it for 13 days and they have another chance of closing that particular chapter on Saturday week.
They were a point up in stoppage time having come from five down with 14 minutes of normal time remaining. It took everything that one of the greatest teams ever to play the game, one with vast reserves of experience, had to drag themselves back level.
Dublin have only been beaten once in championship football since 2012. Draws with Mayo in the 2015 semi-final and '16 final had been the closest they've come to defeat since Kerry dragged them to some dark places in a thorough examination.
The key moments in this game, of course, were Jonny Copper's two first-half yellow cards. He has always been a player that manager Jim Gavin has invested huge trust in, ever since he captained his side to the 2010 All-Ireland Under-21 title.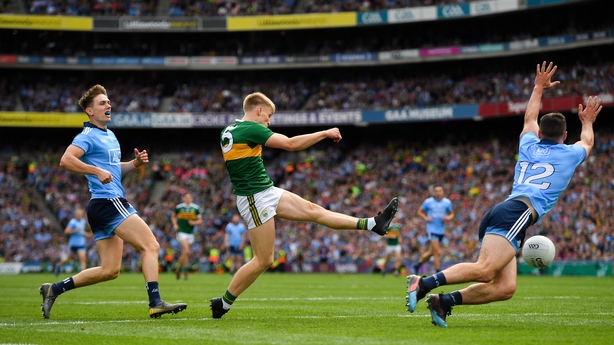 He trusted that he had eventually get to grips with David Clifford despite his obvious struggles and his yellow card on 16 minutes. That didn't happen as he conceded a penalty and then picked up a second booking.
It's the third final on the bounce that Dublin have had a man red-carded following John Small's dismissals in 2017 and '18, though in the former Mayo lost a man at the same time and in the latter the game was already won.
Dublin were fortunate in a sense that it happened so close to half-time so they had a chance to recalibrate. Even a man down they looked to have this one in the bag as they moved five clear three-quarters of the way through.
But Kerry showed that they have steel as well as silky footballers and they hurtled back into this one, substitutes Tommy Walsh and Killian Spillane getting 1-02 combined off the bench.
By contrast, the Dubs' replacements didn't offer the same impact - Diarmuid Connolly and Cormac Costello both hit wides and Paddy Small swiped at a few chances. Wing-back and man of the match Jack McCaffrey was their only scorer from play for the entire second half until Dean Rock fired over the leveller four minutes into stoppage time.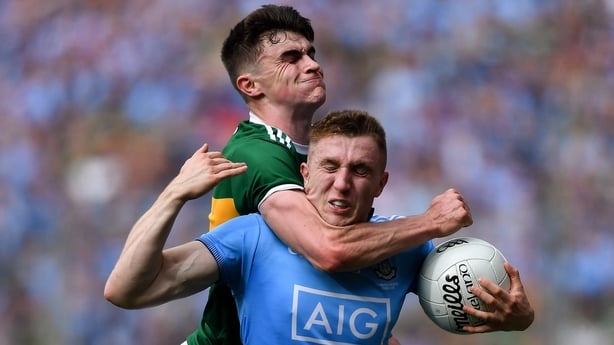 Kerry have proven their credentials, of that there can be no doubt, and they're here to stay, though there is a feeling that they might have missed their chance in 2019.
Paul Geaney had a penalty saved by Stephen Cluxton in the first half and after the break the Dublin keeper made a brilliant finger-tip save from Paul Murphy to deflect the ball onto the crossbar. Either of these could have buried the Dubs and its on such small margins that history is written.
They got other breaks too, Tom O'Sullivan lucky to stay on the field after an over-robust challenge on John Small while already on a yellow and the Dublin crowd baying for red.
The way Dublin kept their heads with Croke Park rocking on its foundations and Kerry ratcheting up the intensity levels off the charts was hugely impressive and they kept plugging away, probing until they got the right chance.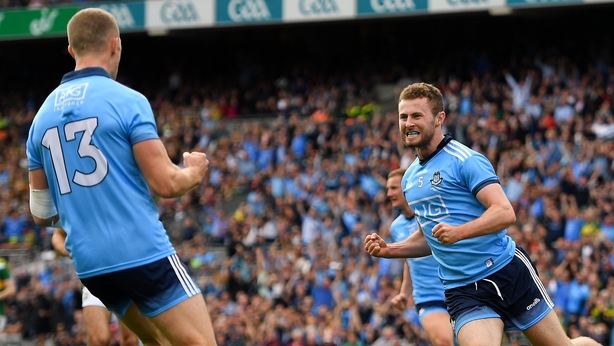 It eventually fell to Rock, who equalised and then wasn't able to kick a last-gasp winner from a free, as he did against Mayo in 2017, when his late, late effort from off the ground on the Cusack Stand touchline drifted wide on the near side.
We sensed that Kerry needed a lot to go right for them while Dublin needed a lot to go wrong to see the underdogs over the line. Both happened and they couldn't quite seal the deal.
Dublin get another shot at destiny on 14 September against a resurgent, emboldened Kingdom. It's hard not to see them getting the job done at the second time of asking and with 15 players.
They've been here before too, having taken Mayo at the second time of asking in 2016 and the experience of whiling away an extra fortnight at the end of the season before another huge game will be credit in the bank.
After that, Kerry's time will come soon enough.