Cork triumphed in extra-time to win an epic All-Ireland minor football final for their first Markham Cup triumph since 2000.
They had to come back from the dead with a stoppage time Conor Corbett goal to avoid defeat, but stamped their authority on the game in the extended period.
Skipper Corbett was the stand-out player among many heroic figures as Bobby O'Dwyer's side completed the most remarkable of recoveries to apply a golden finish to a season that at one stage looked in ruins as they crashed to a heavy defeat to Kerry earlier this summer.
Galway sub Niall Cunningham thought he had won it with a 63rd minute goal, but Conor Corbett hit the net at the other end seconds later to send a gripping decider to extra-time.
Five Tomo Culhane points helped Galway to a 0-08 to 0-05 interval lead, but Cork struck back with a Jack Cahalane goal.
Daniel Cox grabbed Galway's first goal, and it was in the third minute of added time that sub Niall Cunningham blasted to the roof of the net to give the Connacht side what looked certain to be victory.
But there was still time for skipper Corbett to hit back with a brilliant strike, tying it up at 2-13 each.
And they dominated extra-time, turning around with a 3-17 to 2-14 lead, with the help of Ryan O'Donovan's goal.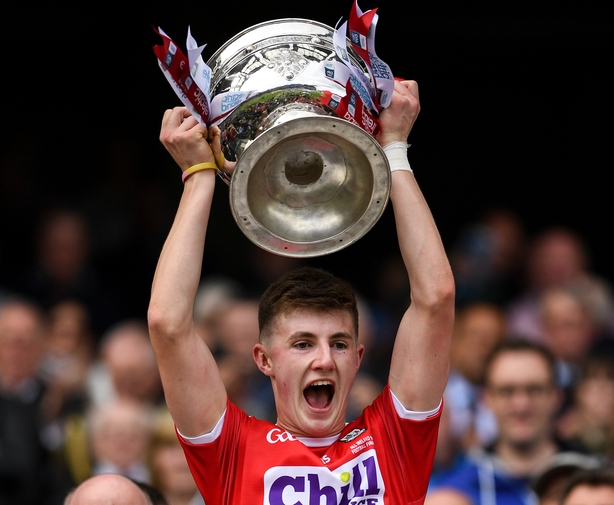 Cunningham hit back with his second three-pointer, but the brilliant Corbett, with 1-07 from play, had done enough to inspire his side to victory.
Galway's defensive organisation and tenacity in the tackle laid the foundation for a solid first half of counter-attacking football.
A frustrated Rebel side was repeatedly turned over as the Connacht lads picked off scores on the breakaway, using pace and the accuracy of ace finisher Culhane to ease clear.
It was the full forward who scored their first three scores, linking with Daniel Cox, whose speed and trickery caused serious problems for the Munster side.
Corbett steered over a couple of quality scores to keep Cork in touch, but Culhane's fourth, from a difficult free, had his side ahead by 0-04 to 0-02 at the end of the opening quarter.
Jack Cahalane sent Michael O'Neill in to cut the deficit, but Galway responded immediately on the breakaway for Daniel Cox to restore the two-point cushion.
And as Cork pressed forward in numbers, they came up against a defiant and fiercely committed defensive effort, Galway getting extra men back to hunt in packs and close down their opponents, with skipper Jonathan McGrath and Kyle O'Neill turning over possession.
Daniel O'Flaherty's brilliant block on Conor Corbett set up the raid that ended with Cox sending over his second, and further scores from Nathan Grainger and Culhane sent Galway in with a 0-08 to 0-05 interval lead.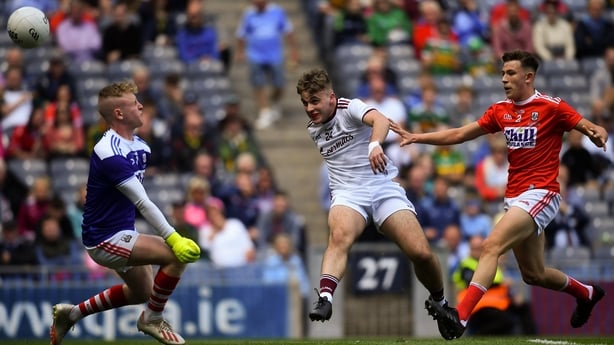 They could well have put the game out of sight as Culhane twice got in to fire in shots at goal, but on both occasions he was denied by goalkeeper Cian O'Leary.
After surviving a potentially destructive spell, the Rebels swept downfield for Jack Cahalane to drill a low shot to the net, and the went ahead for the first time through Corbett.
Daniel Linehan and Neil Lordan provided stability at the back as the Rebels stepped up the offensive momentum, with Michael O'Neill nudging them in front for the first time in the 39thminute.
Culhane regained the lead for the westerners as an epic contest swung back and forth, and they went back in front when Daniel Cox broke through to smash home a brilliant 57th minute goal.
The sides were level as the game slipped into injury-time, but substitute Niall Cunningham brought Galway to within touching distance of the Tom Markham Cup as he blasted a shot to the roof of the net.
But the ice-cool Corbett was to have another crucial say in the outcome of this memorable decider, picking his spot in the corner of Donie Halleran's net less than a minute later to level the game at 2-13 each.
Culhane did have a chance to push it back in Galway's favour, but a difficult free tailed wide.
And so to extra-time, and Cork had the stamina and the character to seize control.
Ryan O'Donovan rifled home a goal within seconds of the throw-in, and they piled on the points to open up a six points lead (3-17 to 2-14) at the turnaround.
Michael O'Neill's sixth score made it an eight points game as their dominance grew, and even a second goal from Cunningham was not enough to rescue the Tribal dream, and Cork marched on to claim their 11th All-Ireland MFC title.
Cork: C O'Leary; A Walsh Murphy, D Linehan, D Peet; D Cashman (0-02), N Lordan, J O'Shea; J Lawton, K Scannell; H Murphy, C Corbett (1-07), E Nash; M O'Neill (0-06, 2f), P Campbell (0-01), J Cahalane (1-01).
Subs: S Andrews for Peet (34), N Gough for O'Shea (45), L Murphy (0-01) for Nash (50), R O'Donovan (1-02) for Cahalane (60), T O'Donoghue for Walsh Murphy (68)
Galway: D Halleran; J McGrath, R King, L Tevnan; C Hernon, E Fiorentini, K O'Neill; J McLaughlin, D O Flaherty; E Nolan, W Seoige, D Brady; N Grainger (0-02), T Culhane (0-10, 7f), D Cox (1-02).
Subs: C Gallagher for O'Flaherty (52), N Cunningham (2-00) for Grainger (55), D Kennedy for Nolan (55), J Webb for Hernon (57), M Colleran for Brady (65), A Naughton for Cox (77), D McNulty for O'Neill (77)
Referee: N Mooney (Cavan)