The week of the All-Ireland football final in 1982 was one in which royalty was laid to rest.
Princess Grace, aka Irish-American Grace Kelly, and Limerick great Mick Mackey both passed away, the latter's funeral marked with the Irish Independent headline 'The men of hurling mourn a king'.
Little did the readers suspect that another Kingdom was also about to be rocked.
Mick O'Dwyer's all-conquering Kerry were not the first side to have claimed the title in four consecutive seasons but they were the only one to get back to the final for a fifth time in succession - Wexford had been beaten in Leinster by Dublin in 1919 and Kerry in the All-Ireland semi-final by Cavan in '33 - until Dublin this year.
Amid all the expectation of the Dubs comfortably completing the first ever five-in-a-row this Sunday, Kerry manager Peter Keane might be cheered to learn that eventual winners Offaly weren't given much of a chance in '82 either.
'I just cannot see Offaly win' was the headline on a verdict from Cork captain Denis 'Dinny' Allen in the Irish Independent the day before the final.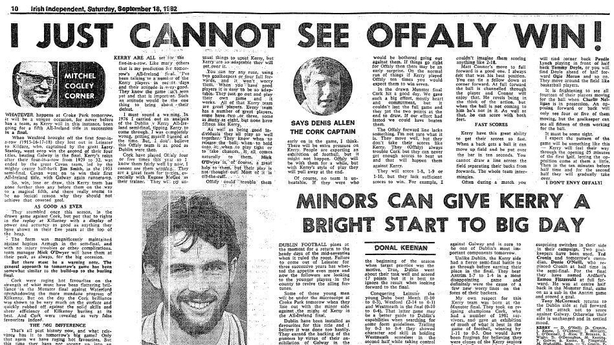 "Cork have played Offaly four or five times this year so I know them fairly well by now," he wrote. "I cannot see them winning.
"On the normal run of things if Kerry played Offaly ten times you would expect them to win seven."
Allen presciently admits that he had also predicted Kerry would beat Dublin in the '76 semi-final, and got it "completely wrong" but adds "I don't believe this Offaly team is as good as Dublin were then."
In the same pages, Mitchel Cogley (father of Fred) wrote: "Win, lose or draw, this Kerry team has gone further than any before them on the way to a magical fifth, and there really seems to be no logical reason why they should not achieve that coveted goal.
"They stumbled once this season, in the drawn game against Cork, but put that to rights in the replay at Killarney with a display of power and accuracy as good as anything they have shown in their five years at the top. The form was magnificently maintained against Armagh in the semi-final and with no injury troubles or other complications, team manager Mick O'Dwyer will have them at their peak, as always for the big occasion."
Peadar O'Brien in the Irish Press declared: "Football form, football experience, football results and an unbeaten championship run which stretches back over 19 games to the Summer of 1978 decree that we must nominate Kerry to win their 28th All-Ireland title and their fifth in a row, an achievement which has never been attained."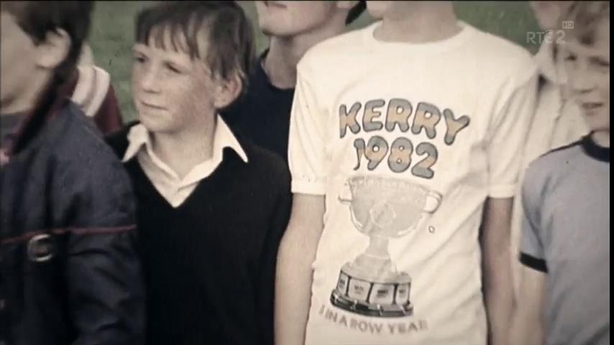 Jim O'Sullivan in the then Cork Examiner wrote that "Offaly did not, in their rather fortuitous win over Galway in the semi-final, provide any real indications that they are capable of causing an upset."
He also added a general critique of the game that sounds strangely familiar to modern ears, as do fans' grumbles over the price of tickets (£8.50 for the Hogan Stand).
"In a matter of years, the football championship has lost a lot of its attractiveness. The main reason, as everybody agrees, is because Kerry are so far ahead of all other teams. Another factor is the inability of referees to rid the game of its pulling and dragging, and other negative tactics which spoil it as a spectacle. Of course, this mirrors the failure of the administrators to tidy up the rules and to reflect the thinking of the top players and coaches.
"Contrasting with the decline of interest in football has been the upsurge in hurling standards and a greater spread of the honours."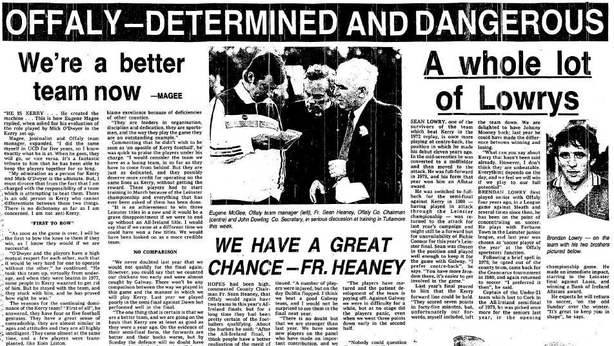 Liam Kelly of the Sunday Independent was one of the few writers to predict an Offaly win: "People have been talking for five years about ways and means of beating Kerry. The proper blend of tactics, high degree of fitness, quality players and a lack of respect for the Kingdom's reputation are the generally agreed criteria for success. This Offaly team has, I believe, got what it takes in all these departments."
The Faithful team and management, led by Longford journalist Eugene McGee, understandably agreed with him. McGee told The Irish Press: "I don't know if they (Kerry) can take this pressure. Everything has gone well for us in training. I think we're ready."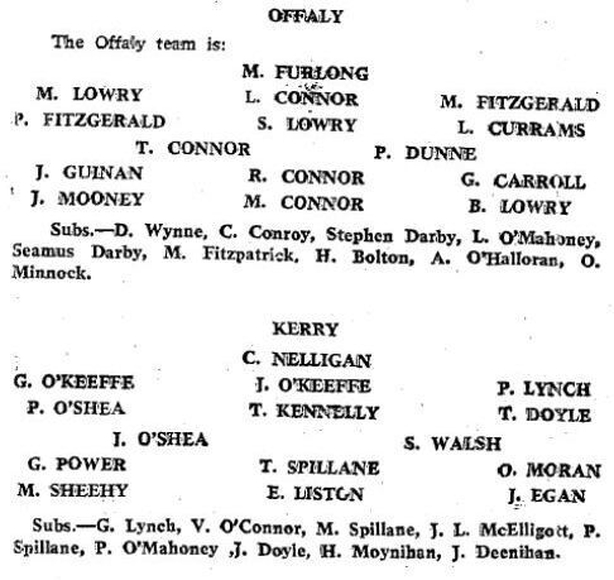 In what now seems a quaint novelty, both teams were named on the Monday before the game, and even lined out as selected.
Mikey Sheehy was named at right corner-forward, making him the only player to start every game of Kerry's 20-game, five-year odyssey.
Tomás O'Connor was one of two sets of Walsh Island siblings in the Offaly team, along his brother Liam, cousins Richie and star forward Matt Connor were in the XV.
Tomás told the Indo: "When you have played against them... you realise that these Kerry men are not supermen. I respect them certainly for all that they have achieved recent years but I do not fear them."
There was also a familiar refrain that "It is up to other counties to lift their standards to bring about Kerry's downfall."
In the Irish Press, David Walsh, recovering from taking part in a training session with the Offaly team, reported that one of the players was interested in hearing that Walsh had accepted odds of 3/1 on a Faithful win from a colleague.
"Would that lad be prepared to take a fairly sizeable bet? Something like a £900 to £300 bet for example?" asked the player.
"I nodded and thought to myself. A question like that offers a far more convincing testimony to Offaly's chances than a thousand articulated reasons."
"When he fell off a tractor in Rhode last year I felt our chance of winning the All-Ireland fell off with him."
Many column inches are given over to the well regarded tactical wiles of the late McGee and his ability to learn from losing to the same opponents in the previous year's final, which denied Offaly a rare hurling/football double.
Sean Kelly, future GAA president and then Kerry vice-chairman, told the Irish Independent that Tuesday: "I was with Eugene McGee at UCD and there is no better man at spotting strengths and/or weaknesses, taking corrective action and planning accordingly. We must remember too that he has had a full year in which to improve the efficiency of his team - and Eugene was never one to waste his time."
The same paper contains an interview with corner-forward Johnny Mooney, who had played only a cameo role in the 1981 clash between the same sides after dislocating his shoulder in a farming accident. Mooney then left for San Francisco but was persuaded to return by McGee following the Leinster final mauling of Dublin in '82.
When Seamus Darby, who had been recalled for the provincial decider after six years in the inter-county wilderness, failed a fitness test on a hamstring ahead of the semi-final with Galway, Mooney started and kept his place for the All-Ireland final. Though Darby still managed to make his mark off the bench, it's fair to say.
McGee told the Sunday Independent: "When he (Mooney) fell off a tractor in Rhode last year I felt our chance of winning the All-Ireland fell off with him. Now we go down in history either way. We're either the team that stops Kerry from getting the five in a row or we will be the team they beat to get that five in a row. It's up to us to make or break that dream."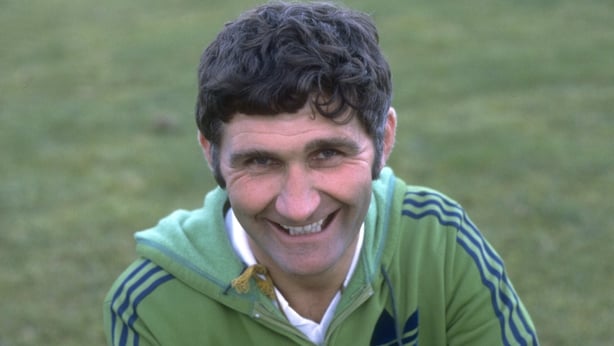 In the Examiner, McGee saluted the achievements of his managerial opponent: "My admiration as a person for Kerry and Mick O'Dwyer is the ultimate. But I must separate that from the fact that I am charged with the responsibility of a team which is attempting to beat them."
Meanwhile, Micko pioneered a mindset resurrected by the Dubs this year, that of pretending the players hadn't even considered the prospect of winning five on the trot.
He told Peadar O'Brien: "There is no pressure on them. They have been told to forget this five-in-a-row breakthrough. To us, this is another All-Ireland final and one that we can win.
"I have often thought what might happen if the Kerry men hit an off day. That would be a real test of their character and strength. I shudder to think of it, but it is not impossible."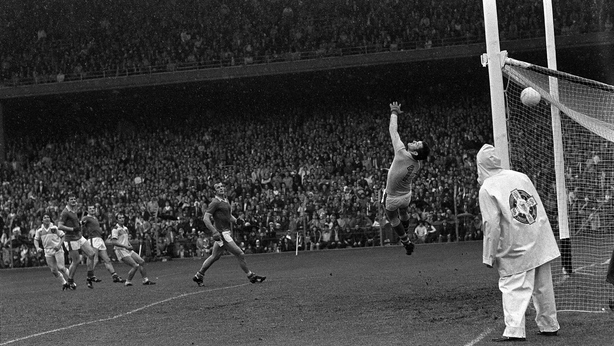 O'Dwyer's worst nightmare became a reality thanks to Darby's late goal and the Waterville man admitted in last year's RTÉ documentary Micko that he still thought about the final "at least once a week."
Does destiny have enough of a sense of irony for Kerry to be the team that stop the five in a row in 2019?
Follow the All-Ireland football final via our live blog on RTÉ.ie/sport and the News Now app, listen live on RTÉ Radio 1's Sunday Sport, or watch the Sunday Game on RTÉ2 from 2.15pm.
Read next: The Goal - Darby's Five-in-a-row Buster
We need your consent to load this SoundCloud contentWe use SoundCloud to manage extra content that can set cookies on your device and collect data about your activity. Please review their details and accept them to load the content.Manage Preferences
Listen to the RTÉ GAA Podcast at Apple Podcasts, Soundcloud, Spotify, or wherever you get your podcasts.