Peter Leahy has claimed that match referee Seamus Mulvihill's decision not to award Mayo a free-in in the closing stages of their All-Ireland semi-final defeat was influenced by an official in a Croke Park control room.
Galway booked their place in the TG4 All-Ireland Championship senior final for the first time since 2005 with a one-point win over their Connacht neighbours in a dramatic finale on Jones' Road.
Róisín Leonard struck the match-winning free in an absorbing clash, but Mayo felt aggrieved that they were denied the opportunity to take the game to extra-time when a close range free was overturned.
Mulvihill blew his whistle after appearing to decide that Mayo forward Rachel Kearns had been fouled as she made her way towards goals.
The official, however, eventually reversed his decision on the basis that Kearns had hopped the ball twice.
Leahy made allegations after the match that Mulvihill was influenced by an official in a television booth, something the LGFA has strongly denied.
"First of all, she was fouled twice; on the way in and fouled very deliberately when she was through on goals," he told RTÉ Sport's Siobhan Madigan.
The referee had given a free and he changed his mind because of television upstairs
"They [Galway] took her out of it, but what happened was the fourth official said to me, 'Peter, you are not going to like this. We're hearing from upstairs there has been two hops'
"We then changed that situation where it was, 'the umpire called two hops'.  I can tell you here and now he didn't. It was done from upstairs.
"The referee had given a free and he changed his mind because of television upstairs.
"There is nowhere in the book that says you can change your mind from television upstairs. If we are to go down VAR route, we are going to have to seriously look at it.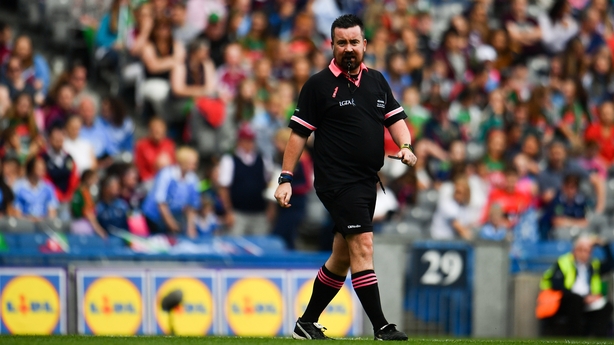 "They [officials] changed their mind and said it was the umpire that did [called] it, but it's very easy to do that.
"I'm not calling anyone a liar, but I was told it was done from upstairs."
The LGFA has dismissed Leahy's claims and insisted the decision made by Mulvhill was the correct call.
"There was nothing from upstairs," a spokesperson said.
It was the fourth time the sides crossed paths this year and it was the Tribeswomen who prevailed for the third time, but Leahy strongly disputes the controversial call that had such a significant bearing on the outcome of the semi-final.
"Decisions need to be right, and it was right. It was two hops. Let's get that clear, but he had given a free before the two hops and then pulled it back because of the two hops.
"He put his hand up for a free. Regardless of the second hop and regardless of the television, it's still a free."