Kilkenny's Richie Hogan has spoken about the red card he received in the All-Ireland final, insisting that it was "absolutely no way a sending-off". 
The seven-time Liam MacCarthy winner was dismissed by referee James Owens in the 32nd minute of Sunday's 14-point defeat to Tipperary. 
Hogan charged in on Tipp's Cathal Barrett and caught the defender on the chin with his arm. 
After deliberating for a few moments, Owens decided he had no option but to dismiss the Danesfort man.
Hogan expressed incredulity that the high tackle deserved red. 
"I watched it back there [Tuesday] morning," he told Newstalk.
"I stayed away from it earlier on - but I was going in for a shoulder on Cathal Barrett, he stepped inside and my momentum took me through.
"In my opinion, there was absolutely no way it was a sending-off.
"It was clear as day to anyone at the match, what I was trying to do.
"The first thing I thought was to get back and get after the ball, then when I turned around and saw him on the ground I thought, 'It's a free'.
"I was complaining about getting a yellow card, because it was one of those clearly accidental, honest challenges.
"I just assumed that he had taken the wrong card, to be honest with you."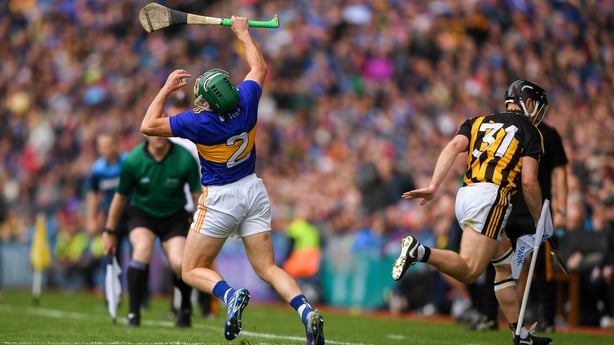 While Hogan was upset with the decision, which came at a point when the Cats trailed by just a point, he refused to blame referee Owens, who has been widely praised for his handling of the game. 
"It's not an easy game to referee, so I wouldn't be pointing any blame at James Owens, Cathal Barrett or anyone," he said. 
"It's just a difficult situation.
"They spoke about your arm not being down by your side. This is not Irish dancing.
"We have hurleys in our hands, how do we hold a 36-inch hurley without bending your arm?"