The first quarter of Sunday's All-Ireland final was everything Tipperary didn't want it to be, and everything they feared it could be. Because the game was firmly being played on Kilkenny's terms. 
Kilkenny were only five points ahead. They could have had 1-10 on the board by the end of the first quarter but the lead still felt substantial given the grip Kilkenny had around the middle, and the lack of traction Tipp had up front. 
Most of the damage Kilkenny were inflicting was stemming from the Tipperary puck-out. On six successive puckouts in a seven minute spell, Kilkenny either won Brian Hogan's long puck-outs, or turned over possession on a short restart, translating that possession into three points and two more scoring chances. 
The sweeper was an obvious factor in Kilkenny's struggles to break down Tipp but Kilkenny surely felt like how they made everyone feel for so long under Brian Cody – hitting a brick wall
Tipp were still trying to find their footing in the match but, in the past, Kilkenny would have smelled blood in that position and gone for the kill.
This isn't the Kilkenny force of old and Tipp were gradually getting a foothold in the match. Tipperary's movement up front was getting better as the half progressed while they were also getting their hands on more possession. 
The play-count between Niall O'Meara's goal and Richie Hogan's sending off was 23-18 in Tipp's favour. By half time, Kilkenny had had just seven more possessions (79-72), while the Kilkenny forwards had just six more possessions (32-26) than the Tipp attack in that opening 35 minutes.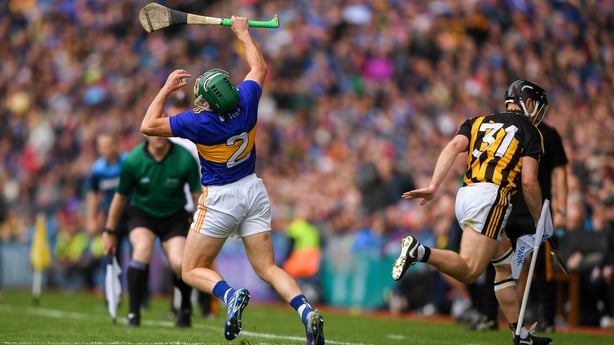 The sending off was a defining moment in the game, but while Tipp had begun to find their rhythm, both team's comparative responses to Hogan's dismissal was just as defining.
A sending off never comes at a good time but just before the break is probably the best time for it to happen. 
It gives management and players the opportunity to take stock, to tactically re-evaluate the situation, and to set up the team accordingly for the second half.  
That decision was easy for Tipp, given that they could set up with a sweeper, but they chose the ideal player in Cathal Barrett. 
As well as being a good reader of the play, and creative on the ball, Barrett also had the pace to sprint across the line in trying to cover out angled deliveries, and get back quickly on any long ball going over his head.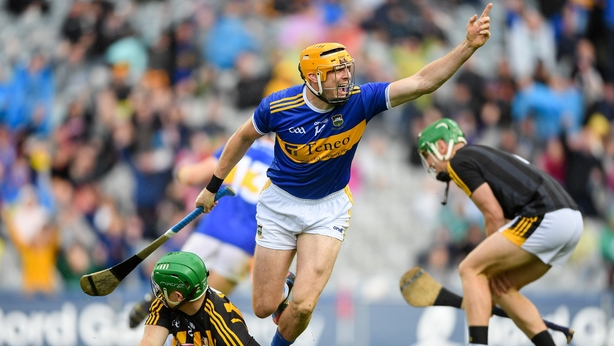 Kilkenny had a whole different raft of decisions to make. Playing around the Tipp sweeper was the obvious one but making sure that they were still secure at the back, and that they didn't concede early goals, was just as important. 
In that opening half, Kilkenny were often able to get Conor Fogarty and Paul Murphy to play as a fluid sweeper in front of Seamus Callanan. The tactic had largely worked because Callanan had only made three plays. 
Getting those screens in place was going to be harder again with a man less. But Kilkenny still probably needed to make the game as ugly as possible in that third quarter, to drop even more men deep into the middle third and beyond their own 65-metre line. 
Kilkenny were only trailing by one point but trying not to let the game get away from them in that period was every bit as important as trying to take the pace and momentum out of Tipp's sails. 
But once the second and third goals went in, the game was effectively over. By then, the match was fully being played on Tipperary's terms.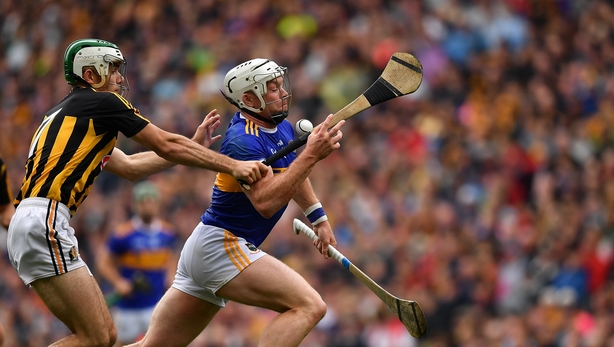 Kilkenny were so untypical Kilkenny after the break. Seamus Callanan's sublime pass across to John 'Bubbles' O'Dwyer for his goal took out the Kilkenny defence but Kilkenny still had five defenders inside the 20-metre line at that moment. And yet none of them were within five metres of O'Dwyer. 
Tipperary's firepower has always set this group apart but the tone of Tipp's second half performance carried huge echoes of how Kilkenny used to routinely strangle the opposition; annihilate them in the air and make the other crowd feel like they're hitting the ball against a brick wall. 
The sweeper was an obvious factor in Kilkenny's struggles to break down Tipp but Kilkenny surely felt like how they made everyone feel for so long under Brian Cody – hitting a brick wall. 
Kilkenny have never been destroyed on their own puck-out like they were in the second half; Tipp won 18 Kilkenny puck-outs in that period, and translated that possession into 1-07.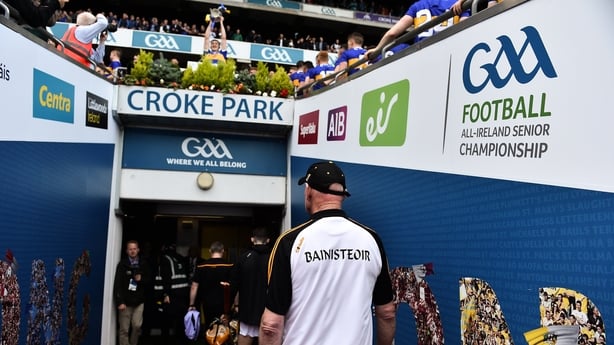 Beforehand, Kilkenny's puc-kout maps since emerging from Leinster had indicated an overall switch to a longer game, and a better net result; against Limerick, Kilkenny mined 1-07 from long puck-outs. On Sunday, that figure was down to 0-02. 
Tipp were well programmed to deal with long puck-outs after their success on Mark Fanning's missiles three weeks earlier. Kilkenny have far better fetchers in that sector than Wexford, but Tipp's big ball-winners disarmed them. TJ Reid had won 14 puck-outs in Kilkenny's two previous games; on Sunday, he won just one. 
In an interview with Kieran Shannon in the Irish Examiner last Saturday, Paddy Stapleton spoke about facing Kilkenny in the past, and how it felt like sitting a pre-released exam paper – Tipp knew the questions but it was still difficult to answer them. 
"I knew every ball was going to come in high," said Stapleton. "Against other teams, I'd have marked a lot of players that wanted to get away from you, look for a ball out to the side, to get into space.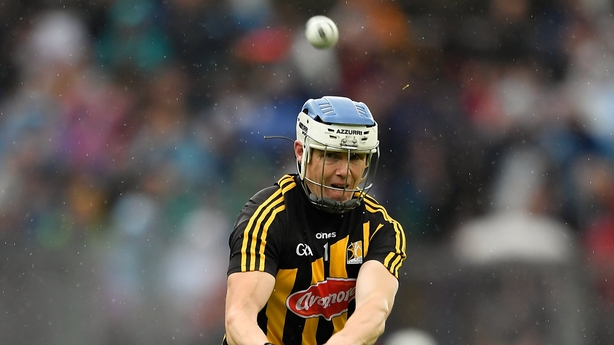 "I'd say in four or five All-Irelands [all against Kilkenny], I got only a handful of low balls coming into the corner. That's how different they were. They'd just lash it down. It felt like they trained that way. Kilkenny were strong in the air. They would fight with you for it (the high ball)."
That is the Kilkenny way. At half-time, following that route probably seemed like the only way to go for Kilkenny, because they are so comfortable with that direction. 
It's not Kilkenny's way to play through the lines like other teams do. They don't have a quarter-back like Noel McGrath to stitch the play together. The wet conditions with 14 men were always going to make it more difficult again to try and play a shorter game. 
Even with Tipp having a man back, Kilkenny would have trusted their big players, especially Colin Fennelly and Reid, to win their share of possession on the aerial bombardment. And if they didn't, the ball would at least be high up the field and Kilkenny would have trusted themselves to keep it there.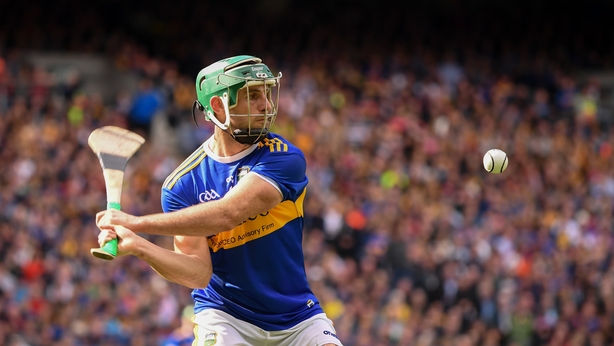 That would have seemed a logical plan in the circumstances but with Barrett sitting deep, Kilkenny needed to try and run the ball to midfield before trying to deliver it direct into the full-forward line.
Yet with so much ball hit from deep, Barrett had ample time to get into position and cut it out. 
The longer the half went on, the more pointless Kilkenny's long ball tactic became; of the 26 contested balls hit into their attack in the second half, Kilkenny won just eight, a success rate of 31%. 
Those turnover numbers look a lot worse though, when assessing what Tipp did with that possession on the counter-attack – they turned it into 1-07. 
Tipp shut down Kilkenny in all the key areas. Coming into the match, Reid had turned into more of an assists machine than a scoring machine, having had 41 assisted shots in the championship, with direct assists for 24 points, ten of which came in Kilkenny's previous two matches. 
With Fennelly having scored 3-10 and having assists for a whopping 5-16, the Ballyhale duo had been the source of 48% of Kilkenny's scores.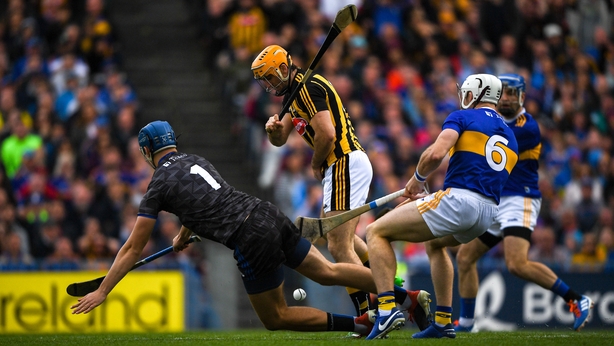 Reid had a far better game than he was credited for on Sunday, having 15 possessions, scoring one point and having three assists, while also assisting three more shots. 
Fennelly almost had a goal in the opening minute but he ended with just one point and two assists. 
Kilkenny kept bombing the square to try and get the goals they needed but it was nearly impossible for Reid and Fennelly in the second half, given the number of bodies, and high-quality fielders, around them; Ronan Maher, Seamus Kennedy and Barry Heffernan had a combined 29 possessions in the second half. 
Tipp got all their match-ups right, especially their big ones - Ronan Maher on Fennelly, Brendan Maher on Reid. Switching Padraic Maher away from John Donnelly and on to Walter Walsh midway through the first half was a decisive move. 
Donnelly was Kilkenny's best player, with 19 possessions, three points from play and a stack of assists. And yet Kennedy had an excellent game too, which more or less summed up Kilkenny's afternoon – their best player was still matched. 
Kilkenny just had no answer to Tipperary throughout the second half. Brendan Maher didn't always want to leave the middle open in the first half when Reid went so deep but he had that licence in the second half with Barrett behind him. In the circumstances, the Tipp defence as a whole had the green light to drive forward.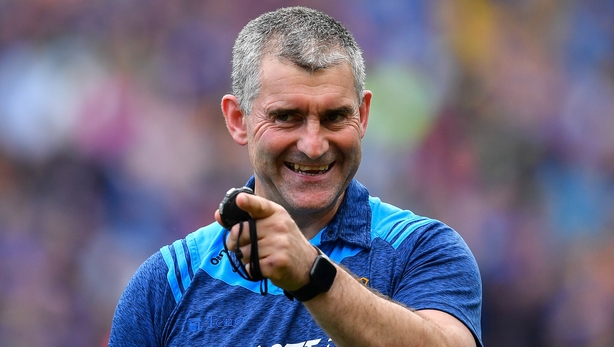 With the Kilkenny half-forward line having to push up more as the game went on, when Tipperary worked the ball out from defence, they had far more space in the middle third than they ever had against Kilkenny in the past. Tipperary's distribution wasn't always at the level they'd have wanted it to be but they still picked Kilkenny apart. 
The McGrath brothers were central to that destruction. John McGrath had a huge impact as a playmaker when moving to centre-forward at half-time but his older brother gave a hurling quarter-back exhibition for the ages. 
The two McGraths had an incredible 35 possessions combined in the second half alone. Noel's 20 second half possessions was possibly a record for one player in 35 minutes of an All-Ireland final. 
Aware that Kilkenny weren't going to play through the lines, Noel just drifted back deep and was always an out-ball option as Tipp worked the sliotar to him. And McGrath and Tipp just tore Kilkenny to shreds with that possession, scoring 2-16 after the break. 
With 15 minutes of normal time remaining, just after Tipp had gone nine points ahead, the TV camera flashed to Liam Sheedy on the sideline. 'More, more, more, we want more,' he was heard roaring. 
Sheedy's personality shone through the performance of this team. And the manager, his players, and the whole of Tipperary, wanted payback for all the hurt and pain suffered at the hands of Kilkenny over the last decade.