Brian Cody gave a display of intensity and honesty that his players would have been proud of when he met the media after Kilkenny's 14-point All-Ireland final mauling by Tipperary.
This was the heaviest defeat a Cats team has suffered in 21 seasons under Cody, league or championship, and, in fact, it's the biggest championship defeat for the Cats in 29 years since they were hammered by Offaly in 1990.
This one was long over before the end, but Cody came out battling - every inquiry was tackled head-on and questioners were questioned as he launched a passionate defence of his team.
'It's a red card. James Owens did everything right' - former referee Barry Kelly gives his take on Richie Hogan's red card pic.twitter.com/kb071WaKO2

— RTÉ GAA (@RTEgaa) August 18, 2019
He acknowledged that Richie Hogan's red card shortly before the break was the decisive incident in the game, essentially handing the game to Tipp, though he contested referee James Owens' decision.
Facing the media under the Hogan Stand after the game he turned the question on the reporters.
"There's a lot of ye here and I wonder what ye all think because nobody seems to know," he said.
"I was close to it. I was amazed. I am the manager of the Kilkenny hurling team... and I didn't really know. I hadn't a clue, to be honest. I saw he just turned and he went down but the only thing I will say is we won't make any excuses for not winning the game.
"We were beaten well in the final score but it is a huge decision to make, to issue a red card. You would want to be very, very definite before you do a thing like that and certainly it took the referee a long, long time to make up his mind and say 'I wonder what that should be'.
"He consulted himself, he consulted his linesman and he consulted the player himself, went over to have a look at him. And I would say if he knew for certain what it was going to be he would have made his mind up straight away. But that's what he did and what do you think?"
This questions was shot back at the journalist who asked about the red card in the first place.
Brendan O'Brien of the Examiner explained to Cody that television replays showed Hogan's elbow making contact with the chin of Tipperary defender Cathal Barrett.
"He made contact? So you are very, very definite. Fair play to you," said the riled Kilkenny manager.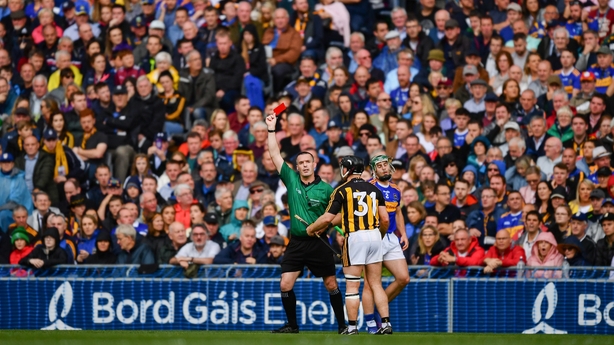 When he was asked about his team's use of the ball in the second half - they hit ball after ball into an under-strength full-forward line being man-marked and covered by a sweeper - he fixed your correspondent with a long, hard stare.
"Well, I would say that the use of the ball in the first-half was superb, superb, when we had a player in every position," he said after a pause.
"It became very difficult then in the second-half to find the men. You are talking about playing a very fine team and conditions not particularly conducive to finding everything you want to find in it.
"I don't think it's down anything in particular like that. We were beaten and we are not going to be going around making excuses. That's life. I still believe that our players were superb."
Before the game rumours swirled that Young Hurler of the Year-elect Adrian Mullen had been hospitalised during the week due to illness and wouldn't play his part.
He did start, but struggled to make an impact and was taken off after just 39 minutes. Cody confirmed he had a bug, 'nothing serious' though he batted away suggestions that the 20-year-old had to visit hospital.