During Liam Sheedy's first term in charge of Tipperary, the success of his tenure was defined by his capacity to build relationships and erect the most professional framework of support around the team. 
The game may have moved on in the intervening years, but Sheedy had still been discreetly expanding his wider coaching portfolio in different spheres. 
After being chairman of Sport Ireland's High-Performance Unit and a member of the Irish Sports Council, Sheedy fully understands all the strands of elite preparation, and how knitting them together can produce elite performance. 
And how it can also promote elite mindset. 
When Tipperary were under serious pressure in the second half against Wexford three weeks ago, the players showed remarkable composure and poise. And they will show need to show something similar again today in the face of an even more vicious tornado. 
Kyle Hayes spoke this week of being shocked at the intensity Kilkenny brought there weeks ago. "We knew the level they could bring but they over-exceeded that level in our heads," said Hayes. "They bullied Cork and we knew there was a danger of that happening to us. We tried to prepare for it but they brought a storm and it took us a while to get used to it." 
Limerick eventually did but even though Limerick wrestled it back, the game still largely remained on Kilkenny's terms. 
Kilkenny's workrate was so savage and intense in that middle third that they trusted themselves to win the numerical mis-matches. That ruptured Limerick's platform in the middle third but it also allowed the Kilkenny defence, especially their half-back line, to sit, and rarely venture beyond their own 65-metre line. 
Despite Limerick creating more scoring chances (35-29) they were still caught in a dual-bind; they couldn't get their full-forward line (especially Aaron Gillane) on the ball while they couldn't run the ball enough through the Kilkenny trenches in the middle third. 
When Limerick could never get ahead, especially when they had so many chances to do so, it emboldened Kilkenny to stick to their guns and not get dragged out the field. Tipp will have to go to war with Kilkenny again but they'll firstly have to try and set the terms of engagement, and direct them in their favour. 
In the Munster final, Limerick dominated the Tipperary half-forward line, which is what Kilkenny will similarly seek to do to contaminate the supply into the Tipperary full-forward line, which was non-existent in the second half of that Munster final. 
Tipp were caught in a vortex that afternoon. Limerick were working the ball so well between the lines that the Tipp half-back line had to come out to engage their runners. With Limerick turning over so much possession in the middle third, it forced the Tipp defence even further out the field. 
Once that space appeared, Limerick went to town in it. They only scored two goals but they could have had six. 
Tipperary will want to try and hold a fluidly but solid defensive shape but they'll also surely have learned a great deal from the Limerick-Kilkenny game as how best to do so against Brian Cody's side. 
Their starting point has to be TJ Reid, who has become more of an assists machine than a scoring machine over the last two matches; against Cork and Limerick, Reid had assists for ten points.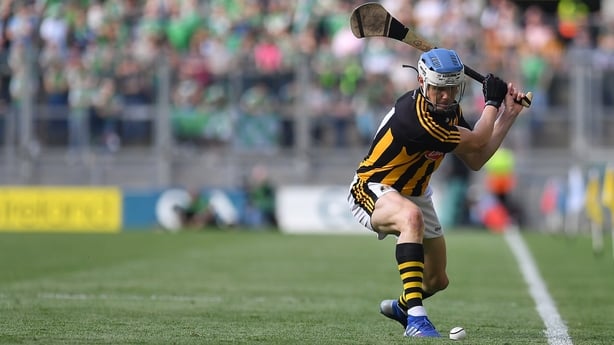 Limerick didn't go out to specifically man-mark Reid because they never man-mark the opposition centre-forward. If that player drifts out the field, he is usually the responsibility of the Limerick centre-forward - which was Hayes that afternoon – to hunt down. 
However, Hayes did come back to mark Reid in the first half so that Declan Hannon could sit further back on the D. Yet that tactic was also designed to see if they could get the injured Hannon to recover, which he couldn't. 
Dan Morrissey switched on to Reid but he followed him more than Hannon would have. With Hayes still in that area, Limerick did have an extra defender back to try and work the ball out but Hayes was too far from goal and there was too much traffic for Hayes to negotiate his way through.
Tipp have faced a sweeper in their last two matches which has enabled them to sit Padraic Maher back but, while Kilkenny don't play an orthodox six-man attack – nobody does – they will stay play in a more advanced formation on the front foot. 
When the opposition take an extra pass around the middle, Padraic Maher immediately back-pedals to protect the full-back line. If Reid is further out the field, that duty of picking him up – especially if Reid is an option for a link-pass – could fall to Dan McCormack, which would allow Maher to drop and protect the full-back line.
Tipp may have plans for Brendan Maher to man-mark Reid, and release Padraic to his favourite position at number 7. Brendan Maher has had an excellent season, especially in a man-marking role, but Tipp won't want the centre to be wide open if Reid drifts away from centre-forward. In that scenario, Padraic would just become a fluid sweeper. 
Reid has been superb but shutting down Colin Fennelly – a role which will probably be handed to Ronan Maher - will be just as much a priority for Tipp; Fennelly has scored 3-10 and had assists for a whopping 5-16. 
Over the last two games, Kilkenny have been going longer on their puckout, most of which are directed to Reid and Walter Walsh, and their numbers have been impressive; against Limerick, Kilkenny mined 1-07 off their long puckouts. 
Tipp's domination of the long Wexford puckout in the second half showed that they have the tools to take on Kilkenny in the air but there is a marked difference between Kilkenny and Wexford's aerial capacity in that sector.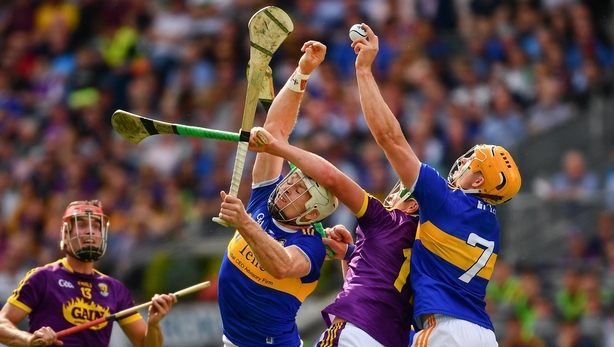 Tipp's grip on that second half stemmed from their strangulation of the Wexford puckout but improving the numbers on their own restarts is just as important here. Especially with how Kilkenny limited the impact from Limerick's highly vaunted puckout.
Tipp may find it easier to locate space than they did against Wexford but Kilkenny have long been the masters at compressing space. They've just had to work hard at rediscovering that balance throughout this summer.
It wasn't as if they lost the formula but the Kilkenny defence have become more disciplined in keeping that structure since the second half against Cork. Much of that though, stems from the incredible workrate of the Kilkenny forwards. 
Tipp's attack has been working hard but they're still more programmed towards style than war. 
Tipp normally set up with two close together in front of goal and another inside-forward on the D. Seamus Callanan has been playing more of a drifting role this summer but Tipp will probably want him closer to goal than usual, especially given the goalscoring form Callanan is in. 
The numbers show Tipp's greater firepower, especially their capacity to get off shots from play, particularly when compared to Kilkenny.
The majority of Kilkenny's goals came earlier in the summer and they've only managed four in their last four games. Tipp only hit one goal against Wexford but they should have had four. If this is a high scoring game, Tipp will win. If the game is played more in the trenches than on the plains, Kilkenny will prevail. 
Tipperary still get the nod.