Former Tipperary attacker Lar Corbett says Kilkenny have been "very, very shrewd" at putting out the perception that they're in a rebuilding process.
The fifth All-Ireland final meeting between Kilkenny and Tipperary this decade was not an outcome anticipated by many pundits at the outset, with Kilkenny in particular thought to be still in transition.
Corbett, who won two All-Ireland titles with Tipperary, the second arriving after a famous hat-trick against Kilkenny in 2010, points out that Kilkenny's starting lineup on Sunday boasts more All-Ireland medals than any other team around, including Tipperary.
"In the beginning of the year, you probably wouldn't have picked Tipperary and Kilkenny. But what you would liked was Liam Sheedy against Brian Cody, for the first time since 2010.
"Kilkenny seem to be very, very shrewd at how they put the perception out there that they're rebuilding, that this is a new team.
"On Sunday, Kilkenny line out with more All-Ireland medals on the field of play than Tipperary.
"This Kilkenny team, they never went anywhere, they're not rebuilding. They're built. And they're going to be ready to go on Sunday and we have to be ready."
Corbett played in five All-Ireland finals against Kilkenny between 2009 and 2014, a tally which includes the replayed decider in 2014.
2010 was Tipp's only victory, the day Corbett nailed his hat-trick, stopping the Kilkenny five in a row and earning the Thurles Sarsfields players the Hurler of the Year gong in the process.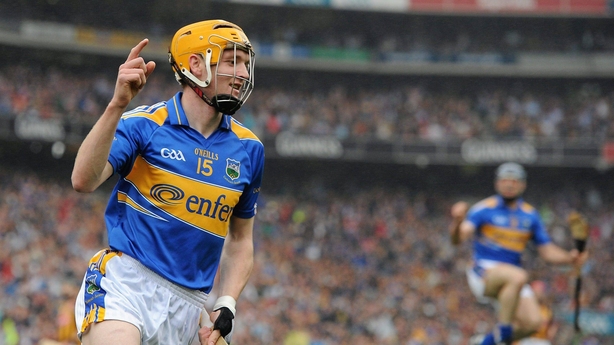 Corbett credits the 2009 loss with giving Tipperary the belief that they could topple Kilkenny. Brian Cody's team had won the two previous All-Ireland finals at a canter and looked near invincible heading into the 2009 campaign.
Tipp, however, in their first final in eight years, were a nose in front for most of the 2009 showpiece, and might have opened up a substantial gap but for PJ Ryan's heroics in goal.
A contentious late penalty scored by Henry Shefflin and another goal finished off by Martin Comerford gave the reigning champions a five-point win.
But for the first time, chinks were beginning to appear in the Kilkenny machine and Tipperary knew they were close.
"That game in 2009, we thought we should have won it. But that game gave us the belief that winter that when we put the right things in place, we could match these guys.
"Beforehand, did we believe? We didn't know. But we knew after that 2009 final that we could match these guys. We knew if we got the system right, the match-ups right, the game-plan right, and if we did all the hard work, we'd get back to a final knowing that we had somebody we'd be capable of beating.
Corbett was Man of the Match on the drab, rainy day in 2010 when Tipperary denied Kilkenny the five in a row.
"I was lucky enough to be on the receiving end to get three balls to get three goals. But it was a collective (effort). The bits I can remember was hugging the boys out on the field and in the dressing room and saying 'we've done it.'
"I never really looked at it from an individual point of view. I was lucky enough to get the individual awards after. But looking at the time that we had together and saying 'Yes, we have done it!' That's the bit that sticks in my memory."
Follow the All-Ireland hurling final between Kilkenny and Tipperary (Sunday 3.30pm) via our live blogs on RTÉ.ie and the News Now app, watch live on RTÉ2 or listen to radio commentary on RTÉ Radio 1 and RTÉ Raidió na Gaeltachta.