It's nearly 21 years since Brian Cody was named manager of the Kilkenny hurlers.
He's seen changes. Changes and silver.
Cody has brought the Liam MacCarthy Cup back to the county 11 times, delivered the Leinster Championship crown 15 times and built irresistible teams over and over again.
Still, in a brutally competitive environment, the landscape changes quickly. Kilkenny are four years without an All-Ireland. For a county so accustomed to being the best around, that feels like a long time.
Tipp, Limerick and Galway have risen; the provincial round-robin format has intensified competition to an unprecedented level, and the scrap for Liam feels as open as ever. 
Cody's philosophy has never wavered. Basic principles are non-negotiable, perhaps even more crucial to the Sheestown man in an era of social media and endless distractions for young players.
"These are young hurlers, like everybody else before them was a young hurler at one time," Cody tells RTÉ Sport's Brian Cody.
"Hurling, by it's very nature, the fundamentals of hurling, it's a game of skill, out and out skill. It's a physical game, there's huge pace involved in the game, strength, determination, team work... all those fundamentals that can't change.
"Coaches and managers can bring their own slant to the thing and set out their formations any way they want. The only thing you have to do is, you can only play 15 players, but you can line them out in different formations, which is happening and has been happening.
"Has it changed from that point of view? Yes it has. Does it make it challenging? Yes it does. But that's what you've got to take on."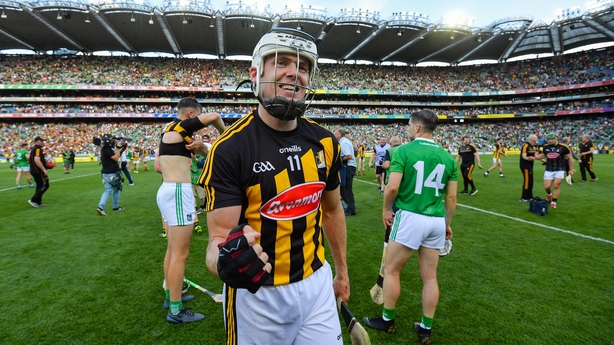 While the Cats weren't exactly written off at the start of the summer, they were hardly hot favourites to make it to Sunday's final either.
They lost to Wexford in their round-robin group but still progressed as table-toppers before making their first semi-final since 2016 thanks to a blistering second-half showing against Cork in the quarters.
They just held off Limerick in an exhausting, epic last-four showdown three weeks ago to set up a mouthwatering battle with Tipp in the decider. Every forward step they've taken has been hard earned.
"I said at the start of the year to everybody that wanted to hear it that I'd always have huge confidence in the panel of players we have, in the hurlers we have, in the honesty of the players, all the things that matter," adds Cody.
"I mean, they wouldn't be part of the panel if they didn't have that kind of genuine honesty and character - and ability as well of course.
"It's a question of trying to gel that, to get everything going well and build on it. You also have to realise the competition out there is huge right now. We progressed as we went along. We're there now and we're very, very happy to be there. It's going to be serious."
"I said at the start of the year to everybody that wanted to hear it that I'd always have huge confidence in the panel of players we have."
Commenting on those who didn't expect them to be contenders, he says: "I wasn't concerned anyway. It doesn't really matter. Everybody speculates. You're entitled to speculate. Everybody has an opinion, and that's fine.
"It didn't matter to me which side they came down on. What mattered to me was everybody inside out camp, how they prepared and went at it. 
"We didn't have a magnificent league or anything like that, but you're learning about things and seeing about things. And here we are.
"It amuses me when I hear managers maybe thinking about something magnificent they might have said at half-time or changes they saw. The game goes ahead, the players take it over. They get out and they play and compete, they fight for everything on the pitch and it's always won on the field.
"Does the manager have a role to play? Of course he has a role to play, in the preparation, the build-up and everything about it. But ego is something I like to have well outside of our dressing room."
And now, Tipp.
Cody is both bullish and coy when assessing Sunday's opponents. It is, he insists, a ferocious rivalry loaded with respect.
"When you think of Tipperary you think of great teams, great hurlers. The rivalry, as with any two neighbouring counties, it's huge. There's great respect there obviously. 
"It's going to require a massive performance from ourselves to be competitive. That's the level it's at right now. We'll have to play at a level higher than we did in the semi-final."
Follow the All-Ireland hurling final between Kilkenny and Tipperary (Sunday 3.30pm) via our live blogs on RTÉ.ie and the News Now app, watch live on RTÉ2 or listen to radio commentary on RTÉ Radio 1 and RTÉ Raidió na Gaeltachta.