Hurling is an increasingly difficult game to referee, of this there can be no dispute as the pace and power of players increases and the distance the sliotar travels goes ever upwards.
Throw in the thinner air and higher stakes of an All-Ireland final plus an intense local rivalry and it would seem that Kilkenny-Tipperary on Sunday would be virtually unmanageable.
The men who know best though insist that this is unlikely to be the case.
James Owens is tasked with refereeing the biggest hurling game of the year and it won't be easy; his every decision will be scrutinised, dissected and even challenged as he spends the afternoon in the spotlight.
I made a decision in the last minute that one of the managers felt was debatable and every other decision I made that day was forgotten about - Barry Kelly
But he might actually get to enjoy his day in Croke Park.
"That final wasn't my first and maybe I knew it was my last so I actually enjoyed the game," said Barry Kelly, who was in the middle for the drawn 2014 Cats-Tipp final, a classic of the genre.
"And why wouldn't I? It was the greatest game of hurling of the last 25 years.
"The game itself was unbelievable. Jackie Tyrrell was running beside me at one point, I was about 40 metres from the Tipperary goal so well outside his comfort-zone, and he asked me how long was left.
"I told him there was 20 minutes and I said it was great stuff. 'Unreal!' he said and off he ran. He was enjoying himself too."
The Kilkenny-Tipperary rivalry is as old as the GAA itself and it has grown in intensity over the past ten years; this is their eighth meeting in eleven seasons, the sixth in an All-Ireland final since 2009 including the '14 draw.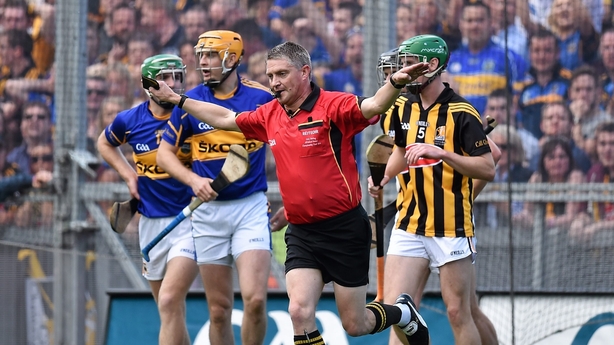 There has been flash-points like Benny Dunne's red card for pulling on Tommy Walsh in '09 or Walsh giving referee Brian Gavin a bloody nose when he went in to break up a ruck in '11.
And there have been controversies too such as Diarmuid Kirwan's decision to award Kilkenny a penalty in '09 when the foul appeared to happen outside the square or Kelly giving Tipp a free and the late chance to win it in the '14 draw.
Overall however, the men in the middle say the players ensured that they were relatively straightforward contests to keep a hold of.
"It wasn't a hard game to referee," said Michael Wadding, who was on the whistle for Tipp's '10 win over the Cats. "Concentration-wise it was tough and it was hard staying with it because it was so fast, but I have refereed far tougher games.
"All the eyes and cameras are on them so I think players are less likely to misbehave."
But, if and when players do inevitably overstep the mark, as they are sure to do, the referee has to be prepared.
Speaking to RTÉ Sport, Wadding said: "You have to be prepared for anything. You have to control the match; the players will play, but there's a line in the sand and if they cross it you have to take action.
"The referee has never fouled anyone and if you had no referee there'll be anarchy. The rules are there and they have to be implemented; if the players behave themselves there'll be no problem and if they foul someone something has to happen."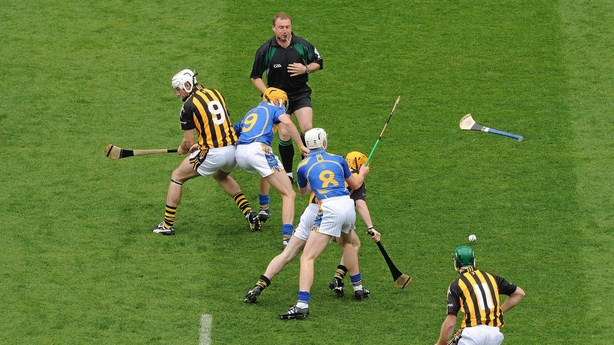 With the seconds ticking down on the 2014 final and the sides deadlocked at 3-22 to 1-28 following an absolute belter of a game Brian Hogan came barrelling out of the Kilkenny defence and into Paudie Maher.
Kelly blew his whistle, called the foul and free-taker John O'Dwyer stood over his appointment with destiny. The ball sailed towards the target, the crowd held their breath. Tension.
"I made a decision in the last minute that one of the managers felt was debatable and every other decision I made that day was forgotten about," recalled the Westmeath whistler, talking to RTÉ Sport.
"When I saw the umpire signal for HawkEye I knew time was virtually up and I'd be a liar if I didn't say to myself 'I could do with this being wide'. No referee is ever going to mind a draw in an All-Ireland final.
"I made a judgement call at the time when I gave the free. I thought it was a free, now I didn't think it was a scoreable free because it was so far out, and I still think it was a free. I thought he was barging."
Six men have refereed a Kilkenny-Tipperary final over the past eleven seasons: Kelly, Wadding, Kirwan and Gavin three times. Owens will be in charge of his first between these two, but he has experience of the big day, including last year's Limerick-Galway decider.
"It's the same for the referee as the players – it's the pinnacle," said Wadding. "And like the players you just want to get out and get on with it. You're told about two weeks beforehand and I didn't enjoy that wait, if I'm honest. It helps to be a bit apprehensive – it focuses the mind better."