Given the magnitude of the task Mayo faced into on Saturday, they had to get almost everything right in planning to give themselves a chance to knock Dublin out of their stride. And they did get almost everything right.
Taking on the Dublin kick out and turning on its head the patterns of efficiency in front of goal this year for both teams were the central challenges.
There is a lot of detail behind how both can be achieved but player roles are never surpassed in importance. Getting match ups for key battles right to execute James Horan's gameplan and interfere with Jim Gavin's would be fundamental.
Opening Salvo
At half time almost everything was going to plan for Mayo. Although they were tracking behind in the kick out battle, the key target of productivity (scores per 10 possessions) was at a season high. Where the most impact had been made on Dublin's plans was when the champions had the ball.
Phenomenally, Mayo turned Dublin over 11 times in the first half through industry in the tackle. This Dublin team have not met resistance of that magnitude in a very long time. We really shouldn't have been surprised when this intensity dropped in the second half and this is when Dublin found enough space to find their passes and move into their "flow" state.
Reducing Dublin to an unheard of productivity rate of 2.73 over the opening 38 minutes was one of the greatest feats of defensive rage in the modern era given that their approach was man to man for long periods.
There were almost 10 minutes gone before Colm Boyle first dropped off from the middle third to offer protection to the danger behind and from there it was intermittent.
Mayo's efforts in not allowing Dublin's key attackers to penetrate and closing off time on the ball with superb discipline was exceptional.
The capacity of Mayo's middle third in that first half to not just make tackles but to follow up with second and third contacts and to squeeze mistakes out of the champions was a new level of intensity in this year's championship.
The Key Match Ups
The principle reason Mayo were able to present such a powerful collective shield was that their match ups allowed them to go toe to toe with Dublin's threats throughout the first half.
Sustaining that approach across eighty plus minutes was always going to be an improbable task but there was enough gas in what has been a well-used tank to get to half time intact.
Paddy Durcan surpassed his performance in negating Ryan McHugh to completely outplay Jack McCaffrey and Brian Fenton was subdued around the middle.
None of Mannion, Rock or Kilkenny were able to unshackle themselves to find space or create anything of note in the final third.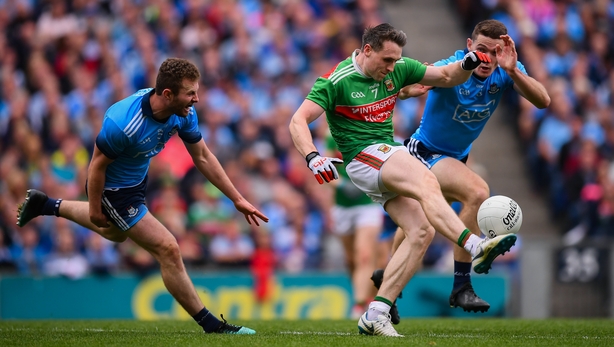 There was one chink in the armour that showed itself early. In the fourth minute, one of the only early balls Dublin had time to measure into the full forward line during the first half found Con O'Callaghan towards the edge of the D.
Forgoing a simple point, O'Callaghan ducked inside his marker Lee Keegan with alarming ease and drove at goal.
Under commendable pressure from the desperately retreating defender, O'Callaghan could only manage a weak shot at goal which was easily saved.
The warning was there. Keegan is one of the best players of this generation in attack and defence. He is a superb middle third marker, where his athleticism, relentlessness and innate aggression help him match all comers physically and psychologically.
However, Keegan has never been able to maintain those elite standards marking in the full-back line.
Jim Gavin and his staff will not have missed last week's reminder of Keegan's vulnerability in the full-back line when Michael Murphy dragged him inside for a different type of battle.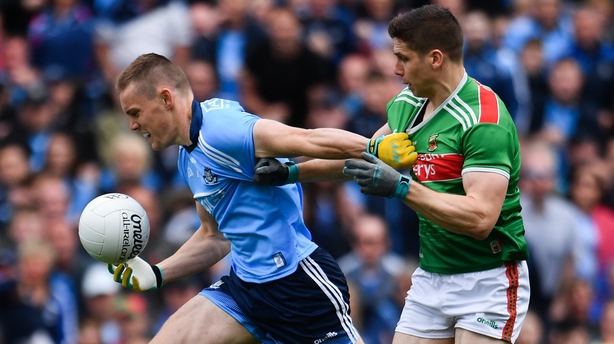 I have no doubt that whoever Keegan picked up from the start would have played closest to goal for Dublin.
Marking the movement of an inside forward is a different skillset and mindset than defending further out. Matching the cuteness, pace and power of O'Callaghan largely one on one is an almost impossible task for a specialist and if Dublin could find time and space to service O'Callaghan with quality ball then the chink in the armour would open.
The Awakening
What happened in the third quarter of the game will be a story retold through the ages. Dublin threw off the chains and unveiled their full repertoire of movement, passing and ruthless finishing. In this period, their productivity was at a ridiculous 10.91.
It could be argued that there was little Mayo could have done, that Dublin were always going to get their period of dominance, but that's not necessarily so.
The major influences on that period were, first of all, Brian Fenton's hands featuring prominently all over the champions' play – winning ball and building attacks. Secondly, Mayo's tracking and, in particular, pressing of the ball dropped off from the excellent first half standards. Suddenly Dublin's middle third supply line had precious time on the ball.
The direct beneficiaries were O'Callaghan and Mannion who were now able to offer movement that could be found early.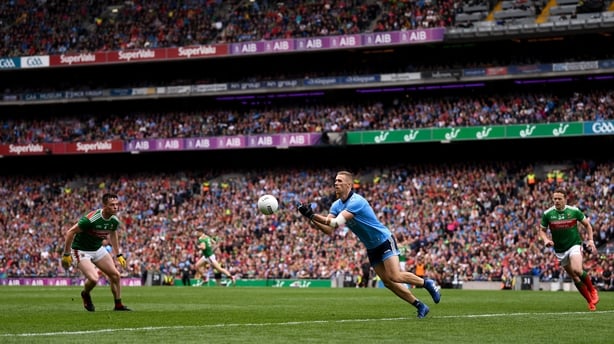 Within 10 minutes O'Callaghan had created two opportunities to roll and go at a now yellow carded Keegan as last man. Kilkenny found him on both occasions, O'Callaghan finished ruthlessly and the game was over as a contest before Mayo made the inevitable switch. To re-establish his credentials, Keegan finished past Stephen Cluxton within a minute of reverting to half back.
The final contribution Mayo made towards their own demise in the second half was the amount of ball they turned over while on the attack.
Overall, nine of Dublin's 17 scores came from possession taken from Mayo. As well as he played, in the second half alone Paddy Durcan contributed 1-03 to the Dublin account through three shots short to Cluxton and a dispossession.
After the Lord Mayor's Show
The second semi-final felt curiously flat for a lot of the game. Neither team were capable of producing the consistent pace and quality that we were spoiled with the day before but ultimately the prize was the same.
As expected, the Tyrone defensive structure was the perfect foil for Kerry's attack in a first half when the Kingdom seemed astonished by the Ulster men's bodies at the back. Ponderous movement of the ball and taking contact in possession is exactly what Tyrone are after and the Munster champions were very lucky to get to the break still in the game.
Neither was it a surprise that Kerry were unable to deal with Cathal McShane's movement. Time and again Tyrone found McShane with cross field balls to the penalty spot or beyond that the target man anticipated and cut back onto.
Anchored too far in front of McShane and hoping for balls played down the line, Paul Murphy was completely ineffective as a cover player. Kerry's approach beggared belief when you consider that Donegal gave a tutorial on how to deal with this attack in the Ulster semi-final.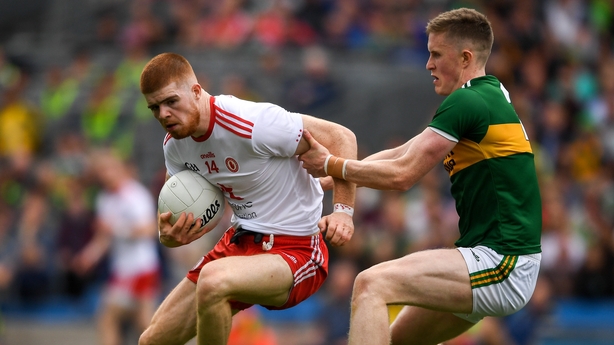 As cover player that day, Hugh McFadden dropped to the far side of McShane from the build up and his marker then played from the front. The cross field ball was eliminated and Tyrone had no answers.
In the end, Kerry rescued themselves by abandoning all notion of cover or defending collectively and just going with what they know. With the impetus of a driving Jack Sherwood infecting the rest, suddenly their middle third were creating overlaps.
The final piece of the solution was also simple. With Colm Cavanagh fixated on Clifford and Geaney, Tommy Walsh had the run of the park to act as a mobile wall for Kerry to attack off. He won ball in front and fed runners simply and efficiently and that was the key to unlock Tyrone's layers.
Final Conundrum
Mayo demonstrated at the weekend that it is virtually impossible to go toe to toe with Dublin for eighty plus minutes and hope to out match their athleticism and beat them. Beating Dublin will take a carefully constructed defensive plan and counter attacking strategy.
Kerry demonstrated at the weekend – again – that they don't have a collective defensive structure that can withstand any scrutiny at the highest level. The understanding and decision making just isn't within the undoubted qualities of these players and cobbling a solution together at this stage of the season is as unlikely as it would be counterproductive.
Some equations don't have solutions…
* Stats referred to are courtesy of Johnny Bradley (@johnnybrad1ey)