Kerry suffered their first defeat since 2013 as their bid for a sixth successive All-Ireland MFC title was brought down by Galway, who shaded a semi-final thriller by 0-14 to 0-13 at Croke Park.
It was a heroic effort by the maroon-clad side who had finished runners-up in their own province, yet arrived on the greatest stage of all to bring down a side headed for historic immortality.
True, Kerry will reflect with bitter regret on a succession of missed opportunities, but the character and belief that the Connacht side brought to a gripping contest brought them deserved success, and they will go into the decider against Cork with a confidence that they can reach those levels again.
James McLaughlin led like a general at midfield, and Tomo Culhane was the man with the finishing touch that ultimately made all the difference.
Galway, with scores from Tomo Culhane, Nathan Grainger and Warren Seoige, led by 0-7 to 0-5 at the break, but Kerry hit four in two minutes to go ahead.
But it was the Tribesmen who had the character and finishing power to get themselves over the line, with midfielder Culhane finishing with six points.
Kerry wing back Sean O'Brien skipped past two tackles to float over a point, after Darragh Lynch had cancelled out Dylan Brady's opener for Galway.
Warren Seoige and James McLaughlin battled hard to win loose possession around midfield and set the Tribesmen on theur way, and Seoige popped up in space to take Evan Nolan's pass to level the scores.
They went back in front through Daniel Cox, and the assuredness of Donie Halleran's kick-outs kept the Connacht lads on the front foot.
Kerry did start to threaten when they turned to their kicking game, seeking out corner men Dylan Geaney and Emmet O'Shea s they drifted to wide positions.
But their normally reliable finishers were oddly off colour, as they shot a rash of wides and dropped a few into the goalkeeper's arms.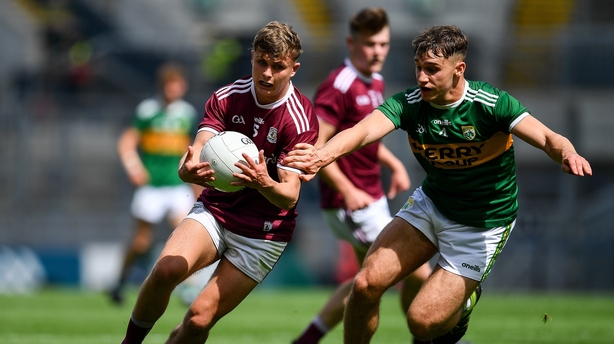 O'Shea did squeeze over a gem from a tight angle, but by the end of the opening quarter, Galway had built up a 0-5 to 0-3 lead, as Tomo Culhane knocked a free between the posts at the Canal End.
Geaney also found the target, but Galway were enjoying an unexpected level of success in pressurising Devon Burns' kick-outs, and stretched the advantage with another Culhane free and a fine solo effort from wing back Cian Hernon.
Kerry's re-start problems almost brought even greater grief late in the half as Daniel Cox gathered possession to send Daniel O'Falherty through, but Burns came to the rescue with a fine save.
Galway led by 0-7 to 0-5 at the break, but a whirlwind start to the second half saw the Kingdom fire over four points in the space of two minutes, Colin Crowley, Darragh Lynch, Geaney and O'Connor all hitting the target.
But James McLaughlin dug deep to re-ignite Galway's challenge, and they were level by the 41st minute, thanks in no small way to the artistry and accuracy of Culhane.
McLaughlin continued to work wonders in engineroom, and even when Darragh Lynch and O'Shea sent over Kingdom scores, the were able to hit back through Seoige and Culhane.
And in a breathtaking sequence, both goalkeepers provided further drama. First Galway's Donie Halleran brilliantly stopped a Gearoid Hassett effort, and they swept back downfield for Daniel Cox to fire in a shot which was pushed around a post by a diving Devon Burns.
Culhane edged Galway back into the lead with seven to play, and as Kerry pressed, they just couldn't find the accuracy that had brought them five titles in five years.
A handful of agonising wides, and a Hassett effort that came back off post, dogged their desperate efforts, and they paid a heavy price.
Galway: D Halleran; J McGrath, R King, L Tevnan, C Hernon (0-01), E Fiorentini, K O'Neill; L McLaughlin, D O'Flaherty; E Nolan, W Seoige (0-02), D Brady (0-02); N Grainger (0-01), T Culhane (0-06, 4f), D Cox (0-01).
Subs: C Gallagher for O'Flaherty, N Cunningham for Grainger (47), J Webb for O'Neill (50), D Kennedy (0-01) for Brady (56)
Kerry: D Burns; L Chester, A Dineen, K O'Sullivan; E O'Sullivan, A Curran, S O'Brien (0-01); C O Beaglaoich, R Collins; C Crowley (0-01), J O'Connor (0-02), D Lynch (0-03); D Geaney (0-03), G Hassett, E O'Shea (0-03).
Subs: D O'Callaghan for Crowley (38), J Linehan for Lynch (44), K Goulding for O'Shea (54), T O Hainifein for Collins (57), R OGrady for Geaney (62)
Referee: M McNally (Monaghan).