After months of building and tweaking, this weekend finally pits the best four teams in the country head to head in knockout football.
While the round robin quarter finals give us the best reference point in terms of how these teams might cope in a claustrophobic playing atmosphere, the majority of those games still lacked a clear "season defining" cloud.
We have learned nothing about Dublin's development and only pieces about Kerry and Tyrone in the Super 8s. Certainly, there are form lines and gameplan patterns to read but none of them faced into a fixture where they were looking at the end of the line unless they produced a performance.
Mayo, on the other hand, have stared down the barrel consistently since their self-inflicted Connacht championship loss to Roscommon. Ultimately, when they had to, they produced a level of intensity that Donegal couldn't play under and their performance of the season earned a shot at the champions.
It is the oxygen-deprived environment that these defining games will be played in that often raises the number of elementary errors and clouds decision-making. How teams cope with that additional weight while executing their gameplan and summoning energy is regularly overlooked as a defining element of these games.
Productivity doesn't lie
Looking at any team through a lens of what has gone before is always extremely dangerous. This current Dublin team is as close to a glaring exception as you can allow given that they haven't once been properly stretched or unbalanced at any stage of this year's championship.
Dublin may be conceding more scoring opportunities than they have done in recent years but they have been exceptionally ruthless up front
Facing layers of defenders against Meath and tactical interference with their defensive structure against Cork created little more than hesitation before the machine recalibrated and different routes to the same destination were plotted.
Dublin may be conceding more scoring opportunities than they have done in recent years – particularly against runners from deep – but they have been exceptionally ruthless up front and dominated teams in the battle for possession.
If Mayo are to unseat Dublin they have to bring all of their game craft along with the stoic defiance that held Donegal at bay in Castlebar. However, those qualities alone will not get them close to the winning line.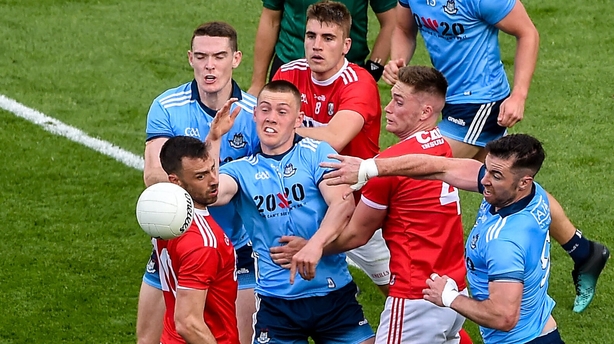 Most fundamentally, Mayo have to reverse the trends of scoring efficiency at both ends of the pitch to give themselves a fighting chance. Across key championship games this year Mayo are returning a productivity (scoring return from every ten possessions) of 3.81 – which dropped to 3.54 against Donegal. Dublin are reaching towards twice that return consistently.
If you come at the King
Intentions are easy to form, tangible means to achieve them are more difficult. Mayo's first task is to defend effectively against the best running game in the country. The teams left in the race for Sam Maguire have an almost even balance between their running and kicking attack – with the exception of Dublin, who have run the ball 58% of the time.
There are three key elements to dealing effectively with a running attack:
Get the match ups right to deal with opposition threats effectively
Ensure the point of engagement (start of press) is a collective one
Adjust the cover player's role to anticipate stepping out to meet danger earlier
Mayo very effectively minimised Donegal's running game and control of the ball in build up last weekend by a process of decapitation. The Ulster champions leadership in this regard – Michael Murphy and Ryan McHugh – were eclipsed by Lee Keegan and Paddy Durcan within the middle third battle.
Mapping that approach forward a week means that it is very likely that Kilkenny and McCaffrey can expect the same treatment but will McCarthy, Small, Howard, Fenton et al fail to step up in the same way that Donegal's supporting cast did? Dublin have an effective history of creating space for others off focused man marking scenarios.
Possession Paramount
As ever, the battle for ball from restarts will be massively important. Of the four teams left, Mayo have the best return from forcing opponents to kick long. However, the irresistible force meets the immovable object as Dublin have the highest success rate – by some distance – from going long with their own kick outs.
Encouragingly for James Horan, with the reintroduction of Rob Hennelly, Mayo returned their strongest return of the season off their own long kick-outs. Supported by the return of Seamus O'Shea, Mayo will have to avoid the type of dominance Kerry were able to exert on them in this area at all costs.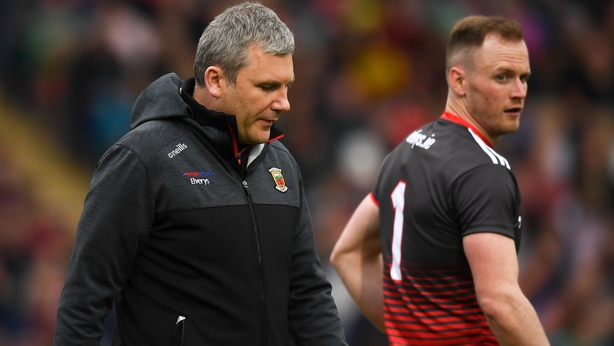 The last championship defeat this Dublin team suffered was at the hands of a regimented Donegal defence that sat deep to frustrate. They drew Dublin onto them and counter-attacked with ruthless efficiency. There were signs of a similar approach by Meath creating enough cracks to build a platform to hurt Dublin off.
James Horan will back his players to cope with Dublin's running power and to hold their inside forwards. With due respect to the level of application and character this group of Mayo players are capable of, unless they can achieve dominance of possession then curtailing Dublin's attack to a scoring return they can surpass seems implausible.
Old Foes
The renewal of the Kerry-Tyrone rivalry this weekend is the most tactically intriguing game of the championship to date. With very different styles there are several key elements of the game that could put enough weight on either side of what is a finely balanced scale to influence the outcome.
The Tyrone defensive structure throughout the All-Ireland series is the perfect antidote to Kerry's potent attacking options. Colm Cavanagh's deep deployment will feature prominently in any attempt to feed Paul Geaney and David Clifford with early ball and Mickey Harte's return to a line of engagement well into their own half will take space away from Kerry's build-up play.
Like Dublin, Kerry possess the best antidote to these layers of defence; relentless forward movement. In most games, Tyrone are able to identify the chief opposition threat and where they will generally operate so that Cavanagh can prepare broadly what positioning is required to build an effective barrier.
The movement of Geaney, Clifford and latterly Killian Spillane inside the final third has been phenomenal. That greatly reduces the impact of a cover player occupying a particular area, pulls other defenders out of comfortable positions and creates options constantly for the Kerry attack.
Tyrone's season will be judged now by the progress they have made in defending collectively since losing to Donegal. The Kerry attack will test every link in the chain.
Tyrone Attack
In a different way, the Tyrone gameplan includes an attacking strategy that will give Kerry collective difficulties. Peter Keane appears to have definitively decided that their most effective approach is to deal with the opposition on an individual basis rather than drop someone off to cover. This may be as much attributed to the lack of a natural solution than a philosophical stance.
When Tyrone win ball back in their own half, their ability to break quickly and create scoring opportunities in the space opponents have left behind is superb. Kerry will leave this space more than most and have a significant task in curtailing the running power and creativity of Peter Harte, Mattie Donnelly, Niall Sludden, Conor Meyler, et al.
It is a strong statement of belief from Kerry in their own sense of defensive responsibility and progress in that regard to maintain an approach that let them down in the both the National League and Munster finals respectively. Their more industrious and deeper lying half-forward line will have to make a huge impact on the Tyrone build up play to keep them at bay.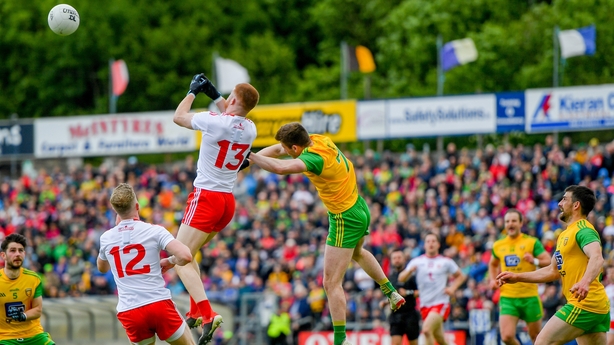 The additional option that Tyrone have added in 2019 is the capacity to also kick early to Cathal McShane. McShane has become an extremely effective target man and the very best man markers in the country will struggle to contain him in one on one battles when he has space around him. If Kerry do not curtail McShane's impact then Tyrone will score freely.
Tipping the Balance
With such finely balanced scenarios, the game may simply be determined by who has the most ball, which is primarily dictated by kick-outs. With this key marker, Tyrone have struggled badly in key games this season.
Their return off both Niall Morgan's and opposition restarts that go long is comfortably the weakest of the four semi-finalists and so, Kerry's ability to press and force Tyrone to kick long could define the result.
Strategy, statistics and ability can all be assessed and factored in. Character and collective will is intangible ahead of defining battles like these.
* Stats referred to are courtesy of RTE Sport performance analyst Johnny Bradley
Follow Dublin v Mayo (5pm) and Kerry v Tyrone (Sunday, 3.30pm) via our live blogs on RTÉ.ie and the News Now app, watch live on RTÉ2 or listen to radio commentary on RTÉ Radio 1 and RTÉ Raidió na Gaeltachta.