Colm Cooper admits that the rivalry between Kerry and Tyrone in the first decade of the millennium was "bitter", but doesn't think the Kingdom players carry that "baggage" any more.
The Kingdom and the Red Hand played three times in the 2000's, an All-Ireland semi-final and two finals, and Mickey Harte's team came out on top in each occasion.
Speaking on the latest episode of the RTÉ GAA Podcast, Cooper revealed that the rivalry between the two sets of players and their supporters far from friendly.
We need your consent to load this SoundCloud contentWe use SoundCloud to manage extra content that can set cookies on your device and collect data about your activity. Please review their details and accept them to load the content.Manage Preferences
Listen to the RTÉ GAA Podcast at Apple Podcasts, Soundcloud, Spotify, or wherever you get your podcasts.
However, with a completely different set of players on both sides he doesn't feel that those historical matches will influence Sunday's All-Ireland semi-final between the two.
"We had great battles with them in '03, '05, '08 and they came out on top in each of those battles. Is bitterness to strong a word?" he asked.
"It was very intense, with the players and supporters, but it has moved on because they only person there who's common is Mickey Harte. Everyone else is gone. I don't think it carries as much, people will understand that there's rivalry on both sides, but it isn't as intense as it was.
"I don't think any of the Kerry players carry the baggage that we did before we left. I think they're going into another championship match understanding that an All-Ireland semi-final doesn't happen every day and with a huge prize there at the end of it."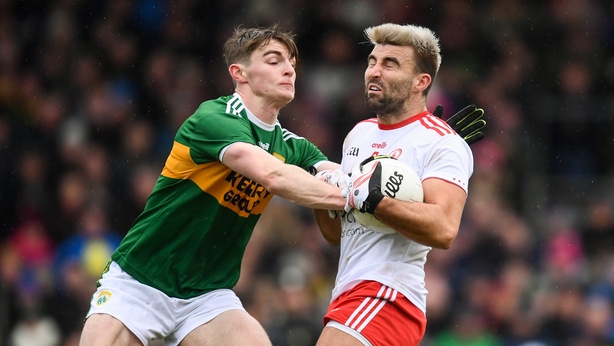 Kerry won five All-Ireland title in the 2000s, Tyrone three, but in the big games between the two the Red Hand always came out on top and this led to heated conversations over who was the best team of the decade.
"We were fighting it out for who was the best team, there was talk in the media about team of the decade, and it was very much topical," said Cooper.
"Tyrone and Kerry won all the All-Irelands except for Galway and Armagh with one apiece, so the decade was dominated by Kerry and Tyrone.
"Deep down the players had an appreciation of how good each other were, but once the game started it was all-bets-are-off when you cross that white line.
"I was marked by Ricey (Ryan McMenamin) and Conor Gormley in those games and they were huge, huge battles; intense, verbals, people nagging away at you to knock you off their game and our boys were probably doing it on the other side.
"Those games, you were fighting for every inch because they were so tight, the margins were so fine you needed to maximise everything you were doing.
"Kerry had the Ó Sés, (Seamus) Moynihan, for Tyrone you had Peter Canavan, Stephen O'Neill, Philip Jordan – they're players of their generation, not just good players. It was a huge rivalry with huge intensity."