The GAA have denied that their ticketing system crashed as thousands of fans were left angry and without tickets for Saturday's Dublin-Mayo All-Ireland semi-final.
Tickets for the match went on sale on Tuesday morning at 10am, a day later than usual due to the August Bank Holiday.
There is huge interest in this tie, a repeat of the 2016 and 2017 All-Ireland finals, and fans flocked to the GAA's online ticket outlet, tickets.ie, and SuperValu stores in both counties where tickets were also on sale.
Virtual queues online were 20,000 long at a stage and many people waited for more than five hours only to be told that there were no more sales online.
It was worse for people who physically queued at SuperValue outlets. The supermarket chain are an official sponsor of the All-Ireland Senior Football Championship and sells tickets in many of its shops.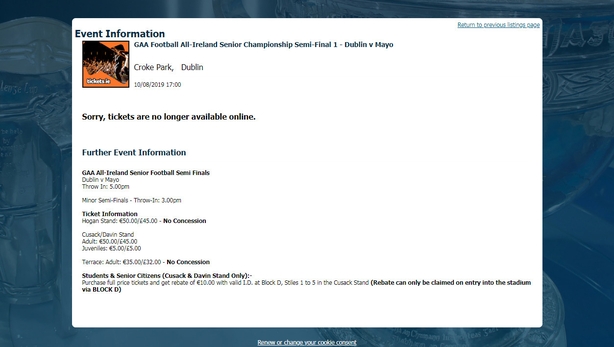 "I was passing SuperValu in Castlebar about 10.05 and I said to myself I'd nip in and buy a few tickets, I thought it might only take half an hour," said Mayo fan Michael Gallagher, speaking to RTÉ Sport.
"At 4.20 the system seemed to crash for the third time and I eventually just walked away. I'd say there were about 350 people ahead of me in the queue at the start of the day and maybe 50 or 60 of those got tickets.
"It was good natured at the start and there was even a bit of singing in the line early on, but it began to get a little angry with the whole situation as the time passed – not with the shop or their staff, with the system."
With clubs in both counties unsure of their allocation on Tuesday morning many of their members decided to go online or to shops in order to pick up tickets in case they didn't get their request filled through their clubs.
Tickets for both semi finals are still on sale - retail and online. There are no issues with the listing however there is a queuing system in place to manage the very high volume of traffic on the website. We do apologize for any inconvenience caused and hope you get your tickets

— tickets.ie (@tickets_ie) August 6, 2019
The game is heading towards an 82,300 sell-out at Croke Park and the GAA say that their ticketing system didn't crash, only that it slowed down due to the unprecedented weight of demand.
Tickets.ie posted on social media shortly after 2pm saying that tickets were still on sale – retail and online – and they apologised for any inconvenience caused to customers. They added 'hope you get your tickets soon'.
However, after hours of waiting thousands of fans queuing online were eventually greeted by a message that said tickets are no longer available online.
In the GAA's new, compressed inter-county season the All-Ireland semi-finals take place a week after the last round of quarter-final Super 8s games which also allows less time to get tickets out to fans.