In preparing for what was effectively an All-Ireland quarter-final at the weekend, James Horan and his staff had to deal with a number of central columns which underpin the Donegal game plan.
The task was to come up with strategies to undermine that plan if they were to find a foothold in the biggest match of their season.
If, as has been the case throughout their unbeaten run this summer, Donegal's style of play was not to ultimately dictate the flow of the game then Mayo had to find a way to interfere with Shaun Patton's long kick outs, take away the early ball in front of Patrick McBrearty and minimise the overall effectiveness of Michael Murphy and Ryan McHugh in general play.
All four of Donegal's key building blocks were weakened to some degree by Horan's planning.
Tactical Targets
One of the most simple but brilliantly executed tactical highlights of the season so far has been the Patton-Murphy-McHugh long kick out.
Donegal bring the majority of their team short and station Murphy at centre forward. The space left and right of midfield is then utilised for late runs from the captain to be targeted off.
Often McHugh cheats in behind Murphy for a flick on and can then break deep into opposition territory with the defence out of position.
This strategy was the most important element of Donegal's dismantling of Tyrone in the Ulster championship but obviously it has been closely monitored since.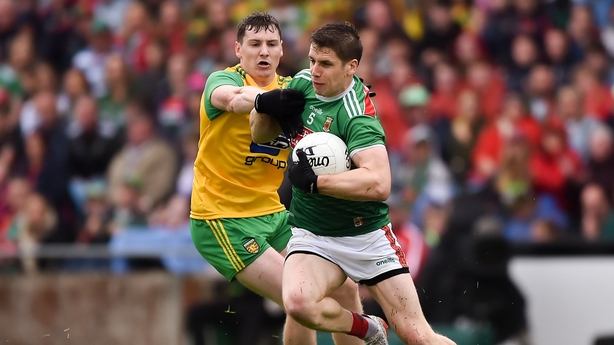 The Mayo half-back line worked overtime on kick outs to ensure the space Donegal hoped to target did not materialise, Lee Keegan checked every step Murphy took and Paddy Durcan kept McHugh in a vice-like grip before and after kick outs were struck.
The lesser evil from the host's perspective was the concession of short restarts but their middle and defence were at least protected from the trauma of those Murphy-McHugh raids.
That kick-out detail is an indication of the focus both Durcan and Keegan took to their marking assignments.
In the first half in particular, both not only interfered diligently with the intentions of their direct opponent but, crucially, also drove them back with their own play to sap the Donegal duo's energy.
The repositioning of Murphy to full-forward in the second half was a smart move from Declan Bonner and it unbalanced Keegan, who is competent but not dominant marking as last man.
Murphy is not a target man to hope for the best on and he made hay. Horan did well to respond very quickly to bring Stephen Coen into the picture to stem what was by then significant bleeding.
The final piece of the tactical jigsaw was to eliminate Donegal's early kicking in front of McBrearty.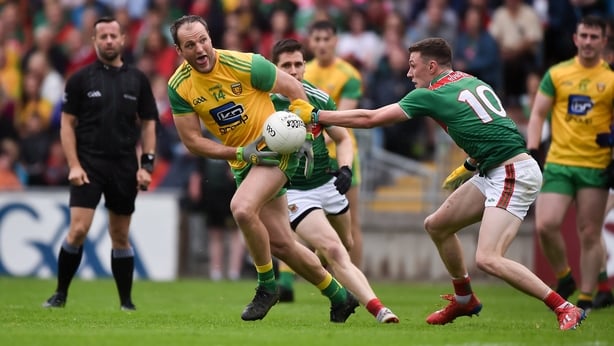 Many of the Ulster champion's best attacks against Kerry were built on a long diagonal ball from Murphy into the space left in front of McBrearty on the right flank but there was no sign of that ball on Saturday.
Obviously Colm Boyle dropping off is a deterrent but it was Keegan's constant pressure on Murphy that cut off that supply.
Murphy normally enjoys space to play in relatively deep positions before getting tagged as he approaches the forward line. On Saturday Keegan pressurised every touch and made Murphy off-load in deep positions.
Getting time to measure 60-yard passes was out of the question.
Repositioning Murphy on the square in the second half also had a trade off for the visitors.
McBrearty was forced deeper into a support or second phase role, where he is less comfortable and natural.
On several occasions in the second half McBrearty came onto shots from deep and failed to execute when you would have expected scores.
Winning ball with his back to goal and engineering shots on the turn or looping around runners are McBrearty's primary finishes but those opportunities don't arise from deeper starting positions.
Character
Those tactical aspects were absolutely key to victory for the Mayo men but they don't surpass in importance the levels of workrate, concentration and defiance produced across 80+ minutes.
If the westerners had dropped their standards in this regard at any stage it would have cost the game.
Intensity has become a cliché in football and a term that covers a lot of gaps but it perfectly encapsulates the difference between the Mayo of Saturday night and the version we'd seen earlier in the championship.
That ferocious pace in possession and pressure on the ball without it creates opposition mistakes and frustration that impacts defining moments in games.
Ultimately it was making Donegal – particularly their younger players – operate in this claustrophobic environment throughout that created the errors and poor decision making which allowed Mayo to dictate terms.
Donegal's Supporting Cast
In the grand scheme of progression, what Donegal discovered is that their younger supporting cast were not yet resilient enough to cope with the next level of physicality, belligerence and quality that Mayo were able to produce in what was a caldron of emotion on and off the pitch in Castlebar.
Decision making in that environment has to be at a clinical level to plot your way through the panic players often feel trying to play football in chaos.
Patton, Stephen McMenamin, Daire Ó Baoill, Odhrán McFadden Ferry, Jason McGee, Niall O'Donnell and Michael Langan are still in a learning phase when it comes to the biggest games and how to manage them.
In a year when they were central to Donegal securing promotion and cruising to an Ulster title, this group of players have been superb for their county at various stages.
For Donegal to take the next step to All-Ireland contenders that band of young players have to mature into more mentally robust animals and that often leans heavily on experience.
They will be better for the Castlebar experience if there is honest reflection and being exposed to the quality of a division one campaign in 2020 could tip the scale further.
Bigger Picture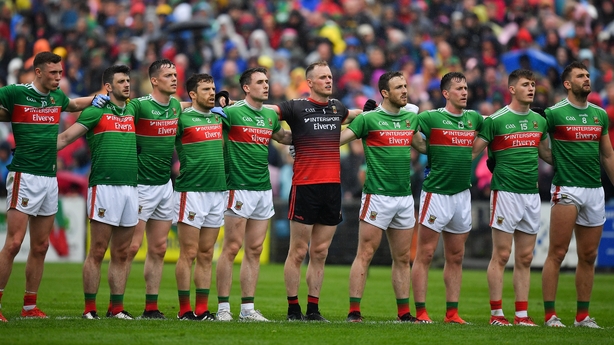 As timely as it was for Mayo to produce their best performance of the season, there are still strong reservations about their capacity to capture that elusive Sam Maguire with the obvious hurdle of beating Dublin looming large.
As outlined last week, Donegal were probably better equipped to trouble the champions in a one-off game in terms of strategy and personnel, but styles make fights and Mayo capitalised on the opportunity Donegal's first real off day of the championship season presented.
Fundamentally, Mayo no longer have the individuals to go toe to toe with Dublin as they have done to good effect in the past and that is categorically their intention.
Jim Gavin's men are masters of probing for weakness and adapting to create pressure where they find it.
Mayo still have several great footballers and a warrior heart but with injuries and decline they have too many areas of their team where Dublin will penetrate.
Mayo's Spartan outlook dictates that a repeat of Saturday's tremendous demonstration of character and courage will likely be produced against Dublin this weekend.
However, as much as the great warriors will not be intimidated or bowed from the battle, the task of curbing game-changers multiplies exponentially when you face Dublin and looks insurmountable.
Just the way Mayo like it.