Kerry manager Peter Keane says he was delighted with the way his team held off a determined Meath side in Navan on Saturday, as the Kingdom secured a win that saw them top Group 1 and book their place in the second of next weekend's All-Ireland semi-finals.
Despite already knowing their championship fate, Meath battled hard and made life difficult for the Munster champions, who kicked six of the last seven scores to finally seal the win that sets them up with a last four meeting against the losers of Dublin v Tyrone in Group 2. 
Kerry raced into a three point lead in the opening six minutes, but Meath settled and at one stage led by a point, before the Kingdom recovered to lead 1-10 to 1-09 at half-time.
"We were reasonable happy (at half-time) because we had played against a strong wind," Keane told RTÉ Sport. 
"We didn't think that the wind was going to die like it did (in the second-half), but we were reasonably happy. We always expected a battle, and you've just got to survive the battle.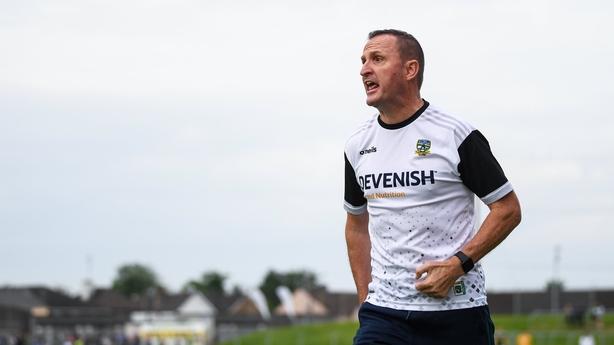 "We're in an All-Ireland semi-final, what more do you want?"
After a promising performance in the opening period Meath noticeably tired as the second half wore on, allowing Kerry to eventually run out eight point winners. 
The defeat meant that Meath finished bottom of Group 1 with no points, but manager Andy McEntee said he can see plenty of reasons to remain positive as the county prepare for their return to Division 1 football in next year's National League.
"It was a good game. I was asked beforehand if we had any trouble getting the lads motivated for a game like that, and I think you got your answer there. By and large, I think they were pretty decent," said McEntee.
"It's all very fine, saying you are going to learn, but ultimately you are going to have to turn around good performances into results.
"When it comes down to it, it is a results business, so we're going to have to go off and we're going to have to improve, and we're going to have to get more players up to the standard where they are capable of playing matches like that."