James Horan has hailed his side's mental strength as they get ready for an All-Ireland semi-final at Croke Park next Saturday.
Mayo strangled the life out of Donegal in their Saturday night Super 8s clash in Castlebar to push themselves through to the final four alongside Kerry from Group 1. They'll play whoever tops Group 2 on Sunday, either Dublin or Tyrone.
The Green Above the Red are at their best when their backs are to the wall as they proved again beating the Ulster champions 1-14 to 1-10 - they do their best work only when they absolutely have to.
This is the eighth time in nine years that they've visited the All-Ireland semi-final stage at least and the fact that they only have a week to turn around and possibly face the five in-a-row-chasing Dublin doesn't bother Horan.
"No, we don't worry about that stuff; there's no point" said the Mayo boss.
"We'll train probably once during the week and we'll head to Dublin next Friday and look forward to the game. We're used to short turnarounds now, so we'll just prepare as we normally do."
Speaking to RTÉ Sport about his team's four-point win over Donegal, Horan said: "I thought the application and work-rate was superb right through. The turnovers we won in the first half and the tackles that guys put in, we didn't get the return we should have and that's always a concern.
"Andy Moran, Kevin McLoughlin, Fergal Boland, James Durcan when they came on, I thought they were very strong for us and gave us an out-ball. We're delighted overall with the performance and the win."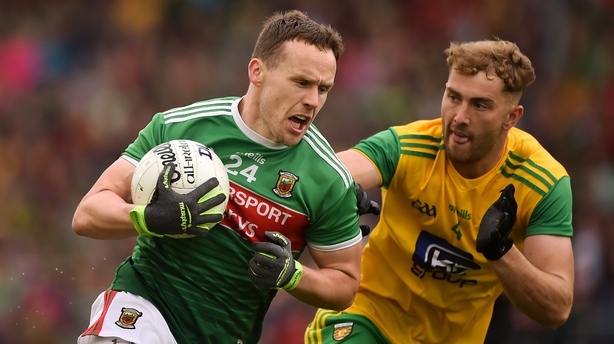 And what pleased him most? "Just the mental strength we showed, I think," replied Horan. "We were under pressure in the second half, as we knew we would be, but I thought Aidan O'Shea marshalled us very well.
"Chris Barrett and the guys at the back were very composed on the ball, and just kept doing the right things."
For Donegal, it's the second time in two seasons that they've lost their final Super 8s game and failed to advance as a result. It knocks a lot of the good off retaining the Anglo Celt Cup and manager Declan Bonner didn't try to put a gloss on it.
"You can't afford to kick the wides we kicked in the second half and get a result at this level and that's disappointing," he said, referencing his team's ten wides after the break
"It is hugely disappointing. We have been scoring all season and they were decent chances - and not just one or two. We had a lot of wides in the second half which was disappointing."
"They were picking up a lot of breaks but I thought that we got it under control in the second half and started with real momentum. The penalty brought us right back into it. But it wasn't to be and it's a disappointing way to go out of the championship."