The David Clarke v Rob Hennelly debate is one that continues to divide Mayo supporters, but Colm Cooper believes the county have far more pressing concerns than who gets the nod to line out in goals.
Mayo host Donegal in Castlebar on Saturday that they really have to win if they are to stay in the championship.
Much of the analysis in the build-up to the game has been focused on whether Mayo are better served with Clarke or Hennelly in goal, with James Horan's side struggling to retain possession from their own kick-outs in this year's championship.
Clarke has held the No 1 jersey throughout the qualifiers and Super 8s, but has come under scrutiny due to many of his long kick-outs failing to find their intended target.
Hennelly, who hasn't started since Mayo's Connacht semi-final defeat to Roscommon, is viewed as a stronger option for long kick-outs.
However, speaking on the latest episode of The RTÉ GAA Podcast, Cooper outlined his belief that the real reason for Mayo's problems may lie further up the field.
"My view is sometimes I think we get too caught up with the goalkeepers, about kick-outs and stuff," Cooper said.
"I wonder sometimes, if we're talking about Aidan O'Shea being the best pound for pound midfielder in dominating the air, why don't they kick the ball out longer all the time?
"I'm not sure that he is as dominant as people may feel. I think he drifts in and out of games, I find. 
Listen to the RTÉ GAA Podcast at Apple Podcasts, Soundcloud, Spotify, or wherever you get your podcasts.
"I think Mayo are better probably when they go short. It does put pressure on their defenders in terms of having to defend and take the ball out.
"If you look at David Clarke, when they are at their best, they have the kick-out taken within four or five seconds. It's gone to (Keith) Higgins, it's gone to (Lee) Keegan, it's gone to (Chris) Barrett, they are down the field, and that is when they are at their best. Those type of players are very comfortable taking the ball out. 
"I'm not sure Mayo are as strong around the middle of the field as we think they are. Also, I think specifically for Saturday night, Donegal have a lot of big guys around the middle of the field, (like) (Hugh) McFadden, (Michael)  Murphy. 
"I watched the game in Killarney closely (where Mayo were comfortably beaten by Kerry), I watched it from behind the goal. Looking at David Clarke, when he was looking out the field, I didn't see a whole pile of movement from midfielders, or wing-forwards, it wasn't too creative.
"So maybe while we debate the goalkeeper scenario all the time, maybe there isn't a whole pile of help out the field."
While Mayo will enjoy home advantage on Saturday, their recent record in Castlebar is far from convincing. 
Since 2011 Mayo have won just 24 of their 46 games at the stadium across league and championship, drawing two and losing 20.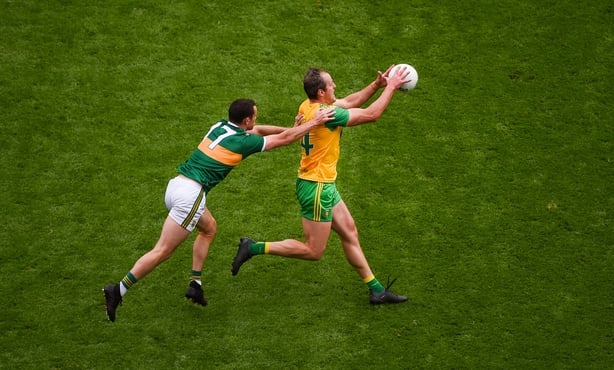 Despite their inconsistent record and the form of Ulster champions Donegal, who played out a thrilling draw against Kerry in Croke Park last time out, Cooper is backing Mayo to produce a big performance and secure their place in the All-Ireland semi-finals.
"I have a funny feeling about Mayo this weekend," Cooper said. 
"I left Killarney that weekend when they played Kerry, and I said 'Jesus. Are Mayo gone back so much?' But in the back of my mind I always felt that they knew it was all going to come down to Donegal in Castlebar. 
"For me, it has a little bit of a feel of the Mayo v Galway game earlier in the championship, where they just have to win, no matter what they have to do, they have to win. And sometimes with Mayo, when their backs are to the wall they come out fighting, and we've seen that time and time again from them. 
"Donegal have been extremely impressive, very strong. Had a great match against Kerry lately, but if it blows up this weekend for them it will feel like a disappointing end to the season for them, after winning the Ulster championship and being kind of comprehensive in winning that Ulster championship. 
"So there is so much at stake for both sides. On one side you are saying, yeah, Donegal have definitely been the most impressive, but is there a kick in this Mayo side? 
"By all accounts their injury list has cleared up a little bit, so they are going to have players back. I think in the back of their mind, they mightn't have said it from the outset, but I think they realise that this is like an All-Ireland quarter-final, because it is knock-out for them."