1996 All-Ireland winner Larry O'Gorman says Wexford left Sunday's All-Ireland semi-final behind them.
Despite scoring three goals, and leading by five points against 14 men with just over 20 minutes to go, the Yellow Bellies couldn't see the game out as Tipperary set-up a sixth final meeting with Kilkenny in eleven years.
"At this present moment in the county of Wexford, we're still in a little bit of a shock," O'Gorman told Hugh Cahill on RTÉ 2FM's Game On.
"Me, as an ex-hurler, supporters that have been supporting the teams over the years, and the players themselves, I'd say maybe we just thought we had it in the bag.
Tipperary edge out a huge battle in Croke Park to book their place in the All-Ireland SHC final where they will face Kilkenny. Watch the highlights on @RTE2 at 9.30pm #rtegaa pic.twitter.com/i2S2IZqmZI

— The Sunday Game (@TheSundayGame) July 28, 2019
"It actually felt like that with 15 minutes to go. We just thought that this is one we cannot see it slip, and we cannot afford to let it slip.
"Unfortunately it just crumbled, slowly but surely. We thawed out, and they got stronger... we were quite confused as to why we couldn't get in to stop the game for a minute, just to get set-up again.
"Fair play to Tipperary, they dug deep. When they wanted it most, they got the result out of it, and we were just in a little bit of a shock really."
Lee Chin's goal, Wexford's second, had arrived shortly after John McGrath had been sent off.
The game seemed to be moving Wexford's way, but O'Gorman says that the players and management didn't seize the opportunity before them.
"I think some of the players were thinking about marching behind the band on the day of the All-Ireland final," reckoned O'Gorman.
"Maybe we didn't go through enough things, right to the very end. We probably didn't talk about if we went down a man, or if they went down a man, how we were going to cope with it.
"We did play Galway earlier on in the year, in the Walsh Cup final. They got a guy sent-off, and they beat us as well. I thought we might have had that little bit of experience in terms of knowing how to play against 14 men.
"It happened back in '96. Eamonn Scallan was unfortunately sent off. It took Limerick a long time to adapt to what was going to happen with the spare man.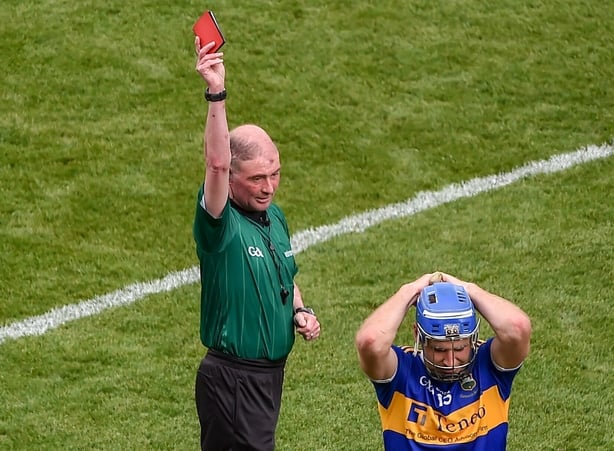 "Naturally us as 14 men had to grind out the whole second-half. The backs never conceded a free back in '96, which was a great thing for us.
"Liam Griffin did mention that to us. We were completely organised right to the very end. At half-time we spoke clearly about what he (Griffin) wanted done.
"Davy should have sent in a few messengers to say, 'right here's our plan for the next 15 minutes. Let's get on top of Tipperary. Let's get by their danger men', and we've some hope of seeing it out to the end.
"Teams do get a run on you. Unfortunately, Tipperary got the run on where we needed it mostly."
Tipp outscored Wexford by 0-12 to 1-2 in the final 20 minutes, but Fitzgerald's side still led as the game entered injury time.
O'Gorman says that changes should have been made before that point, but that they weren't.
"I just thought maybe by bringing Lee Chin out into the half-forward line, or midfield area. Just for someone to get the ball, and get it into our possession.
"Because we sort of lost our way.
"To be quite honest, I was quite sick and quite hurt going home in the car thinking we had a great opportunity to be in an All-Ireland final."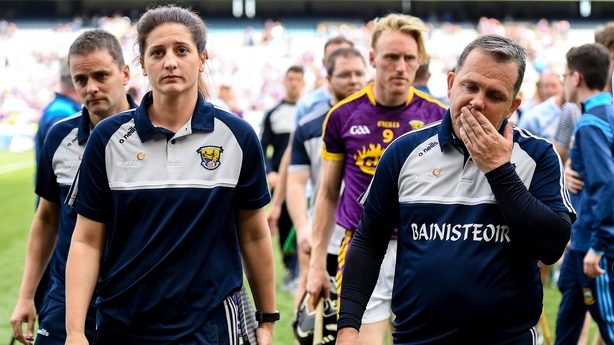 After a season that saw Wexford winning a first Leinster title in 15 years, O'Gorman says he'd like to see Davy Fitzgerald give it at least one more season in the south-east, but that he isn't sure if it will happen.
"Firstly, I'd say the players themselves would love to see Davy hang in there," according to O'Gorman.
"There's a great bond between all the players. They deserve great credit, they've given the whole county a huge lift.
"To be Leinster champions at minor and senior was a great year for us.
"Davy did say he'd come back for another year. The players have great respect for him. He's a great, passionate man. He loves hurling, and we all love hurling down here.
"But it was a bit sour and sore leaving Croke Park yesterday, a bit difficult to understand how we left it behind us.
"It's a big ask, a lot of travel up and down from Clare. A lot of organisation has gone into the last three years.
"He might ask himself, 'is there more in this team? Can I bring them further?'"