Déjà vu. Those words have become a consistent modern theme for Kilkenny but when Saturday evening looked like being a Déjà vu experience for Limerick similar to last year's All-Ireland semi-final, Kilkenny beat back that prospect with the same ferocious intensity they bring to every challenge. Because Kilkenny just don't lose All-Ireland semi-finals under Brian Cody.
Limerick chased down Cork late on 12 months ago and, while Limerick looked more down and out than they had been last July, they appeared primed to pull off another sensational comeback. Yet Kilkenny just refused to believe that there could be a different ending to what has now become a perennial storyline at this stage of the season.
Limerick are entitled to feel aggrieved that they weren't awarded a '65 when Cillian Buckley got a nick on Darragh O'Donovan's last-second sideline cut but that was just one more regret on an afternoon stacked with them.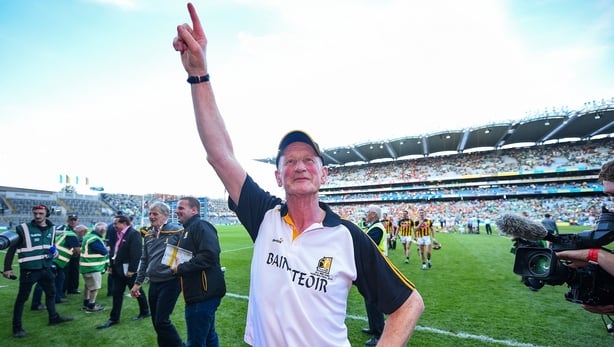 Limerick's conversion rate of 50% will haunt them, not just because so many of those missed chances were untypical of this team, but even more so when compared with Kilkenny's conversion rate of 67%.
It was a brilliant game, an epic contest of coiled aggression, intensity and savage desire, but the match was still largely played on Kilkenny's terms because Limerick were always chasing themselves – and their high standards – as much as Kilkenny.
They were so off the pace early on that they couldn't get their hands on the ball in the opening quarter of the match, with their forwards limited to just 11 possessions (four of which were secured by Aaron Gillane) in that period.
Limerick's conversion rate of 50% will haunt them, not just because so many of those missed chances were untypical of this team, but even more so when compared with Kilkenny's conversion rate of 67%.
Even when Limerick finally got a foothold, they weren't able to hurt Kilkenny close to goal.
The Limerick half-forward line has long been the engine room of their system but Kyle Hayes, Tom Morrissey and Gearoid Hegarty never had the impact Limerick needed them to exert. Those three had a combined 27 possessions, along with making 15 hooks-blocks-tackles, but they engaged Kilkenny too far down the field and it denied Limerick the penetration they needed closer to goal.
Kilkenny's workrate was so savage and intense in that middle third that they trusted themselves to win the numerical mis-matches but it also allowed the Kilkenny defence, especially their half-back line, to sit, rarely venturing beyond their own 65-metre line.
Gillane was restricted to just three possessions in the second half because he had a mass of Kilkenny bodies in front, and around him. The Kilkenny defenders just had to spoil Gillane anytime the sliotar came near him because there were enough covering defenders to hoover up the loose ball.
With how both teams were set up, it was no surprise that the outstanding Padraig Walsh and Paddy Deegan made a combined 43 plays while policing that defensive wall.
Too many of Limerick's big guns didn't fire while Kilkenny's boomed. John Donnelly doesn't have that high-profile status of the other Kilkenny forwards yet but he set the tone in the opening quarter through his incredible workrate.
From a combined eight shots, Colin Fennelly and Adrian Mullen scored 1-07. TJ Reid didn't score from play but he nailed eight of nine placed balls while his wider influence was immense from 18 possessions; along with winning seven puckouts, Reid also had three assists.
Limerick trusted that their system would be enough to limit Reid's impact, but he is one of those players that just has to be man-marked.
That duty more or less fell to Kyle Hayes midway through the first half but Hayes – who was still trying to do his own job as a hunter-scavenger and counter-attacker – was just in Reid's orbit as opposed to being chained to the Ballyhale man with a brief to do nothing much else.
Waterford learned that harsh lesson in 2016. In that year's drawn All-Ireland semi-final, Richie Hogan peeled off the Waterford sweeper Tadgh de Burca and caused untold damage.
For the replay, Kilkenny sited Hogan and Reid at midfield and pushed Michael Fennelly up on to de Burca, but Waterford didn't take any chances when the sides met again in 2017. Conor Gleeson and Philip Mahony were given dedicated man-marking roles on Hogan and Reid and it went a long way towards winning that match.
Limerick's system has carried them to unprecedented levels and, while they nearly pulled it off again on Saturday, it will be a long winter of recrimination for more than just a poor start and so many missed chances.
Not too many teams beat Kilkenny when they take them on in absolute trench warfare in the middle third. But coming into the match after a four-week layoff, could Limerick have gone more conventional for the opening 20 minutes, just to ease their way into the match and almost throw Kilkenny in the process?
Limerick's second half charge was led by the excellent Barry Nash, who – despite only being introduced at half-time – had more possessions than every other Limerick player bar the outstanding Graeme Mulcahy.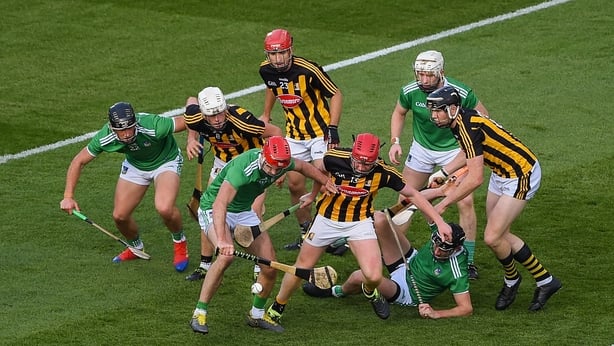 Kilkenny had more possessions in total (168-162) over the 70 plus minutes but despite Limerick creating more scoring chances (35-29) they were still caught in a dual-bind; they couldn't get their full-forward line (especially Gillane) on the ball enough while they couldn't run the ball enough through the Kilkenny trenches in the middle third.
Even when the Limerick half-forwards were on the front foot in possession, they were still often too far from goal to make it count.
The modern game is often effectively an arm-wrestle for 45 minutes for the right to territory but Limerick were under even more pressure again to claim that territory when their own puckout wasn't working. That was reflected in their early struggles; of their first ten puckouts, Kilkenny won seven of them (which is measured on the second pass from a short puckout).
Late in the game, Kilkenny sourced two valuable points from turning Limerick over on that second pass from Nickie Quaid's short restarts.
In total, Limerick mined just 0-04 off their own puckouts, a figure way down on their usual productivity from Quaid's restarts.
Puckouts also played a huge part in the outcome of Sunday's Tipperary-Wexford game, particularly late on when Wexford had an extra-man, but they still elected to go long with 14 of their last 15 puckouts, and lost ten.
Wexford's overall second-half puckout statistic is even more revealing considering that Tipperary mined 0-09 off that possession won from Mark Fanning's restarts.
That route-one approach had worked against Kilkenny in the Leinster final but Sunday's strategy was more reminiscent of the second half of the 2018 Wexford-Kilkenny championship meeting in Nowlan Park.
Wexford also had a significant lead in that match but Kilkenny crowded the half-back line and Wexford continued to pummel ball on top of it. That provided the launchpad for Kilkenny attacks 13 months ago and it was similar with Tipperary on Sunday.
It was strange that Wexford didn't change that strategy but they had expended so much energy that the gas didn't seem to be in their legs to run the ball more in the last quarter.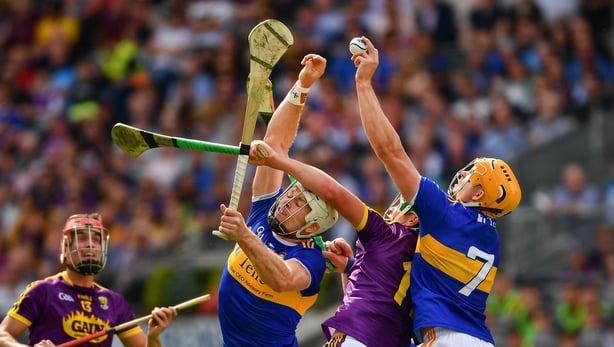 That may have been down to as much a mental than physical slippage. Despite hoping and planning to be in such a commanding position (five points and a man up), mentally dealing with actually being there can be just as challenging in a game of such magnitude. Especially when Wexford have been far more used to being the hunter, than the hunted.
Wexford may have tried to hold what they had instead of pushing on more. Their half-forwards needed to come further out the field to look for those shorter passes but there were also stages when the Wexford defenders were too narrow to create the platform for a short puckout and the chance to play that shorter game.
Even if the strategy was still to go long and to try and pen Tipperary back, the Tipp half-back line had even more of an opportunity to create an attacking platform by having more space up front.
It was strange that Wexford didn't change that strategy but they had expended so much energy that the gas didn't seem to be in their legs to run the ball more in the last quarter.
The sending off allowed Tipp to create that extra space in their attack but the way in which Tipp were able to run the ball in the second half, with forwards peeling off into pockets, and defenders finding men in space was the most graphic illustration of how different this team is from 12 months ago.
That's a testament to excellent coaching but Tipp's comeback was a triumph of heart, character and spirit as opposed to any tactical adjustment that allowed them to dictate the terms in the last quarter.
Tipp players stood up everywhere. The Tipp half-back line of Brendan, Padraic and Ronan Maher were immense, having a combined 34 possessions, and winning a combined 11 puckouts, with Ronan Maher securing five of those.
Noel McGrath might have struggled at stages to track Wexford runners but his display was immense too, having more possessions than anyone else (20), scoring four points from five shots, and having another scoring assist.
Seamus Callanan also showcased his genius and leadership qualities again; from just three first half plays, Callanan scored 1-01 and set up a point; from four second half plays, Callanan scored one point while he had a shot saved for a converted '65 and was fouled for a converted free.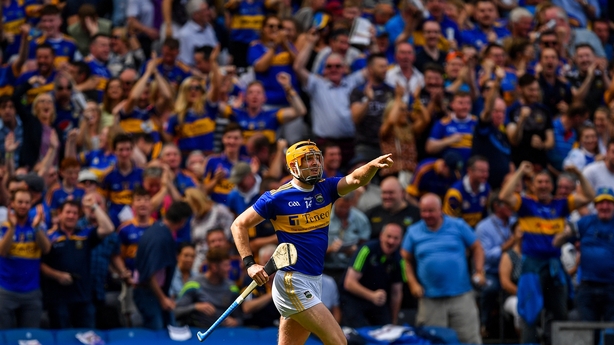 The Tipperary bench also made a massive contribution. Prior to Sunday, the Tipp bench had contributed just 0-04 in six games but Jake Morris, Willie Connors, Mark Kehoe and Ger Browne matched that total in just 22 minutes.
The overall possession numbers (Tipp 136, Wexford 126) highlighted the difference from Saturday's game but this was an epic match for the ages. The pace, intensity and movement was almost on a whole new level again.
Wexford were heroic. They had a 71% conversion rate in the first half and some of those scores were of the highest quality. Wexford ended with 3-20, the highest score ever recorded under Davy Fitzgerald against a top eight side, and it still wasn't enough.
The All-Ireland success of Galway and Limerick over the last two years, and having so many competitive teams now at the same time, hinted at a whole New World Order for hurling. The game is possibly in the greatest place it's ever been but, for that to happen, the empires still have to be in a position to emphatically strike back.
And they just have. Déjà vu.