With the All-Ireland quarter-final groups reaching a conclusion this weekend, those of us without a particular dog in the fight might be forgiven for considering how what we've seen to date might measure against the now perpetual Dublin yardstick when it matters over the concluding month of the season.
There is little doubt that Donegal, Tyrone and Kerry have all pushed on this season. Although Donegal's progress - building off a Division 2 platform - has been the most impressive, all three contenders are closer to the champions than they were 12 months ago.
It could be argued that there are no surprises this year with Dublin. They are still the same flowing machine with unparalleled athleticism and game sense. But, if you were optimistic – as the three contenders must be – you could argue that there is nothing new from a playing or personnel perspective and that is certainly different for Dublin in the last five years.
Jim Gavin has still to arrive at a man marking duo at the back that he's comfortable with and there is still no partner for Brian Fenton at midfield.
Completely bridging the gap in a one off battle might need some stars to align but each of those contenders now has the capacity to do that with a puncher's chance. Some of this progress can be attributed to personnel adjustments or maturation and some to gameplan evolutions.
Donegal Still Evolving
If Donegal are to produce a performance to beat Dublin this year, they have to adjust to defend better collectively in the wider expanses of Croke Park. As well as their attacking play functioned, their defensive shape was a considerably weakened version against Kerry to what we had witnessed in Ulster.
Of course, the pace and power of the Kingdom attack would inevitably wear the fabric of the Donegal defence thinner. Despite the absence of half their starting back six, the Ulster champions coped admirably in tackle situations. The most consistent exception was Eoin McHugh, who Kerry targeted to exploit in one on one scenarios whenever they could create them.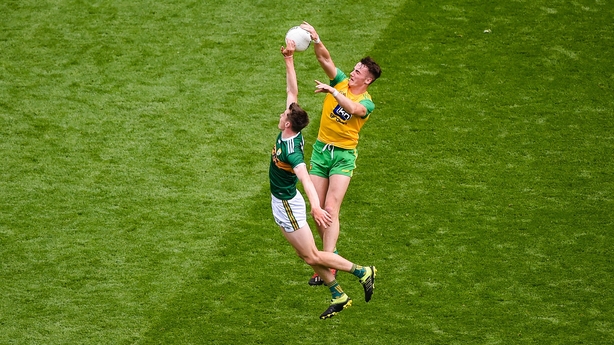 More fundamentally, the Donegal defensive "system" struggled because of the limitations of the key man – Hugh McFadden – in performing his pivotal cover role.
McFadden is an excellent reader of the game and understands positioning very well to be effective in dissuading teams from kicking long into attack early. He was central to a superb team performance against Tyrone earlier in the summer which negated the direct threat of Cathal McShane.
But, alarmingly for Declan Bonnar, McFadden struggled in Croke Park with his primary role of getting into position to make an impact on Kerry's early ball inside. The environment at Jones' Road expands the space to be covered and thins the air within which it must be done and the Donegal midfielder struggled with the mobility required to maintain his normal standards.
After this weekend, everything moves to Croke Park and this becomes a central concern for the overall Donegal gameplan.
The secondary problem is that McHugh has consistently laboured to adjust out of his deep cover position to reinforce the tackling line when opponents run the ball. Players in this role have to see the danger of potential missed tackles early and get there immediately. That is high octane work.
Tyrone Content
Last year's beaten All Ireland finalists seem to have settled on what they feel is the approach that makes them most effective with and without the ball.
Colm Cavanagh is now – once again – indispensable at the heart of the Tyrone defence and the qualifier journey has shaped Mickey Harte's many options into settled roles. While they have the "chase" formation they utilised in the second halves against Donegal and Cork to revert to, they know what works best for them.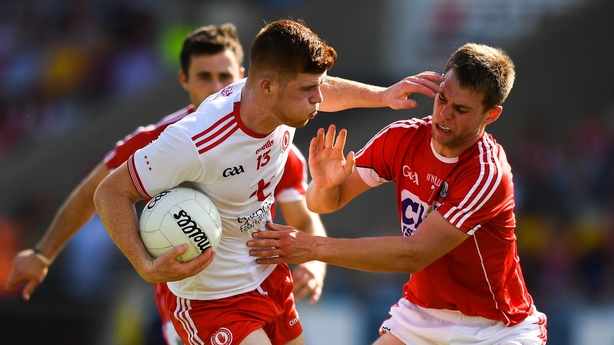 Tyrone's hope for something different in a possible All Ireland final clash with Dublin is the emergence of Cathal McShane as a serious direct ball weapon. Operating with Mattie Donnelly in the vicinity would give Dublin considerable headaches. We will likely see the former this weekend again but the latter will probably be kept under wraps.
Kerry Sparking
Peter Keane's challenge since the league has been to create a gameplan that unlocks the phenomenal potential of their inside forward line options while maintaining an effective rearguard fit for purpose at the highest level.
Signs over the opening two Super Eight fixtures have been that they are moving in the right direction. A deeper working half forward line that augments the defence has had a double effect. It has better equipped them as a team to deal with a running game in particular, but has also eked out a little more space for their marquee men on the counter attack when they kick early.
Against a Dublin team that examines for weakness so surgically, it is unlikely that Kerry's susceptibility to early ball inside won't be exposed – particularly in Croke Park – without a cover player. The Murphy / McBrearty links highlighted this route against Donegal and will have been well noted.
If Kerry can find a way to close off the most direct route to attacking them then they will have all of their pieces assembled for a serious cut at Dublin.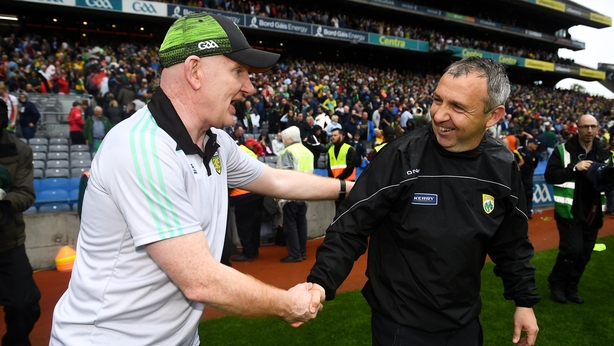 Perpetual Footnote
In a weekend where referees again came under the most intense scrutiny, I often wonder if the obvious solution is not right in front of us. Three fully qualified inter-county referees are on duty at these games and it is not new to suggest more cohesion between them all.
With the pace and mobility of both football and hurling at inter-county level now, more efficient use has to be made of the resources at our disposal.
The solution is three pronged refereeing teams, created for each season and coached properly throughout. A senior referee would then work with his two auxiliaries to cover the 12,760 square metres on match day.
For the life of me I can't understand why two out of three referees appointed to games are restricted to running in a straight line outside the pitch and why they don't have a whistle.
The senior referee would still cover the bulk of the play but the auxiliaries could sweep across the respective attacking thirds at either end on and off the ball to monitor for indiscretions and give the primary official another perspective.
Obviously all three should be in constant communication – like any team – to be effective. This approach offers officials the opportunity to evolve a collective understanding of their style across the season and to be part of a real team.
Additionally, it gives us a tangible development vehicle for referees. Working closely with the best referees would create an environment where young officials can bridge the gap between officiating at club level to the inter-county game.
Now that's sorted, there are only two other issues.
1) Refereeing football – and contact in particular – has to start reflecting what people want to see within the game as a spectacle. There is a reason why the current Meath duo are recognised as the best officials in the country – they enable great contests with their style. Given that Hurling can manage this element then there is no reason why football continually fails to.
2) Referees need a champion who can recognise issue one and is empowered to coach and mentor them towards the type of style and performances that augments rather than weakens our game. This requires a complete overhaul of the administration around refereeing to bring it into the modern era.
Refereeing is as much a performance sport pursuit as playing and can often be the most important element in deciding the outcome of games. It's long after time we put the same thought and expertise around this group of volunteers as we do around players.