Blaithin Mackin, who scored 1-2 in Armagh's 4-9 to 3-11 win over Cork at Bord na Móna O'Connor Park in Tullamore, said they never doubted their ability to reach the last eight of the TG4 All-Ireland Championship.
"We knew we had to come out, just to prove everyone wrong really. We had our ups and downs throughout the year.
"We knew if we gave it everything, we'd get the result. Thankfully it did and we're just happy to be back in an All-Ireland quarter-final."
Cork, thanks to a goal from Rhona Ni Bhuachalla, led by 1-5 to 0-4 at half-time but Armagh surged ahead with a flurry of goals in a blistering spell in the second-half from Caroline O'Hanlon, Mackin, Kelly Mallon and Mairead Watters.
Cork stunned by a THIRD quickfire goal! Níl siad in ann @ArmaghLGFA a stopadh!@GAA_BEO #GAABEO #ProperFan

pic.twitter.com/x6p7ItICKp

— Ladies Football (@LadiesFootball) July 27, 2019
Cork rallied with goals from Maire O'Callaghan and Libby Coppinger but were unable to save the game.
"Fair play to Armagh, they deserved their victory," said Cork manager Ephie Fitzgerald. "We just didn't seem to be at it, but that's a good learning experience for us. At the end of the day, we're still in the competition and we can look forward to next week."
Mayo's full-forward line of Grace Kelly, Rachel Kearns and Sarah Rowe scored 1-20 between them as they ended Donegal's interest in the championship with a 1-22 to 3-12 win in Tullamore.
Kelly said that Mayo, who trailed by 2-6 to 0-10 at the break after Karen Gutherie and Geraldine McLaughlin found the net for Donegal, said a half-time pep talk from manager Peter Leahy did the business.
"We knew at half-time we had to pull up our socks. Kick passes were going astray and just our work-rate really wasn't strong enough. We upped it in the second half. We knew we'd have a purple patch, like every team does," said Kelly, who scored 0-8.
Donegal manager Maxi Curran said it was a disappointing end to their bid for All-Ireland glory.
"I think the game swung on our inability to get our own kick-out away in the second-half. Mayo put a big squeeze on our kick-out and we just couldn't get it away. Between the fifth and 10th minute, we had five kick-outs and they got four points direct off it. That wiped out our lead and from then on we were chasing."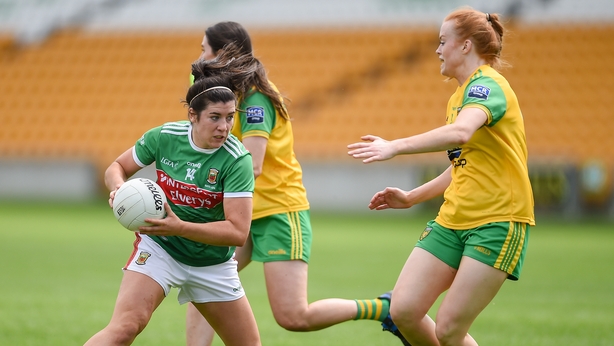 Dublin, having beaten Monaghan by 25 points and Waterford by 18, breezed into the quarter-finals with a 3-20 to 0-4 win over Monaghan at Parnell Park.
The return of captain Sinead Aherne, who accounted for 1-11, was another boost for the champions who led by 1-12 to 0-2 at the break and pushed on from there.
Manager Bohan said it was a good workout and they are now looking forward to the knockout phase.
"We were a little bit sloppy in the first half and probably took us 15 minutes to get a bit of rhythm. I thought it was a way better performance in the second half. I thought they were more clinical and just their movement got better but that's part of it. It takes games to get that harmony of a team working together so we're glad of this outing."
Monaghan trainer Ciaran Murphy said he was proud of his side's effort as they try to build.
"Tough loss I suppose but when you consider where we were last week and coming up against the All-Ireland champions, I am proud of the girls' effort. We've a very small panel for various different reasons but the girls that we have here are willing to do anything that is asked of them.
"We're not looking to win an All-Ireland we just want to be competitive with the teams that are around us. Dublin are at a level above Monaghan at the minute so it up to us to strive to get back up to that level but we are not going to do it today or tomorrow."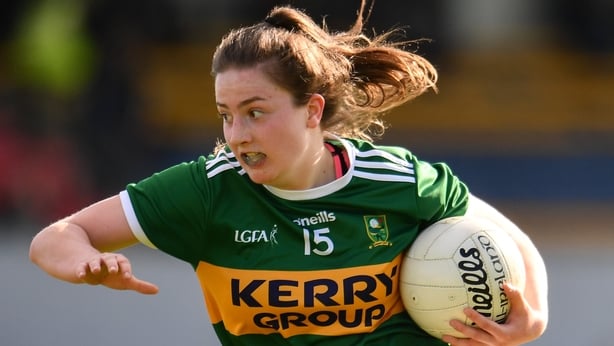 Kerry completed the line-up for the quarter-finals when they held on to defeat Westmeath by 1-12 to 1-10 at Fitzgerald Stadium in Killarney.
A goal from Hannah O'Donoghue helped Kerry lead by 1-6 to 1-4 at the break, after Kelly Boyce Jordan had given Westmeath a great start when she found the net after just two minutes.
Kerry selector Declan Quill praised his side for the way they maintained that advantage after the break and held off a rally from a spirited Westmeath side to set up a quarter-final meeting with reigning champions Dublin.
"I thought our more experienced players showed great leadership in the second half, but the younger girls worked really hard too. It's Dublin next week, which will be no easy task, but we'll review this game, and I suppose we're in bonus territory a little bit now," said Quill.
Westmeath selector Carole Finch said her players were 'very, very disappointed' at the result.
"We came to win and we're really gutted at the result. We got the perfect start but in fairness to Kerry, they're a really good team and they recovered well and had the lead at half time."