Limerick manager John Kiely was left to rue what might have been after the officials missed a Kilkenny touch on a sideline cut that could have earned his side the chance of a replay in the All-Ireland semi-final.
The All-Ireland champions were a point down in the final seconds of a titanic tussle at Croke Park when Darragh O'Donovan stepped up to take the line ball.
Kilkenny defender Cillian Buckley, who didn't look anywhere near the 13m away from the ball that the rules dictate, got a touch that deflected the sliotar away from goal but a wide was signalled and the referee blew the final whistle shortly after.
Were Limerick denied a late equalising chance? Cillian Buckley got a touch to Darragh O'Donovan's last minute sideline cut pic.twitter.com/Ce2WAQxAoj

— The Sunday Game (@TheSundayGame) July 27, 2019
"We knew straight away," Kiely told RTÉ Sport. "We could see by the flight of the ball, it was taking a certain flight, it changed, it flew off to a different angle. We knew it was after taking a touch, what can we do.
"The crowd on that side of the field, you could see from their reaction it was obvious that something had happened, and we could see ourselves from the flight of the ball what had happened."
Former Cork star Donal Óg Cusack said on The Saturday Game that although he felt Kilkenny had been deserved winners the incident raised "serious question marks over our officials".
"You have to seriously question, what is the linesman doing, what is the referee doing and what is the umpire doing? That should have been a 65."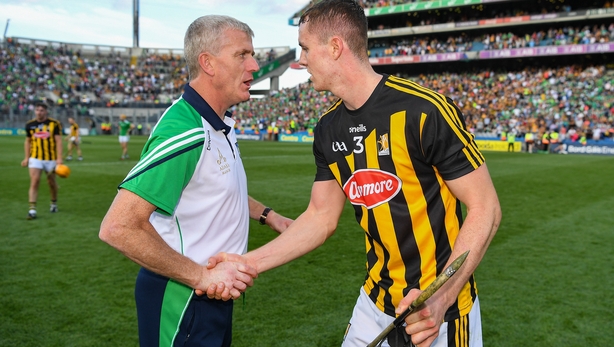 Kiely's team had given themselves a chance after fighting back from a big deficit early in the first half and five points in the second but never drew level as Kilkenny hung on to win and book their place in the final.
"When you are 10 points to two down after about 15-17 minutes you have given yourself a mountain to climb," he admitted.
"It took us a while to settle into the game. Kilkenny brought a ferocious intensity to the breaking ball and got a platform that they were very efficient with. They had themselves that bit of headstart, the challenge from then on was to close that gap.
"We got it down to two and one and two and one, then it went out again to five and that really gave us a massive challenge again, closed it to two again and then to get it back to one and we were probably looking for that one little opening to come where we could get level. Had we broken that chink and got that level we could possibly have pushed on again but it wasn't to be."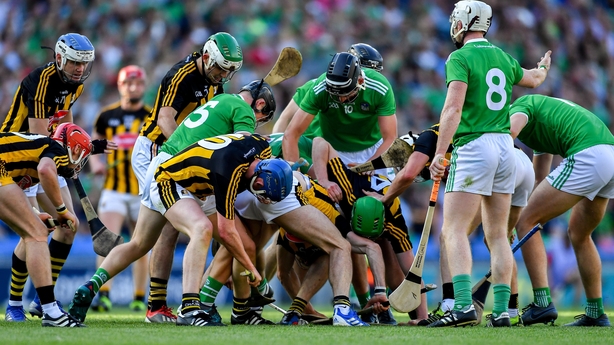 The 'curse of the Munster champions' is back with a vengeance, Limerick becoming the third winners of the province in a row to fail to reach the All-Ireland final. Only three Munster champions this century (Cork in 2005, Tipperary in 2001 and 2016) have gone on to lift Liam MacCarthy.
Kiely, however, insisted that the month without a competitive game that his team had, in comparison to Kilkenny's busier schedule of facing Cork in a quarter-final two weeks ago, had no bearing on them appearing less dominant in the physical exchanges than usual.
"No impact and no regrets on anything we did," he said of the lay-off. "We gave the lads a week off, we trained hard. We were ready for tonight, we were absolutely ready.
"With Kilkenny, you know what you are going to get. It is what is on the tin. We pride ourselves on our work-rate. Kilkenny pride themselves on their work-rate. Our boys wouldn't shirk away from that level of physicality. We pride ourselves on trying to be in the ascendancy in intensity levels during the games.
"That was the challenge that was lain down before us tonight. It was a significant challenge. I think we responded in a defiant way. We refused to go away during the game. The boys dug in and fought and fought and fought right to the very end. On another night, it could have gone to extra-time, but it didn't.
"Kilkenny brought a ferocious intensity to the first 15 minutes but we responded to that in kind in the second quarter. We dominated it. We felt very comfortable at half-time that we had the resolve to push on in the second half but we probably struggled a little bit with our efficiency in front of goals. They had eight wides, we had 15. You only need one of those, but that's just sport.
"I don't think they had a greater level of intensity than us throughout the whole game. I just think that they got a greater outcome from their periods where they dominated than where we dominated. We just didn't enough of the dominance, when we had it, on the scoreboard."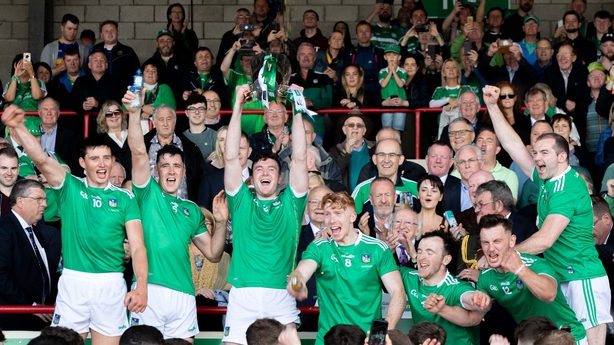 When the shock of losing their title in a game they were tipped to win subsides, Limerick can take solace in the fact that they still had a successful year, with a first League crown in 22 years and first Munster since 2013 captured.
Kiely has no doubt that what remains a very youthful team will contend for Liam MacCarthy again next year.
"We have had a very good season," said Kiely. "The lads have worked extremely hard. Every bit of the way, we've enjoyed it.
"The boys are very disappointed right now because there was a huge prize at stake tonight but it is not to be.
"That defeat won't define that group. If anything, it will strengthen the resolve of this group to come back again.
"They are a young bunch. They are very ambitious. They are very united. I've no doubt they'll come back again and they'll challenge again in the future."
We need your consent to load this rte-player contentWe use rte-player to manage extra content that can set cookies on your device and collect data about your activity. Please review their details and accept them to load the content.Manage Preferences
Listen to the RTÉ GAA Podcast at Apple Podcasts, Soundcloud, Spotify, or wherever you get your podcasts.