Sixteen minutes into the Munster final four weeks ago, Eamon O'Shea ambled down the line towards Liam Sheedy and Tommy Dunne and declared the need for a tweak in Tipperary's gameplan.
"We need to play through the lines more," said O'Shea. Tipperary were still in a solid position in the game. They were doing well on the Limerick puckout. Tipperary were creating chances but O'Shea was right because Limerick were beginning to turn the screw.
As the game progressed, Tipp couldn't transition the ball to their attack from their own short puckout. The Tipp defenders couldn't hit their half-forwards with short snappy ball, or in isolated zones on the flanks. And with the Limerick half-back line on top in the air, Tipperary couldn't get any ball into their inside line.
Tipperary were flat but they were lifeless because Limerick choked the oxygen out of them. There are marked differences in how Limerick and Wexford play but the biggest challenge for Tipperary - and Kilkenny - now is withstanding that middle-third vortex and being able to provide their forwards with enough oxygen to stay alive.
There was a time when it would have been inconceivable to believe that Kilkenny might struggle in a dogfight in the middle third. Kilkenny never will go down easy in that kind of a street brawl but Limerick have become such a powerful force in that sector that they are now the chief bouncers on that terrain.
Limerick have been so confident in their system that they have been predictable to a point. They try and disorientate teams by hammering them in the middle third and creating the space for their forwards to exploit, both with runners from deep and angled ball into their full-forward line.
Limerick's style has been highly creative and imaginative but they will be keen to throw something different at the opposition now given that it's Kilkenny in the other corner. Gearoid Hegarty may start at full-forward. Graeme Mulcahy could take up station just behind the number 11 spot. Aaron Gillane could stay at corner-forward before hitting the D at pace on the delivery.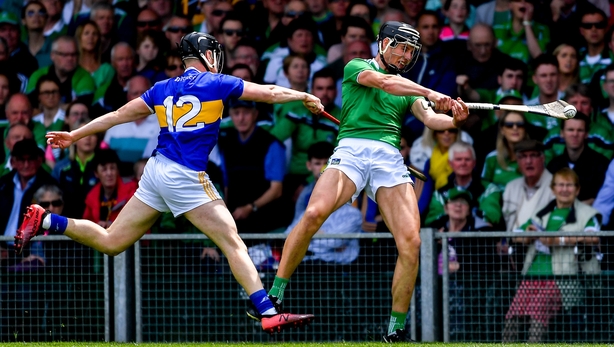 Kilkenny won't want to let the game get away from them early but their priority will be trying to maintain the defensive shape they managed to hold in the second half against Cork.
Kilkenny knew that if they closed down the middle with more bodies, stopped the supply going into Patrick Horgan and Alan Cadogan, and forced Cork to bring Seamus Harnedy out the field, that Cork would be starved of oxygen.
Kilkenny's momentum also allowed them to realign their formation, with Conor Fogarty sitting deeper in that pocket, where Cork were consistently trying to supply Horgan and Cadogan with ball in the first half. And yet the numbers still showed the vulnerability in the Kilkenny full-back line. Despite everything Kilkenny tried to do to stem that flow, Horgan and Cadogan still cut loose, ending with a total of 2-6 from play.
Limerick will wreak similar destruction with that kind of a supply but the biggest concern for Kilkenny is dealing with the physical challenge that Wexford knocked them back with, and which Cork never provided. Because Limerick will come fully armed for war.
Kilkenny's profligacy against Wexford was in marked difference to their 71% conversion rate against Cork but they won't get anything like the time on the ball they enjoyed against the Cork defence. Cork also only had a 52% conversion rate that afternoon. Limerick only had a 60% conversion rate in the Munster final, but they still managed to hit a colossal 2-26.
Kilkenny's strangulation of Cork began on the Cork puckout in the second half. Kilkenny won just two Cork puckouts in the first half but they won 13 of Anthony Nash's restarts after the break, and translated that possession into four points.
Brian Cody also has Richie Hogan exactly where he wants him now – hungry again to prove a point
Furthermore, Kilkenny turned over six Cork puckouts shortly after they'd been taken, and turned that possession into five more points. That won't happen on the Limerick puckout. Tipperary did get a handle on it early in the game but Limerick still surmounted that challenge and mined 1-8 directly off Nickie Quaid's puckouts.
Limerick shut down Tipp's big men in the Munster final and that will be a primary focus again here for Kilkenny. Especially when the Cork match showed how devastating Kilkenny can be when their big men make big plays. Walter Walsh came on and had a massive impact from seven second half plays, scoring three points and being fouled for a converted free.
Stephen McDonnell did a fine job on TJ Reid in the first half and, while Reid didn't score from play over the 70 minutes, he won five huge puckouts in the second half, two of which he was fouled for converted frees, while he also set up a point.
Brian Cody also has Richie Hogan exactly where he wants him now – hungry again to prove a point.
We need your consent to load this rte-player contentWe use rte-player to manage extra content that can set cookies on your device and collect data about your activity. Please review their details and accept them to load the content.Manage Preferences
Listen to the RTÉ GAA Podcast at Apple Podcasts, Soundcloud, Spotify, or wherever you get your podcasts.
Limerick will have designated man-markers. So will Wexford for Tipp's marquee players but, in a similar way to Limerick, they'll look to collectively strangle the life out of Tipp in that middle third.
They managed that in their league meeting against Tipp in February and their target will be similar to the Leinster final – take the match down the home straight and then look to win it on the line. Tipperary's form has been better coming into this game. The first signs of slippage were evident in their A versus B's game before the Munster final, when the A team was poor, and the B team won well. The A versus B game on their training weekend in Fota Island last weekend was far better but stretching the play – and keeping their strike forwards away from Wexford's defensive web – is far harder to execute in the white heat of Croke Park.
Patrick 'Bonner' Maher, who would have been tailor-made for this match, is a massive loss but Tipp still have a solid track-record of doing well against teams with a clearly defined sweeper. They took Waterford apart in the 2016 Munster final while they deconstructed Wexford's system in the 2017 league semi-final, mostly by physically engaging Shaun Murphy under the dropping ball. Tipp got five goals that afternoon but Wexford's system was still only in gestation under Davy Fitzgerald.
It's far more solid now, especially with Kevin Foley as the sweeper. It's also more effective as a counter-attacking measure because Foley is so creative going forward, while the Wexford wing-backs and midfielders can keep attacking more often with another year of S&C under their belts.
The Kilkenny forwards were worn out in the Leinster final from chasing Wexford defenders up the field but Wexford hit a level of efficiency that afternoon that they'll need to match against Tipperary now, not just because of the Tipperary goal threat, but because of Wexford's lack of green flags.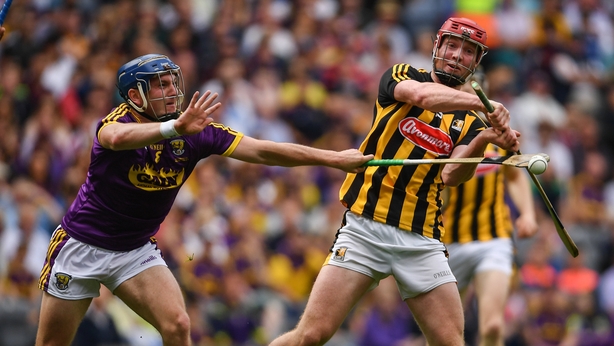 In their games against Galway and twice against Kilkenny, Wexford failed to score a goal from play. Rory O'Connor engineered the decisive penalty in the Leinster final, which Mark Fanning converted, and getting that match-up right on O'Connor – which Kilkenny failed to do - will have exercised Liam Sheedy's mind in recent weeks.
That duty will probably fall to Brendan Maher or Cathal Barrett. Both are comfortable going forward if O'Connor goes deep but both are also equally adept in the full-back line if O'Connor moves to full-forward.
Tipperary will want to move the ball at speed but they'll also need their key shooters on the ball far more often than in the Munster final. Seamus Callanan and John McGrath didn't get anything like the service they needed that afternoon but Callanan is the curveball that Tipp will surely throw hardest at Wexford now.
With Liam Ryan chained to Callanan, and Foley sweeping in front of him, Tipp will surely seek to get Callanan into the number 10 position, maybe even under puckouts, and launch his attacks from deep, even as a runner looking for that laser crossfield pass to take Foley out of the equation.
Tipperary's early-season target of having an 80% retention rate of ball going into the full-forward is fanciful against Wexford but they'll need to rethink their puckout strategy given that Wexford will look to recreate Limerick's set-up on Brian Hogan's puckouts – allow him to play it short to James Barry, and then close the space down once Barry moves.
Tipp need to rotate any short puckouts more, and to run the ball more on that second phase, because if they can get enough ball up to their attack, they can bag the goals to win this game. And if they do, Tipperary should set up another crack at Limerick in three weeks.
Follow Limerick v Kilkenny on Saturday (6pm) via our live blog on RTÉ.ie/sport and the News Now app. Watch live coverage on RTÉ2 from 5pm and the RTÉ Player and listen to radio commentary on RTÉ Radio 1. Follow Wexford v Tipperary on Sunday (3.30pm) via our live blog on RTÉ.ie/sport and the News Now app. Watch live coverage on RTÉ2 from 2.30pm and the RTÉ Player and listen to radio commentary on RTÉ Radio 1.