There have been plenty of positive days for the Laois footballers in the past, with All-Ireland final appearances and their memorable 2001 senior triumph, but Sunday's TG4 Intermediate championship clash against Wexford is arguably as important as any of them.
It has been a shocking season to date for Laois, who join Kilkenny as the only team in the country to lose every competitive game they've played this year.
After nine straight losses, and relegation to Lidl NFL Division 3 for next season, many players would be looking for the panic button, but for Anna Healy, picking up a much needed win is her sole focus.
Anything short of a seven-point win will condemn Laois to a relegation play-off, but their hopes of avoiding the drop to the junior grade have been bruised by an injury setback to the Park-Ratheniska stalwart.
It was initially feared that Healy had broken her foot during last weekend's 4-13 to 1-12 loss against Clare, but after getting the all clear from an x-ray, she faces an anxious wait to discover the full extent of the blow.
"I have a moon-boot on after a trip to A&E last Sunday night. There is nothing fractured thankfully, but they just gave me the boot and said there is a good bit of bruising on the bone," said 21-year-old Healy, who is nevertheless named in the Laois starting line-up.
"There could be a bit of damage to the ligaments and soft tissue around it. Hopefully the boot is only a short-term thing just to alleviate the pressure for a while and it won't be a long lay-off.
"I'm not 100 per cent sure about the weekend yet, but it's not looking too hopeful. I will definitely be there and even if I am on the sideline I will be involved if I can. Definitely getting the rest of the girls riled up for it and ready to go because it is a big one. You'd be gutted to miss out."
This is Healy's fourth season in the blue shirt and it was the exploits of her predecessors that inspired her drive towards representing her county. Despite their desperate 2019 campaign, the combative wing-back says she remains hopeful for football in the county.
"Growing up, Laois ladies football was something to take motivation from and be inspired by. In my club we had Trish Fogarty and Laura Hyland on the senior panel.
"I remember going to see them play against Cork and different teams and they were mixing it with the best of them. You would hear from people from Dublin and Cork chatting saying Laois were always a team to be reckoned with. That is what I remember about Laois football, how strong we were.
"Looking at the position we are in now it is hard to compare the two. But when you were growing up all you wanted was to be on the Laois panel because you were competing with the best in Ireland.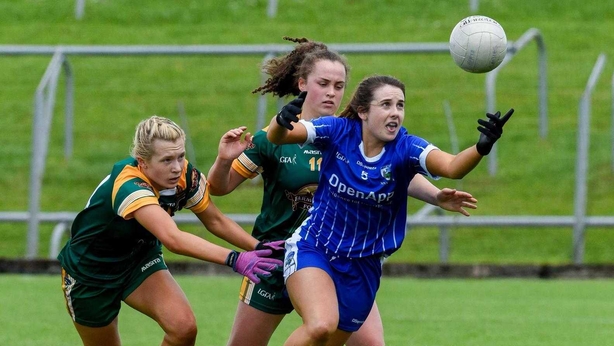 "When you are looking towards the future you have to be building right down at the roots and that seems to be what the likes of Meath are doing. Even underage they have been contesting and winning finals the whole way from U-14 to minor. That is massive for teams coming through and definitely what other counties should be aspiring to be doing."
Healy is currently studying Physiotherapy in UL and she featured for the Limerick students in this year's successful Gourmet Food Parlour O'Connor Cup campaign. And although there is a lot of doom and gloom around football in her home county since their relegation from senior in 2017, as one of the most experienced players all of a sudden, she still retains hope for the future.
"We are having a tough year this year, but as recently as last year we won the Leinster Intermediate. It hasn't been all negative. We definitely can take plenty from it.
"It was a tough league but we have a very young squad. Even since the league, we have got a bit younger, different girls not playing for different reasons. We have a few minor girls after coming in with us and they are slotting right into training.
"As it goes we have very few players that would be mid-to-late 20s. A lot of us would be late-teens to early 20s. It is a very young squad. In one sense it is a positive for a few years' time but at the minute it is tough when you are in that transition or rebuilding phase.
"But this is an absolutely massive game against Wexford. We have put ourselves in the position now where our backs are against the walls.
"We have a lot to do in that we have to overturn Wexford by a good bit even looking at the points difference, but nothing is impossible.
"For all that Laois ladies football has achieved over the years it would be disappointing if we ended up looking at relegation at the end of the year. Hopefully we can avoid that."