Mayo manager James Horan admits his team have plenty to work on after ensuring their pursuit of an All-Ireland semi-final spot will extend to the final round of Super 8 fixtures.
The Green and Red eventually pulled clear of Meath at Croke Park on Saturday but nerves will have been frayed when they trailed early in the second half before hitting two goals to seal a 2-17 to 0-14 win.
"It was a very unusual game. We made multiple mistakes," admitted Horan.
"We had a huge amount of possession and got very little return for the amount of possession we had.
"We kept making mistakes but we kept plugging away and kept playing. To win by nine points in the end, we're delighted, but in key elements of the game we were a little bit off.
"We had 12 either wide or short into the goalie's hands in the first half. We won most of those from turnovers, so we did very well defensively to win it and then didn't get the return. That was disappointing."
Mayo's shooting "is not commensurate with winning All-Irelands, getting to All-Irelands or even getting out of your group" says Kevin McStay. Watch live now and see highlights on #sundaygame 9.30pm @RTE2 #Super8s #GAA pic.twitter.com/BKHw5hGYSi

— The Sunday Game (@TheSundayGame) July 21, 2019
Mayo must now beat Donegal in MacHale Park in two weeks' time to qualify from Group 1 and set up a semi-final with Tyrone or Dublin.
Horan is happy to have some time to get his house in order following traumatic defeats to Roscommon and Kerry that were sandwiched by a hectic run of qualifiers.
"We feel that we can play a lot better," he told RTÉ Sport. "So that's the aim, to try and keep in there, even if you're on the ropes.
"We're still there, so we're happy with that.
"Two weeks (off) is completely different to what we've had for the last five or six weeks. We've had one (training) session a week of just really maintenance.
"To be able to have a break, reflect and work on a few things for a home game in Castlebar is ideal."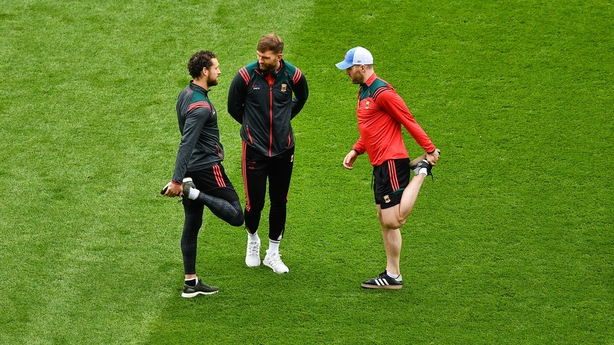 Horan suggested that some notable injury absentees, including Tom Parsons and captain Diarmuid O'Connor, could be in line to feature against Donegal.
O'Connor was believed to be out for the season after reportedly suffering a broken wrist in training. Parsons last played in May 2018 when he suffered a serious knee injury against Galway.
"Guys are very close," said Horan. "Keith was out today, Diarmuid, Paddy (Durcan) and Mattie (Ruane) are pushing hard.  
"Tom Parsons is back in full training and going very well.
"It's a race against time but it will certainly be close.
"Donegal are a really good team so we'll up for that challenge."