The role of a coach in any performance environment is to make him or herself redundant.
It's possibly not the greatest motivation for any job, but one that almost always remains an aspiration in any case.
Coaches often get lost in secondary, or sometimes irrelevant aspects of their role that focus on the version of themselves and their message that they present to the athletes. Innovative drills, alternative approaches to achieving the same goal and, sometimes, change for change's sake.
In Gaelic Football terms, the fundamental role of a manager and coaches is to arm their team with collective knowledge, leadership, problem-solving and communication skills so that on match day the team are largely self-sufficient.
The most effective teams know their roles to a man and the leaders on the pitch see the adjustments necessary for success well before coaches on the side-line do.
When the margins between teams in terms of ability and strategy taper to wafer thin, it will be the on-field leadership that creates separation.
Best of Rebel Intentions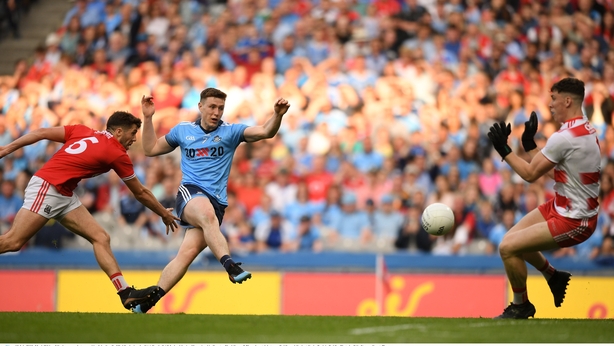 Cork's approach to defending Dublin on Saturday evening may have been derived from a mindset that they feel reflects their football identity, but it was a strategy doomed to failure.
They collectively backed themselves to each deal with their assigned opponent and cut off Dublin's attacking options through individual intensity and concentration. There was no safety net.
It is a noble concept and one that can bond comrades through the team's reliance on every single player's application to work but at this level of football, and particularly against this opponent, it contradicts any accepted logic applied to the modern game.
It was a game where the Cork man markers held Dublin's key forwards well for large parts of the game but the damage still came from deep through secondary runners that were not so well marshalled.
In simple terms, every Cork player was expected to shut his direct opponent out for the team to successfully defend a given attack. In simpler terms, once one tackle is missed, or one support run not tracked and repelled, then overlaps are created and scores inevitable.
When you consider this was against the most athletic and skilful team in the country then the level of naivety multiplies. There was no hiding place.
The Dublin Grind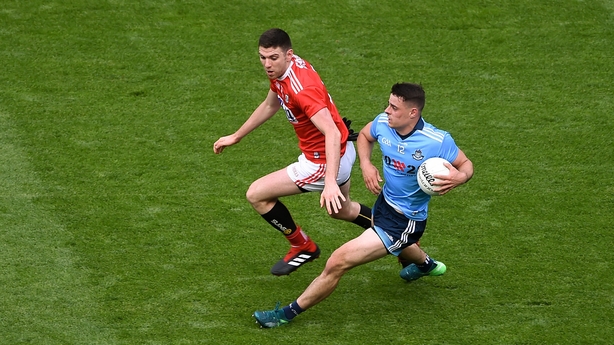 A passage of play in the middle of the first half highlighted both the good intentions of Cork and the irresistibility of Dublin's attack in a man-on-man scenario.
In the 17th minute, the Leinster champions initiated an attack through the centre of the Rebel defence. It was turned back by excellent tackles from Kevin Flahive and Tomás Clancy on Paul Mannion and Ciarán Kilkenny respectively. Dublin retained possession and embarked on a series of rolling probes down both sides of the Cork defence.
Over the course of almost two minutes, Cork would not lay a meaningful hand on a Dublin ball-carrier as possession was transferred smoothly across the 45 and back into their own half as necessary. The Dubs were testing for weakness and waiting.
Finally, Brian Howard skipped past Mattie Taylor crossing the halfway line. With Cork's individual approach it doesn't matter that Howard was still half a pitch from goal – the damage is done as there is no safety net.
Howard drove at pace down the centre of Cork's open defence and Brian Fenton took the opportunity to slip in behind Thomas Clancy for a run at goal as Clancy had to drift across to cut Howard off.
Neither did it matter that Cork had just produced a superb 90 seconds of collective concentration and individual intensity to close the door on Dublin five or six times. All that was required was a single moment of athleticism from Howard to slip past a tackle and the dominoes all fall. Fenton kicked a comfortable point and the template would repeat throughout.
In the position from which Howard slid past Taylor to create the score, Tyrone and Donegal wouldn't have considered making a serious tackle due to the risk of being beaten.
Instead, both will offer diversions towards the sideline in that area, understanding that effective defence is enacted in the space into which Fenton broke.
Dublin will have considerably higher hurdles to clear in the coming weeks.
Problem Solving within the Game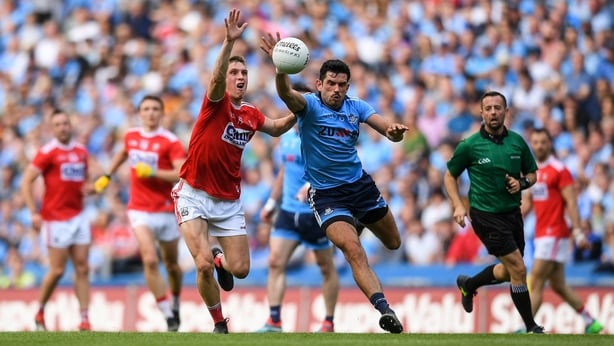 The conundrum that Cork set for Dublin's defensive shape early on Saturday evening was a timely test case for their capacity to problem-solve on the pitch.
Cork were determined that Cian O'Sullivan should not be the cover player for Dublin in any given attack and ahead of play on each occasion an advanced player essentially 'marked'O'Sullivan to not allow him to read the play and position himself as he normally would.
The Cork player, of course, brought his own marker with him and cluttered both the space and O'Sullivan's decision-making.
Cork had minimal intention of kicking ball in but the tactic interfered greatly with Dublin's ability to close down the run attack.
One aspect of the cover role that O'Sullivan executes better than most is stepping out of the pocket to meet play when the opposition run the ball or if a team-mate is in trouble.
Cork's interference approach delayed the Dublin defence's reaction time and created just enough space through smart running to get shots off before cover arrived.
There were several impromptu meetings between O'Sullivan, Jack McCaffrey and Philly McMahon in that initial rocky period before a solution was settled on.
O'Sullivan accepted his fate as a marker and the others managed the cover role between them. It returned them to a solid footing with clean decision-making again and Cork managed only three points then between the 13th minute and half time.
That type of problem-solving and decision-making on the pitch is what sets the champions apart under pressure. Most teams in the country will arrive at that solution and stop the bleeding but probably only after coach intervention and a further 10 minutes of discussion.
Problem Solving on the Training Pitch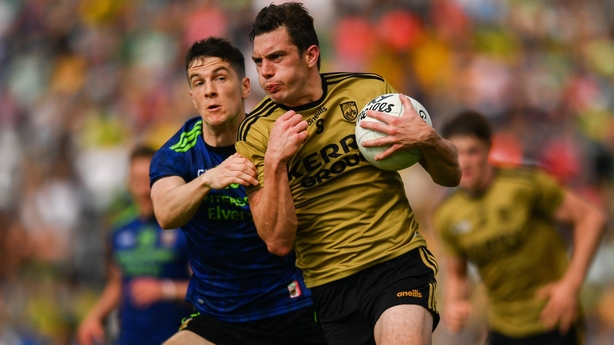 Facing into the Championship following their chastening experience at the hands of Mayo in the league final, Kerry had serious questions to answer defensively and no small amount of work to do - tactically and technically - to make themselves less porous.
Munster gave Peter Keane the opportunity to road test options in terms of structure and personnel ahead of three acid tests in the Super Eight series.
There can be no doubting the Kingdom's potential to wreak havoc up front with a solid supply of early ball but against recent nemesis Mayo the questions were all going to be about how they could hold the Westerners' attack.
At the back, Jason Foley led a more aggressive approach in the tackle but had no shortage of support.
A notable step forward for Kerry as a team was the defensive axis built between David Moran and Shane Enright. Both were acutely aware of the need for cover at the heart of their rear-guard and worked consistently hard to create a support system for the people around them tracking runners and stepping into tackles.
The psychology of that collective mindset reinforces belief in those doing the donkey work to close off attacking options for opponents. There is unquestionably another level of communication and decision making to be added in those defensive scenarios to reach the level of O'Sullivan and co but progress is tangible.
The real plus for Kerry on day one of their All Ireland challenge was the space that the hard running of Sean O'Shea and Stephen O'Brien brought them.
Allied to their insatiable appetite for work, that cut off Mayo's trademark support runs from deep, it is hard to imagine two more effective footballers loading bullets for their inside line breaking from those deep positions.
Adapt or Die
Cork pulled at a number of threads that made the champions uncomfortable and upset their rhythm on Saturday but only temporarily. Certainly Kerry, Donegal and Tyrone are equipped to meet Dublin more powerfully and knock them further out of their stride.
However, Dublin have consistently demonstrated that they can adapt in-game much more efficiently than any other team in the country – maybe ever – and use all of the tools at their disposal to find solutions.
Developing a gameplan that can upset Dublin is not easy but for the main three contenders have that capacity.
The real challenge in attempting to beat the champions is in evolving through the game once they inevitably problem solve the first paper you set.
Cork found that out at the weekend, just as Tyrone had done in last year's All-Ireland Final.