It was claustrophobic, it was intense, it was unforgiving – and it was enthralling.
The stakes were high when Tyrone met Roscommon in Dr Hyde Park this evening as both sides knew that a defeat would probably spell the end of their chances of reaching the last four of the All-Ireland championship, and in the end it was Tyrone who emerged victorious, 0-17 to 0-13, after grinding down Roscommon with a dominant performance in the final third of the game.
A man-of-the-match display from Cathal McShane at one end and Ronan McNamee's emphatic victory in his one-on-one battle with Conor Cox at the other were the key ingredients for Mickey Harte's men, who can look forward to next week's battle with Cork in Croke Park with some optimism.
It would be easy to look at the final score and say that this was a world away from the 4-24 to 2-12 drubbing in Croke Park when these sides met last year, but in the opening minutes, a similarly comprehensive win for Tyrone couldn't be ruled out as the Red Hand men cut through the centre of the Roscommon defence time and again.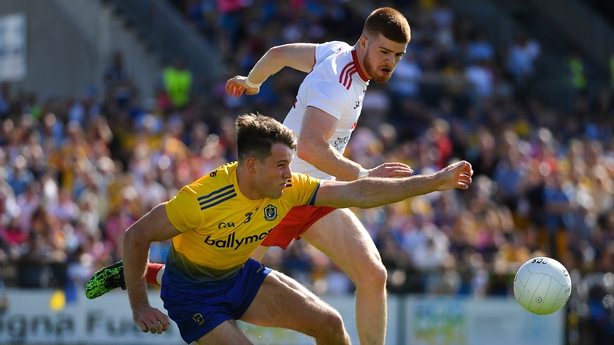 The two sides came into the contest with very different preparation – Roscommon on the back of a five-week break since their Connacht final win over Galway while Tyrone had three good wins over Longford, Kildare and Cavan to find their rhythm. That greater match sharpness looked significant as Brian Kennedy and Frank Burns kicked early points, with Roscommon's first three attacks ending in turnovers.
As has been the case in many of their games this year, it fell to wing back Niall Daly to come forward and deliver a settling score from 30 metres out on the right wing, but there was still a sense that Tyrone were that bit more in control.
It was instructive that both sides hit the post with good chances, but in each case the move ended with Tyrone points. Shane Killoran's shot from 25 metres crashed out and after a fast break, a foul on Matthew Donnelly led to a Cathal McShane free.
At the other end, McShane ran in on goal and punched his shot off the goal, but he was able to gather the rebound, win a free and convert the chance to push Tyrone two points clear. In general, Tyrone kicked the simpler scores, with Roscommon needing some world class efforts from Conor Cox and Enda Smith to stay in touch.
On the Tyrone side, Niall Sludden proved to be the key that unlocked Roscommon's lock time and again, wheeling around from the right corner to join the attack and kick three crucial points.
Despite this, Roscommon hung in. Enda Smith carried the fight with a series of barnstorming runs, in one case drawing a great save from Niall Morgan, though he appeared to pay a heavy toll as he collided with the goalpost and seemed to suffer the effects of that blow.
Still, 0-8 to 0-6 at half time in favour of Tyrone left the door open for an upset. A skyscraper of a point from Diarmuid Murtagh with the first attack of the second half raised the already boiling temperature another notch, but as had been the case the whole way through the game, Tyrone were able to quickly and efficiently engineer a score in reply.
14,465 supporters, the majority wearing Roscommon's primrose and blue colours, raised the roof when a Shane Killoran point in the 11th minute of the half made it 0-11 to 0-10, but they simply weren't prepared for what Tyrone brought in response.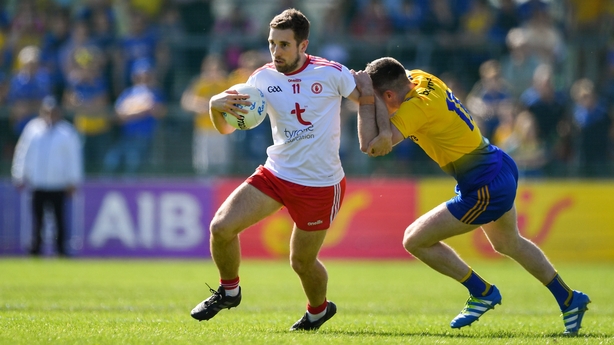 The Ulster county simply took control of the tie, repelling every Roscommon attack and gradually moving out of range. Matthew Donnelly grew into the game with two points and two more assists, Peter Harte started to control the tie and Cathal McShane further proved his worth as target man, kicking scores from play and from frees with equal aplomb.
Roscommon kept battling but simply had no answer for Tyrone's power, pace and strength, and the goal chance they needed never came. Another clinical display from Tyrone, and yet more evidence that the 2018 All-Ireland finalists are fully rehabilitated and ready to have a major say in the race for Sam.
Tyrone: Niall Morgan; Hugh Pat McGeary, Ronan McNamee, Rory Brennan; Michael Cassidy, Frank Burns (0-01), Michael McKernan; Colm Cavanagh, Brian Kennedy (0-01); Matthew Donnelly (0-02), Peter Harte (0-01), Conor Meyler; Niall Sludden (0-03), Cathal McShane (0-08, 0-05 frees), Darren McCurry (0-01).
Subs: Ben McDonnell for Kennedy (28), Kieran McGeary for HP McGeary (30), Richie Donnelly for McDonnell (51), Padraig Hampsey for Cassidy (51), Connor McAliskey for Sludden (63), Aidan McCrory for Meyler (70+2)
Roscommon: Darren O'Malley (0-01, free); David Murray, Seán Mullooly, Conor Daly; Niall Daly (0-01), Conor Hussey, Ronan Daly; Tadhg O'Rourke, Shane Killoran (0-01); Hubert Darcy, Cathal Cregg (0-01), Niall Kilroy; Diarmuid Murtagh (0-04, 0-03, frees), Conor Cox (0-02, 0-01 free), Enda Smith (0-01).
Subs: Brian Stack (0-01) for Darcy (25), Colin Compton for Hussey (49), Donie Smith for Cregg (51), Fintan Cregg for Killoran (63), Andrew Glennon (0-01) for Cox (64).
Referee: David Coldrick (Meath)