And then there were eight...
The All-Ireland series is headed into the quarter-finals, or the Super 8s as they were christened last year, this weekend with four games taking place across Saturday and Sunday.
Eight teams remain standing after the elimination of some contenders such as Monaghan and Galway, and here are eight of the country's best footballers and ones to keep an eye on throughout the competition.
1. Fionn McDonagh - Mayo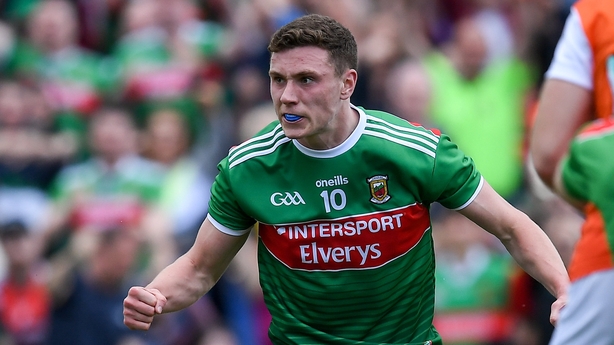 Along with a catalogue of other things, one apparent reason for Mayo's absence of silverware in recent times was said to be down to their lack of top class forwards. Then, along came Fionn McDonagh.
The 21-year-old student first caught the eye in their league game against the Red Hands back in February when he nabbed himself an impressive 1-03 from play.
But league and championship are two very different beasts. Against Armagh, we waited skeptically in the stands of McHale Park to see if the Westport man could reproduce such a showing in the heat of knockout championship football.
McDonagh, with all the confidence of a man playing his 51st championship game as opposed to his 1st, slotted the ball between the legs of Blaine Hughes and assured everyone that he was going to be a serious asset to this Mayo team.
With Cillian O'Connor back on free taking duties and James Carr announcing his arrival in spectacular fashion against Galway, Mayo's attack is looking a little more threatening than originally thought.
2. Jamie Brennan - Donegal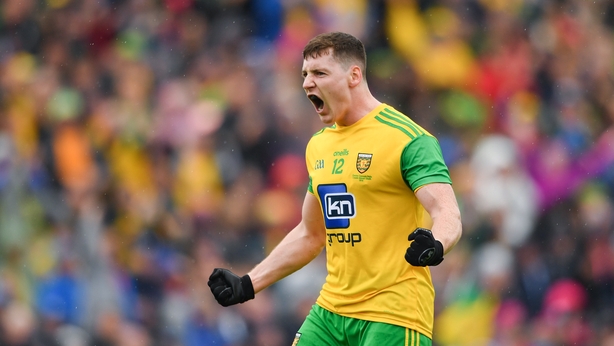 In January the 22-year-old set the bar high for his 2019 campaign stating in an interview with the Irish News, "it's about time that I took a lead role."
And he's delivered on his promise to himself. Brennan is currently the third top scorer in Ulster with 2-11 to his name, 1-04 of that tally came in the Ulster Final.
Jamie Brennan's long run ends in a goal. Donegal are on the verge of winning the Ulster Football Championship.

Highlights on @rte2 on The Sunday Game from 9:30pm pic.twitter.com/Z2AjAAevW8

— The Sunday Game (@TheSundayGame) June 23, 2019
PWC GAA/GPA Footballer of the Month for June, Brennan's strong physical presence allows him to win balls in sticky situations and his speedy ability to burst forward from the wings is something any defensive set up should fear.
Donegal have Paddy McBrearty back on the scene and with the stalwart Michael Murphy continuing to be well, Michael Murphy, it is fair to see how Donegal are tipped to be the Sam challengers against Dublin this year.
3. Conor Cox - Roscommon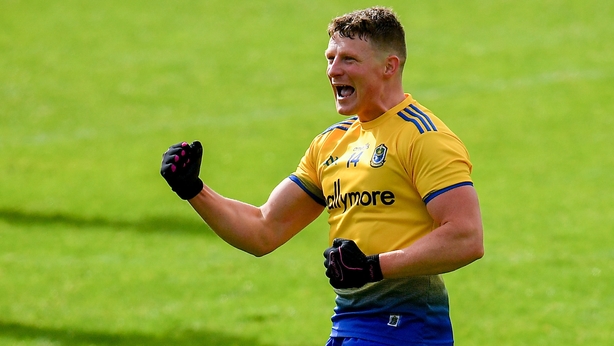 Kerry's loss is Roscommon's gain.
The Listowel Emmet's native has captured the hearts of Roscommon folk with his stylish play in the full-forward line scoring points from the most acute angles.
Conor Cox gets Roscommon back to within a point - live now on @RTE2 highlights on this evening's programme 9.30pm #rtegaa #gaa #GALROS pic.twitter.com/eBKobjWrMX

— The Sunday Game (@TheSundayGame) June 16, 2019
Anthony Cunningham has been praised for the job he's done since taking over late in 2018 with a newfound confidence and edge to this team. Cox is confidence personified. He backs himself and takes on his man in every situation with a unique flare to his 'up and overs'.
But as the old cliché goes, goals win matches and Cox has yet to bag himself a championship goal for Roscommon. This is something he's bound to be targeting throughout the Super 8s campaign to finish off what has been an exciting season for the Rossie's favourite adopted son.
4. Sean O'Shea - Kerry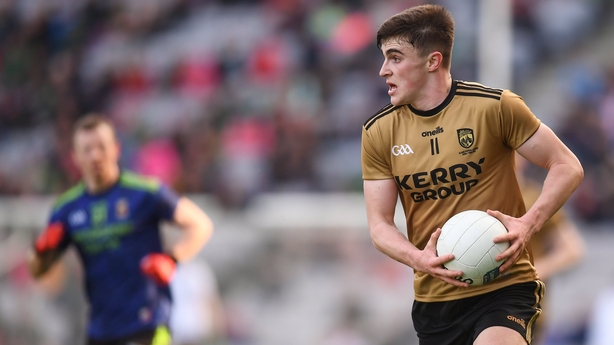 There must be something in the water down there because The Kingdom produce some of the games most superb forwards.
With his name being batted around in the same breath as Gooch Cooper and Maurice Fitzgerald, it feels like young O'Shea has been around for years. Brought in under Éamonn Fitzmaurice in 2018, O'Shea lit up headlines at the start of this year scoring a total of 1-47 throughout the Allianz National League guiding Kerry to the Division One league final at the tender age of 20.
Able to slot them between the uprights off both feet, we're sure to be treated to some super scores from the double All Ireland Minor medalist throughout the quarter-finals.
Kerry's Super 8s performances left a lot to be desired last year with a loss to Galway, a draw with Monaghan and win over Kildare not enough to carry them through to the semi-finals.
All eyes will be on the UCC Sigerson Cup winner this weekend when Kerry play host to their familiar foes Mayo, in what promises to be the highlight game of the first round of the Super 8s.
Can the youngster handle the pressure? This weekend will be do or die.
5. Donal Keogan - Meath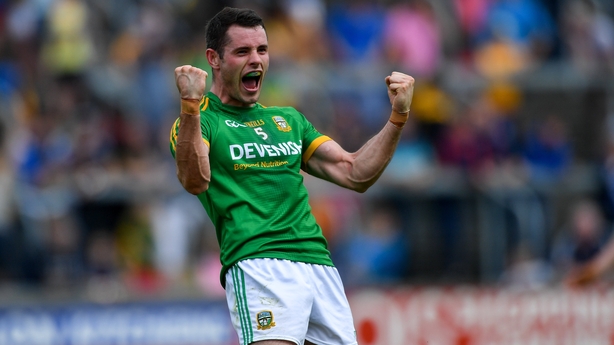 It's been a long time since Meath football had a quarter-final to look forward to. Nine years in fact.
Since their defeat to Dublin in the abysmal Leinster Final it was difficult to see this group of players finding the drive to get them to this stage. But, with working wing-backs like Donal Keogan producing a fine display in the qualifier game against Clare, Meath managed to snatch a one-point win to get them to the Super 8s.
Man of the Match Keogan, was crucial in setting up Meath's first half goal that ultimately found the back of the net with thanks to Brian Menton. Throughout the afternoon, he threw himself on the line at every opportunity and kept the pressure on Clare throughout.
Keogan was key in the solid defensive display that Meath managed to put up to Dublin in the first half of the Leinster Final, keeping them to just 0-5 at the break. A reliable option in the back with the legs to attack, it will be great to see him flourish at the high level of the Super 8s against the best teams in the country.
6. Cathal McShane - Tyrone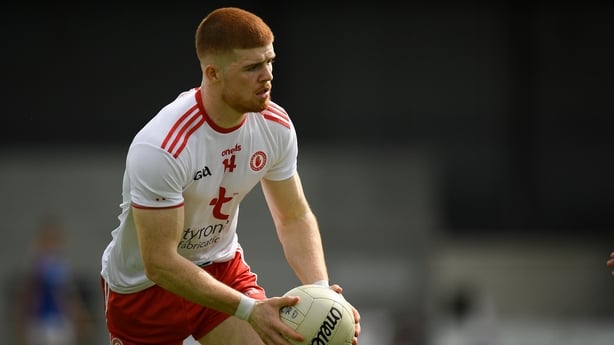 Looking at the team sheets of the last eight teams you simply can't ignore the current top scorer of the 2019 championship.
McShane has 2-29 to his record so far this year and has proven himself to be all Tyrone need in the full-forward line.
Nice catch and point by @TyroneGAALive 's Cathal McShane. pic.twitter.com/3Maaw0Ofof

— The GAA (@officialgaa) July 6, 2019
The Under-21 All Ireland winner has been key in shifting the talk of Tyrone's ultra defensive play to a more attacking model but it remains to be seen who Mickey Harte's back up options are up front.
Undoubtedly, McShane will have every team's best man marker or two glued to him in each game. So, he is going to need the likes of Niall Sludden and Darren McCurry to help him out in supplying ball into the scoring zone and creating space for him to pop over scores.
7. Brian Hurley - Cork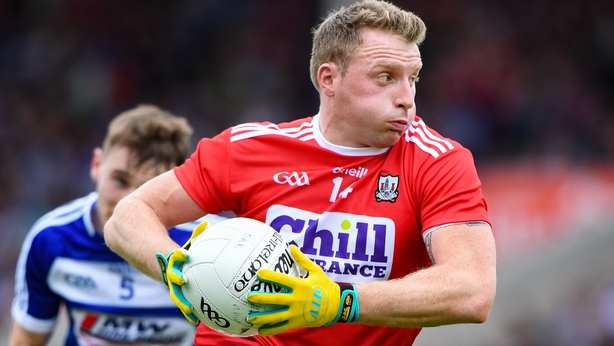 Goal hungry Hurley.
The 26-year-old was immense in the Munster Final scoring a crucial goal in the 47th minute to bring the game level against Kerry.
Game on, Ger!

Brian Hurley capitalises on a rush of blood from Shane Ryan in the Kerry goal. Cork have not read the script! Watch highlights Sunday night at 9.30pm on @rte2 #rtegaa #corkvkerry https://t.co/TICWizg9E2 pic.twitter.com/dbpQWTBglE

— The Sunday Game (@TheSundayGame) June 22, 2019
Tormented by hamstring injuries in recent times, the Castlehaven player is hitting his stride at the right time. In Round Four of the All Ireland Qualifiers against Laois he found the back of Graham Brody's net twice and was in the right place at the right time to set Mark Collins up for Cork's third goal, sending them through to the Super 8s.
A big and powerful player that stations himself on the edge of the square, he will be a key target man for the Rebels as they look to try and banish the question marks over Cork football once and for all.
8. Rory O'Carroll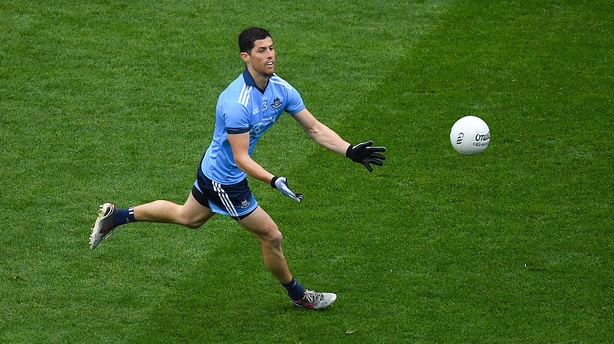 Back from a three year stint in New Zealand, the Kilmacud Crokes full back wasted no time in walking through Jim Gavin's 'open door'.
But such is the talent on Gavin's squad, O'Carroll has been easing into his form after being introduced in the second half of all three of Dublin's championship games this summer.
With minimal time afforded to the All Star to really showcase his talent and up against considerably weaker teams, we definitely haven't seen the full extent of what he can bring to Dublin's apparent only weak spot, their full back line.
With James McCarthy and Jonny Cooper doubted to feature in Gavin's quarter-finals plans due to injury, it will be interesting to see if the 2015 All Ireland winner will get the call up over the likes of veteran Philly McMahon or David Byrne.
Follow all the weekend's Super 8s action via our live blogs on RTÉ.ie/sport and the News Now app, watch Dublin v Cork on RTÉ2 and Kerry v Mayo on RTÉ1 and listen to national radio commentary on RTÉ Radio 1 and Raidió na Gaeltachta.